A Hallowed Place Awaits Departed Veterans at the Tallahassee National Cemetery
Cradle for The Fallen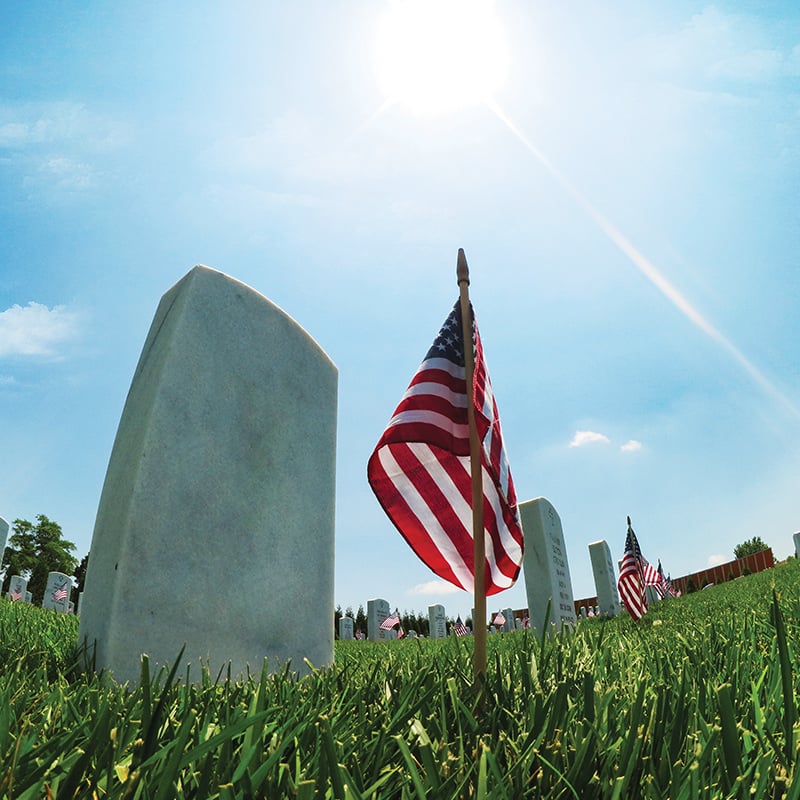 The Capital City is now home to a national cemetery, a hilly 250-acre plot of land a couple of miles east of town on Apalachee Parkway. The Tallahassee National Cemetery is the 133rd national veterans cemetery to be established and officially opened in October with ceremonial first burials.
"With the opening of this new national shrine, thousands of Florida veterans, their spouses and dependents will have interment options available nearby, in a setting that is worthy of their service," said Secretary of Veterans Affairs Robert A. McDonald. "Providing lasting tributes to their sacrifices is one of VA's most honorable missions, and one we are proud to fulfill."
The new cemetery will serve the burial needs of some 83,000 veterans in this region and is expected to have a service life of more than 100 years. The initial phase of construction is planned to provide burial options for 10 years. The VA recently completed a 20-acre early burial area, which includes 3,000 gravesites for casket and cremain interments and temporary administrative and maintenance facilities. A second, larger construction phase is planned and will provide 7,720 full-casket gravesites when finished, including 3,600 pre-placed crypts, 2,200 in-ground cremation sites and 1,920 columbarium niches.
The move to establish national cemeteries began during the Civil War when United States President Abraham Lincoln signed legislation giving the president power to buy land to be used as national cemeteries. In 1862, the year the law passed, 14 national cemeteries were opened to bury soldiers killed during the war. In a dedication ceremony this past Memorial Day, McDonald said the new cemetery is a link to those original cemeteries, and the Tallahassee cemetery likewise will pay homage to men and women who so valued America that they risked their lives for the sake of generations unborn.
"Here we show our loyalty to ideals they fought and died for. Here we show we care about them, and that we will never forget the sacrifices they have made for us. Here, generations of families will visit and remember their loved ones," he said. "Here we dedicate a new place in their honor, a place that reflects our gratitude, our love and our devotion for their having done their duty. A place where successive generations of veterans, separated by time, are reunited in veneration."
The development of the Tallahassee National Cemetery was no small undertaking, but it went from being a dream in 2012 to accepting first burial applications this past June. The speed at which the project came to fruition was the product of intensive intergovernmental communication and cooperation, said Florida Department of Veterans Affairs Director Michael Prendergast.
"This has been an excellent model of how leadership and stewardship and the relationship between the federal government, the state government and the community have all come together to serve a calling that is without equal in our country," Prendergast said. "We are taking care of the men and women who have worn the cloth of the greatest nation on the face of the earth on their backs in times of peace and war. And we're putting together a befitting memorial to honor them and give them a final resting place here in the state capital."
RENDERINGS COURTESY NATIONAL CEMETERY ADMINISTRATION DEPARTMENT OF VETERANS AFFAIRS
Leon County Commission Chairwoman Mary Ann Lindley praised the project as another feather in Leon County's cap.
"We are so proud that the Department of Veterans Affairs chose Leon County to be home to this amazing memorial cemetery. We feel that people know when looking for a national cemetery plot they have a lot of selections, and so this is a special honor for it to be here in Leon County," Lindley said. "When we first learned that the VA intended to build one here, our Leon County staff worked very closely with the department, the contractors, the surrounding neighborhoods to ensure that this project would be an unquestionable success."
According to the National Cemetery Administration, burial in a national cemetery is open to all members of the armed forces and veterans who have met certain active duty service requirements and were discharged under conditions other than dishonorable.
Along with gravesites, the cemetery will feature a front entrance off Apalachee Parkway, administration and maintenance buildings, a flag pole assembly area, memorial walkway, committal shelters, a carillon and a public information center with electronic gravesite locator. The cemetery will be able to accommodate five burials a day initially.
"In time, you will look upon row after row of headstones all the same size and height, perfectly aligned in silent tribute to our nation's heroes. This uniformity underscores a profound truth about our veterans. That every sacrifice matters, regardless of rank or station, and every veteran's story deserves to be remembered," said Department of Veterans Affairs Interim Under Secretary for Memorial Affairs Ronald E. Walters. "Let it be an inspiration to all by bringing to mind the sacrifices of our men and women who have served our nation with honor. Let it provide endless teaching opportunities, especially for our youth, to learn, understand and appreciate the weight of sacrifice to something that is greater than oneself."
The Tallahassee cemetery will be a beautiful place for all to come and remember those who gave all for the nation's freedom, according to U.S. Rep. Jeff Miller of Florida's 1st Congressional District, who serves on the House Armed Services Committee, the House Permanent Select Committee on Intelligence and is chairman of the House Committee on Veterans' Affairs.
"If you travel anywhere around this country, you will see national cemeteries, shrines, carefully groomed, with headstones aligned just as platoons, battalions, divisions may have lined up in battle, standing watch, a final resting place for those who served and their family," he said. "If you travel in Europe, you will find American shrines there. Shrines that are kept by the countrymen and women of that nation, kept so well because of what our men and our women did in their service there. Somewhere today, there is a man or a woman wearing a uniform who may fall. And should they fall, they will not be left behind, and we will give them their final resting place should they chose to rest in a national cemetery. A place where their family can come to honor them as a family member, and people who may not ever know who they were can stand in remembrance of their service to this great nation."