A Growing Trend
More People are Opting For Gardens You Can Eat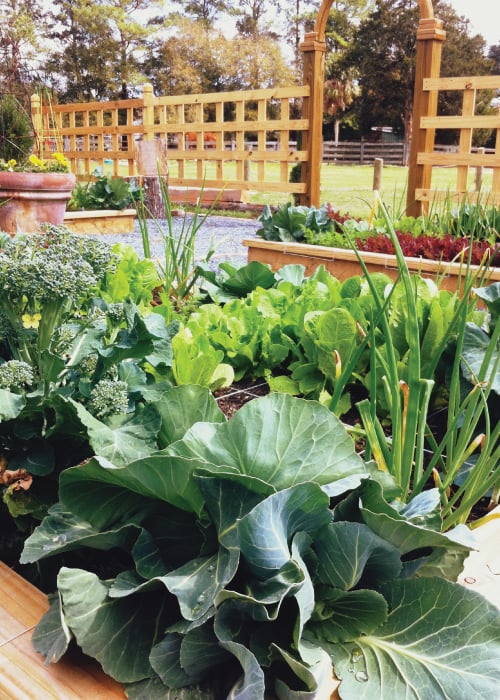 When Rob Estevez bought his home near Midtown two years ago, one of the first things he did was dig up a section of lawn and plant a vegetable garden.
"I like the taste of home-grown vegetables. The taste is superior to anything you can find in the store," said Estevez, a self-employed Web developer. "There's also a self-reliance component, as well as my concern with the production techniques of traditional commercial agriculture and their effect on the environment.
"But primarily," he said, "I garden for the joy of it."
Whether motivated by environmental, health or economic concerns, more people are opting to grow at least a portion of their own food.
For some, it's the economy. A pack of spinach seeds costs about the same as one box of frozen spinach, and much less than a bunch of fresh spinach leaves, yet those same seeds will produce enough spinach to keep Popeye and the clan fed throughout the growing season.
Others plant a vegetable garden for the exercise it provides, spending less on seeds and tools than on gym memberships and reaping savings on food, as well.
For some, it's an attempt to avoid the chemicals used in commercial food production and shrink their carbon footprints. It's the ultimate spin on the "slow food" movement, which urges consumers to buy food in season that is grown close to home. Estevez serves on the board of the Damayan Garden Project, a nonprofit whose mission is to teach children — and their adults — to eat locally grown, seasonal food and live healthy lives. Sustainable gardening is a key component.
GLORIOUS FOOD The beautiful — and delicious and economical — results from garden plots planted at The Space at Feather Oaks. Photo Courtesy Katrice Howell
Then there are the "foodies" who do it for the pure delight of their taste buds. Even if a home gardener didn't start out as a "foodie," one taste of a homegrown vegetable is usually all it takes. If the only tomatoes you've ever eaten were grocery-store tomatoes that were picked green, packed in tractor-trailers for the long trip to market and then sprayed with a burst of ethylene gas to make them turn red, you have been truly deprived. A trip to one of the area growers' markets to taste locally grown goodness is definitely in order.
Like Estevez, most vegetable gardeners are motivated by a combination of reasons.
Master Gardener Glenn Mayne, past president of the Leon County Master Gardener Association, tends a large vegetable garden in the backyard of his north Leon County home. For him, gardening is a hobby.
"My observation has been that a primary reason people garden is for the exercise and to get outside. The second reason is the self-satisfaction of bringing a crop from plan to table. And the third, and most important reason, is better taste," he said. "There's no way you can replicate the taste of a vegetable you just picked from the garden."
Mayne is creator/coordinator of the Leon County Extension Office's "Ask a Master Gardener" email program. His 2011 annual report noted that "the interest in gardening activity that is associated with producing food has increased dramatically over the two years" the program has been in place, with the percentage of queries related to growing vegetables almost doubling from 2010 to 2011 and the percentage of questions about growing fruit more than doubling.
"When we started the program in 2010, the emphasis was on ornamentals. When we got into 2011, what we saw was a significant shift," he said. "Not only were there questions about how to grow vegetables and fruit, but also dealing with soil and pest management in vegetable gardens. People wanted to know how to prepare the soil and how to keep the varmints out."
Although the cost of produce doesn't seem to be a factor with most of the gardeners Mayne talks with, the opposite is true for Damon Miller, Sr., coordinator of Florida A&M University's Community Garden on Orange Avenue.
"I think it's absolutely and directly tied to the economy and the high cost of food," Miller said. "We have 69 garden plots all told, and we have about 40 people on a waiting list."
Standard plots historically have been 40 by 40 feet, but Miller said he's further dividing some of them into 20- by 20-foot plots to try to accommodate people on the waiting list.
"A lot of times, people don't plant their entire lot, so they're happy to have a smaller space, and pay less for it, so that someone else can have a garden," Miller said.
The larger plots rent for $40 a year and the smaller ones for $20 a year. Water is included in the rent, but gardeners must provide their own hoses. There's an organic section for gardeners who eschew using processed or chemical products.
Now in its 38th year, the FAMU Community Garden attracts a diverse group of gardeners who return year after year. While there is some turnover, it's usually graduate students who finish their educational programs and leave the area, or older participants who have to give up their gardens because they're no longer physically able to tend them. Because our mild climate allows for year-round gardening, you can find leafy greens such as collards and turnips growing in the winter months and corn, peas and beans in the summer. International students — from Asia, in particular — take advantage of the garden to grow vegetables that are hard to find in local markets.
"The gardeners share with each other and many donate produce to organizations that help people in need," Miller said.
Martin Kendal-Reed rented a plot last June because his yard has neither the space nor the sunlight to sustain a garden.
"I garden primarily as a means of relaxation, but also as a means to organic food. As an 'almost vegetarian;' I want nutritious vegetables grown without chemicals," he said.
He has grown carrots, Brussels sprouts, broccoli and two varieties of cabbage in his 40 by 40 plot, and he plans to grow tomatoes, bell peppers and hot peppers when the weather warms. In addition to the produce, he enjoys the camaraderie of the other gardeners — a racially diverse group that's a mixture of working people and retirees, young and old, veteran and novice.
"It's a very collegial group," he said. "People share cuttings and gardening suggestions."
Sharing is a common thread among gardeners throughout Tallahassee, regardless of their motivation for working the soil. Manna on Meridian, a food ministry launched several years ago by Faith Presbyterian Church and neighboring St. Stephen Lutheran Church and now supported by half a dozen congregations along Meridian Road, relies on donated produce to supplement the non-perishable items it collects for distribution. Area food banks benefited from about 40 pounds of produce a week during last year's warm growing season, after two vegetable gardens, one of them organic, were added to the Leon County Extension Office's demonstration gardens.
Master gardeners and Leon County also assisted Second Harvest, as well as the Miccosukee and Fort Braden neighborhoods, in creating community gardens over the past couple of years, primarily with water pipes and fencing, said Zach Galloway, a senior planner with the Tallahassee-Leon County Planning Department.
Late last summer, the City of Tallahassee approved a new community-gardens project using city property. Galloway said several city and county agencies, including Parks & Recreation and the Health Department, worked together to compile the guidelines and "give citizens a clear point of contact." Go to talgov.com/planning/environ/gardening.cfm for more information.
"We've had inquiries from the Frenchtown, Betton Hills and Midtown Neighborhood Associations, as well as a group of seniors in the Bond community," Galloway said. "This will be the first year, and there definitely seems to be interest."
"There has definitely been an increase in interest in vegetable gardens," said Zulema Wibmer, the Extension Office's horticultural and 4-H assistant. "I think it's partly the economy and partly that you get a better product. You know what you put in, you know what you're getting out, and you get better flavor."
For Estevez, it's all that, and more "I like the convenience of walking 10 feet out the kitchen door instead of going back to the store for an ingredient I forgot. I like having it all there," he said. "For me, it's never been about the money."
Get Growing!Area Workshops offer everything from basic planting tips to full-service garden plots and recipes for your harvest
March 7
VEGETABLE GARDENING 101
If you haven't started a vegetable garden yet, this workshop is for you. A staff of experienced vegetable gardeners will start with the basics of soil preparation and when to plant different vegetable varieties. Then the lesson moves out to the demonstration garden for hands-on experience. Free. Must pre-register, class size limited. 10 a.m. Native Nurseries, 1661 Centerville Road. (850) 386-8882 nativenurseries.com
March 17
ANNUAL HERBAL EVENT
Join professional herb grower, B. O'Toole of O'Toole's Herb Farm, and Native Nurseries' Donna Legare to learn how to grow and enjoy herbs. They will discuss how to use herbs in cooking and how to incorporate them into the landscape. Herbal treats will be available to sample. $5. Must pre-register, class size limited. 10 a.m. Native Nurseries, 1661 Centerville Road. (850) 386-8882, nativenurseries.com

March 18
GROWING HERE (Part 3 of 3-part series)
Optimize soil health through compost, cover crops and more. Speakers include Nathan Ballentine (The Man in Overalls) along with farmers Aaron Suko and Herman Holley. 
$30 or $15 for current RHSFA members. Email smallfarmalliance@gmail.com or register through the Red Hills Online Market. 1–5 p.m. Full Earth Farm Solomon Dairy Road, Quincy. localfoodmarketplace.com

March 31
CHILDREN'S GARDEN WORKSHOP
Youngsters can grow their own Italian garden. Children will mix soil and mushroom compost in a 3-gallon nursery container and then plant tomato, basil, parsley and garlic chives under the guidance of nursery employees and a parent. Siblings can work together. $7 per container. Must pre-register, class size limited. 10 a.m. Native Nurseries, 1661 Centerville Road. (850) 386-8882

April 1
SPRING FOOD GARDEN WORKSHOP
Learn to grow your own vegetable garden with Nathan Ballentine (The Man in Overalls). Plot, soil and vegetables provided. Come out to the Space as often as you like to check in on your garden, or let them care for it and send you updates as it grows. $105 to attend and enjoy your own fresh-grown vegetables all season. Call for more details. 2–4 p.m. The Space at Feather Oaks, 6500 Miccosukee Road. (850) 459-3473, thespaceatfeatheroaks.com