A Gorgeous Getaway to India
A colorful country worth experiencing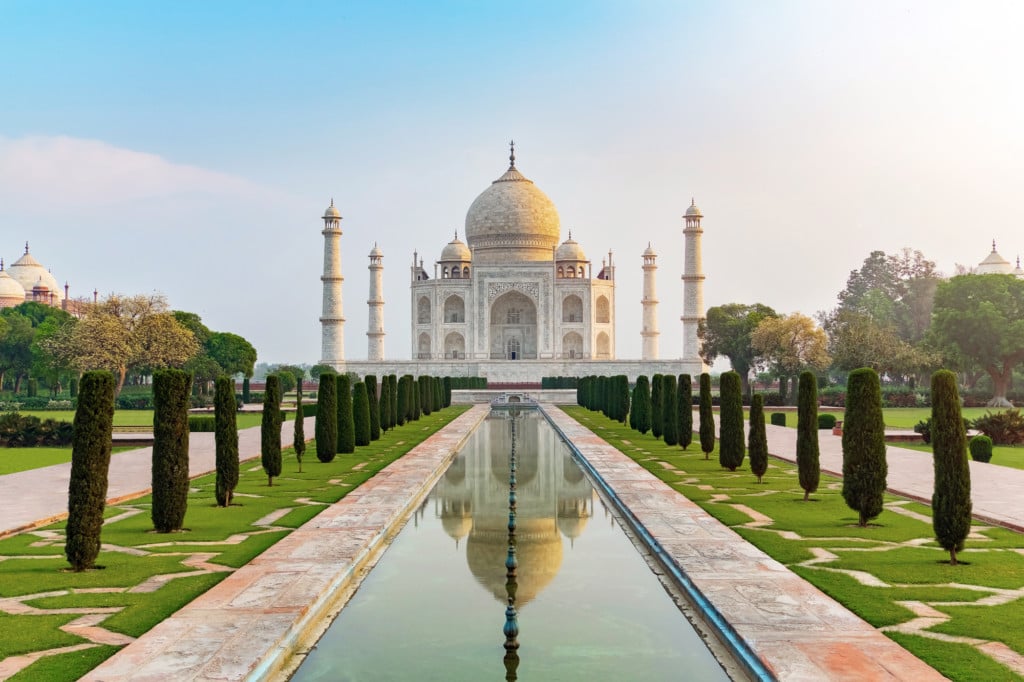 We've all seen pictures of the Great Wall of China, with the structure snaking into the horizon.
We've seen video of Stonehenge, with the sun creeping upward in the background. We've seen impressive images of Machu Picchu, with its jaw-dropping peaks.
But nothing compares to seeing it in person. Take the Taj Mahal.
I've seen few things that can match the beauty, symmetry and story of the 17th-century structure. Some call it a mausoleum of love. Shah Jahan built it to honor his wife Mumtaz Mahal, who died during childbirth.
There she rests in the middle of the memorial, with one half of her body on one side and the other half on the other. Her husband is buried next to her, breaking the symmetry.
The Taj Mahal, that enduring symbol of India, marked several highlights on our 14-day spring trip that focused on the northern part of this colorful country of multiple languages, religions, challenges and wonders.
Our trip was part of the emerging "Developing Destination" experience in the global travel industry.
You can find such experiences in India, China, Southeast Asia, Africa and the Middle East, as well as in Central America and South America.
Experienced travelers who have navigated the popular markets of Europe and the Caribbean could certainly find their own way to the developed cities of each area and explore them well.
To immerse yourself in the land and culture, however, you'd do well to book through a luxury travel company such as Abercrombie & Kent.
The company employs experienced, local guides and support personnel who smooth every edge of your journey. And in a place where comparatively few travelers have tread, you're bound to encounter rough edges.
On our India trip, when a canceled internal flight brought the threat of days stuck at a rural airport, Abercrombie & Kent made a $30,000 investment in the form of a private air charter, ensuring we stayed on schedule.
And consider the problem of illness, which hit my wife on that flight. Abercrombie had a wheelchair summoned for a long trek to the bus and had a doctor waiting at our hotel.
Abercrombie & Kent always makes our experiences comfortable and memorable, with lavish rooms that offer spectacular views. Imagine opening your shades to a grazing spotted deer, a leaping Bengal tiger or the sunlit Taj Mahal.
On our trip to India, Abercrombie guided us via plane, train and bus on visits to Delhi, Mumbai and Panna National Park, among several other places.
Here's our takeaway of the country:
It works. You wonder how it works in a country with more than 1.3 billion people, many of whom struggle to eke out a living.
But it works. Even the highways manage to work, as drivers turn six-lane highways into eight lanes and cooperate.
And maybe soon it will work even better: The government has embarked on an ambitious infrastructure program that offers promise in the years to come.
The improvements to roads, railways and air travel will offer better access to all that this country has to offer, including:
The Taj Mahal
Yes, we have more to say about it. You might not know that the building changes colors depending on the time of day and on how the marble reflects sunlight and moonlight.
We could see the Taj Mahal from our hotel room in Agra. We went to see it up close one evening. The building appeared golden or brown. We visited again the next morning, and the building glowed pink.
The Ganges River
Hindus consider it sacred and purifying. Upon death, the custom is to have one's ashes returned to the river.
We visited Varanasi, where we observed a cremation ceremony that took place beside the river in an area about the size of a basketball court.
It is a simple two-hour ceremony, in which the family dips a wrapped body in the river and then places it upon a wooden pyre, which is lit. Family surrounds the fire and prays until the pyre is reduced to ashes, which get returned to the river.
The Holi Festival
Agra is a city of festivals within a country of festivals. We happened to be in Agra during the Holi Festival, a nationwide tradition that celebrates the arrival of spring in the most colorful way. We joined others in wearing white cotton outfits and throwing dye on as many people as we could.
When I said India is a colorful country, I meant it.