A Golfing Miracle
Rain or Shine, 95-Year-Old Bert Fletcher is Still on the Course — and Playing Well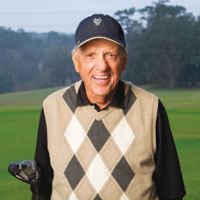 Photo by Scott Holstein
It may be a rainy day, but it's still a golf day for nonagenarian
Dr. Bert Fletcher.
Looking at his ball on the 18th green, having just made a 9-foot par putt, Dr. Bert Fletcher bends over to retrieve it from the cup. Not so unusual, except that Fletcher is 95 years old — and will be posting a score of 87.
Sheesh, I know many golfers half his age that have to use a special retriever rather than bend over to get the ball. And the score he's posting is the 16th time he's scored better than his age in his last 20 rounds. His current golf index of 23.2 would rank better than most golfers in the U.S.
Fletcher, a retired Tallahassee obstetrician/gynecologist, is an integral part of the group of golfers teeing off six days a week at either the Capital City Country Club in Tallahassee or the Havana Golf Club in Havana. And what's really interesting is that, in some instances, he ends up playing with another golfer he delivered some 50 years earlier.
To Fletcher, every day is a day for golf. In 2012, he posted 109 rounds of golf in the 286 days available to play the game, not including bad weather days. That's about one round every two-and-a-half days.
"I remember one time about two years ago, my son and I went to the club for lunch," related Murray Wadsworth, Sr. "It was late November or early December, the temperature was in the low 50s, the wind was howling and the rain was blowing horizontally. Bert, sitting at one of the tables finishing a sandwich, saw us and asked if we were there to play. He had already played a few of the holes but the others in his group had quit because of the rain and he wanted to finish the round."
Dale Brown, Capital City's golf professional, tells of the time when heavy rains over a three-day period had soaked the course and there was standing water everywhere. Naturally, golf carts were prohibited from being used, but the club allowed walkers to play. Undeterred, Fletcher, then 87 years old, went into the golf shop, picked out a shoulder carry bag and proceeded to walk all 18 holes. According to Brown, Fletcher shot his age that day or something close to it.
Fletcher didn't take up the game of golf until age 65, and then pretty much picked it up on his own. As a member of Capital City since 1948, "I took a few lessons early on from Bunk Berry back then," he said, "but for the most part I just played by trial and error."
"He'll still take a lesson now and then," said Brown, "but he plays enough so that he doesn't need a lot of help."
When asked what round or golf shot stands out most in his mind, Fletcher hesitated for a few seconds then told this story:
"I was playing the 17th hole at the Grove Park Inn some years ago. It's a par three located right in front of the resort, and that afternoon there were about 300 people sitting outside and casually watching the golfers play. Well, darned if I didn't knock it in the hole for an ace. The crowd went crazy, and I was really excited. Fortunately, I didn't have to buy all of them a drink," he quipped. For the record, Fletcher has scored a total of three holes-in-one, the other two on his home course. For most golfers, scoring less than 100 is an accomplishment. But to do so at 95 is nothing short of a miracle.