A Giving Circle that Works
100+ Women Who Care of Tallahassee surpasses 200 members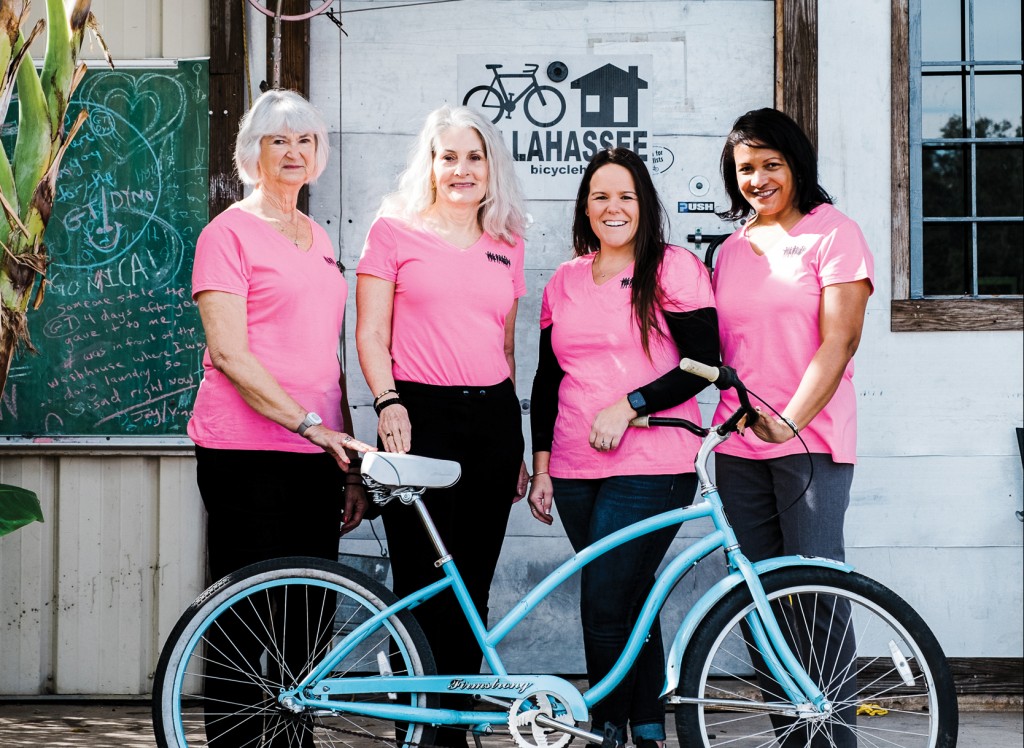 Dina Moriarty couldn't wait to tell her mother.
Moriarty, of Niceville, speaking through tears, described how women pooling $100 contributions had given $11,000 to an organization that works to combat homelessness in her area.
Immediately upon hearing her daughter's excited report, Virginia Glass told herself, "We could do that in Tallahassee."
So it was that Glass, a prominent Realtor, set about establishing 100+ Women Who Care of Tallahassee. In that, she was joined by four co-founders: Melanie Weaver Carr, Danielle McBeth, Anita R. Favors and Jaime Hoffman, who handles the group's technology needs.
The group held its first meeting in November 2020. One year later, it has given more than $100,000 to nonprofits and learned much about their work in the process.
That process is simple.
Members commit to contributing $400 per year ($100 per quarter.) Four times a year, the group meets to hear five-minute presentations from three finalist organizations. Members then vote via secret ballot to determine a winner who receives the group's quarterly donation.
All members are free to nominate organizations. The co-founders conduct a random drawing to arrive at the finalists.
"It's a simple approach that is easy for everyone to embrace," Glass said. "Four hundred dollars, four meetings a year. It has blown my mind how women have responded to needs in our community and how we have been able to make a difference during this challenging time that we have all been enduring."
Glass set and reached a goal of growing 100+ Women Who Care of Tallahassee to 200 members by the end of 2021.
"It is just amazing," she said of that achievement. "Of course, we never intended to close out the membership at 100. The more, the merrier. We are still looking for more members. The more members we have, the more money we can give away."
To date, the group has written checks to five organizations. The first was the Good Samaritan Network, which works with homeless persons. The others were Bicycle House, which fixes up bicycles and gives them to deserving recipients; Lee's Place, whose focus is on people who are grieving; the Brehon Institute for Family Services, which is dedicated to improving the lives of children; and the Survive and Thrive Advocacy Center, which lends support to victims of sexual trafficking.
"Women Who Care helped us out with money and awareness, two things very important to our organization," said Cassie McGlynn, the volunteer director at Bicycle House, which supplies and maintains essential transportation to people for whom a car is not an option. "There are a lot of people who fall into that category," McGlynn said. "People on work release, people who are unable to drive a car, people who have lost their license due to a DUI, people recovering from addiction. We help out college students who cannot afford a car, and we work with homeless people."
A disturbing number of homeless people are killed in traffic accidents while riding bicycles.
"There hasn't been a lot of research into that, but I do know that everyone deserves working brakes and lights," McGlynn said.
She said that due to the awareness of Bicycle House brought about by Women Who Care, the nonprofit is hearing from a growing number of people looking to acquire a bicycle.
The Bicycle House adds about 300 new clients annually and performs some 3,000 repairs. The organization receives donated bikes, fixes up those that are in decent shape and harvests parts from bicycles that have lived out their days.
Bicycle House anticipates that it will have to relocate soon and is in hopes that the city will help provide them with a new home. It also hopes to reach the point soon where it can afford a salaried director and not have to rely entirely on volunteer hours.
Individual memberships to the Bicycle House are available for $10 a month, and McGlynn said she is looking into establishing corporate memberships.
Glass recruited members the "old-fashioned way," she said. "I just reached out to people I know and gave them my 30-second elevator speech. From there, it has spread to others who were excited to tell their friends about what we are doing."
Glass said she has a neighbor who heard about the women's group and asked why men couldn't form a like group. Fact is, they can. A Tallahassee Men Who Care group held its first meeting in October.
An umbrella organization, the 100 Who Care Alliance, assists 100 Women Who Care, 100 Men Who Care, 100 People Who Care, 100 Businesses Who Care, and 100 Kids Who Care groups throughout the world. More than 700 such giving circles exist.
"Younger women especially want to give back, but they are so busy with their careers and being a mom that they can't sit in meetings for hours on end," Glass said. "We have succeeded with our simple approach along with the big heart that Tallahassee is known for."