A Game Plan for Tailgate Success
Listen Up! Here's Your Pep Talk From a Master of the Seminole Pregame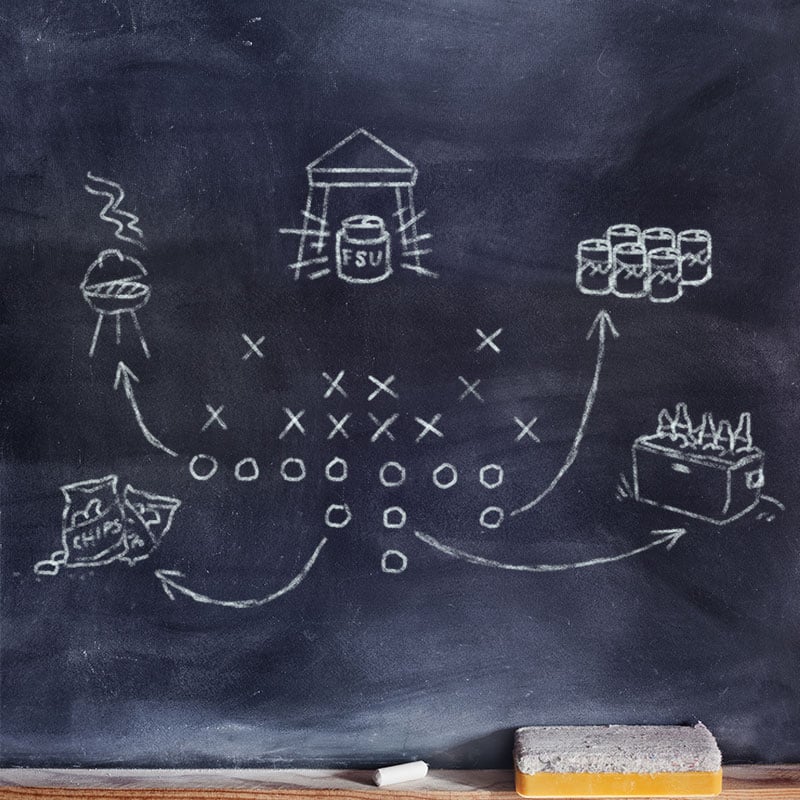 You may feel a little different as you look through this magazine. You're not sure exactly why, but you just feel better, the air is crisper, your spidey sense is tingling. No, you're not gelling with your fancy new shoe inserts. Football is back in Tallaclassy, and that means it's time to dust off the war wagons and extra-long barbecue tongs and head for our local Mecca, Doak Campbell Stadium.
Tailgating is one of my favorite parts of an FSU game, right up there with Chief Osceola planting the spear and a four-touchdown victory margin. There are countless ways to pull off a successful tailgate with a limitless variety of inputs, but I build mine to fit the audience. In my tragic case, the rather large motley crew of has-beens and never-will-bes require a lot of coaxing, bountiful food and bev and, in some cases, public challenges of their fortitude. Therefore I start early — as in May — just in case they didn't know football season was just around the corner. The spread has to be big for this herd, and you must have the key ingredients, including:
The Pregame Speech
I like it hard-hitting with some body blows thrown in for good measure. When I say hard hitting, that means a mass email to all prospects, pointing out last season's data points. For example: Your one pal who brought the teenage pack of jackals who made five pounds of pulled pork evaporate in a flash of plum-painted nails and fangs is in danger of losing his privileges. Your other tribal brother that went down halfway through the battle due to ferocious twist-off blisters needs to develop a callus. Neither is acceptable. Thankfully, every year is a building year and a reminder of past shortcomings really gets these weak links in check. Including some colorful details of the food and beverage being planned tends to soften the body blows.
A bit of Hi-Fi
As embarrassing as it is, there are some closet lizard lovers and even a few out-of-the closet Hokies that stop by on Saturdays — and they just gotta see their high-school style squad squeeze past Bowling Green. We make every effort to be decent hosts and oblige the mob. One time, I tried a 30-inch plasma that was a couple years old and soon was told I didn't have nearly enough "p's" on the display. I didn't know what a p was, but now we got 1080 of them showing off the HD all over 50 shiny inches. The blaze-orange turkey was content, the lizards' opinions remain irrelevant.
Go Heavy on the Libations
If the mountains on the label are not blue or, worse yet, cannot be found to quench a powerful dry, I regret to inform you, my tribal brother, but you have failed in fabulous fashion. Fluids should flow like the Wacissa River and temps should make Jack Frost envious. They want a lot of beverages: I mean the so-much-you-feel-awkward-leaving-Sam's-Club-with your-flatbed-cart-wheels-crying-"no mas" amount. This is no small feat when Jimbo decides to stack sweltering September game dates with High Noon kickoffs. Brilliant. Be sure to account for spies with hollow-leg capacity, and don't forget a case of juice boxes for the youngest recruits. They are the future.
A Cornucopia
Nothing can replace a bit of smoke bellowing from under a stainless steel smokestack with the heavenly aroma of the Other White Meat, basted with a savory secret sauce. Be careful here … smoke is for veteran tailgate warriors. So if this is your first buffalo hunt, don't get rushed and wind up choking down a charred Bubba Burger. We all know people eat with their eyes first, so put out a good spread of bait, lots of colors and shapes, go heavy on the dips and lots of finger-type stuff to keep them distracted in case the smoke needs a bit more time or your ex-grill master gets distracted by the ice luge next door (Youtube can verify this). Watch out for that species of tailgater that has a sense of smell to make a buzzard envious; they will come and patiently wait for a moment when you let your guard down to lighten your load.
Draft the Right Team
I tried to pull this off with minimal help a time or two and was reminded by my better half I do still have a family in the five days leading up to a home game. To execute well, this takes a team of scalp hunters and stallions to mobilize the supplies, so be certain you enlist some of the most reliable souls you know. I knew a Clemsonite that once was a good pre-gamer, but he flamed out hard in third quarter when Watkins couldn't save the day. If your teardown squad is as strong as your pregame squad, you're doing much better than me.
Reward the Brave
At most tailgates, there is one standout tomahawker who exudes what we are all about … Seminole spirit. When you see that warrior on site three hours before kickoff icing coolers, staking claim to turf with a malfunctioning pop-up tent, keeping the vultures at bay until kickoff and then emerging from the post-victory firework haze with an elbow slung close to their side nursing a sprained Tomahawk Chop-tendon — and they still help you load the truck, you know you have the winner of the Golden Coozie. Recognize that fearless soldier from Lot 5, and give the others a role model.
No guarantees my recipe will work in the future, but we'll keep at it. This is what we do, even if Jimbo schedules Bethune Cookman and Ida-who. If you see your wingman draggin', slap 'em around a bit and tell them to get their head on right. It's Tailgate Season. Roll Tribe. n