A Gadsden Globetrotter
Billy Ray Hobley's ballhandling skills enabled him to see the world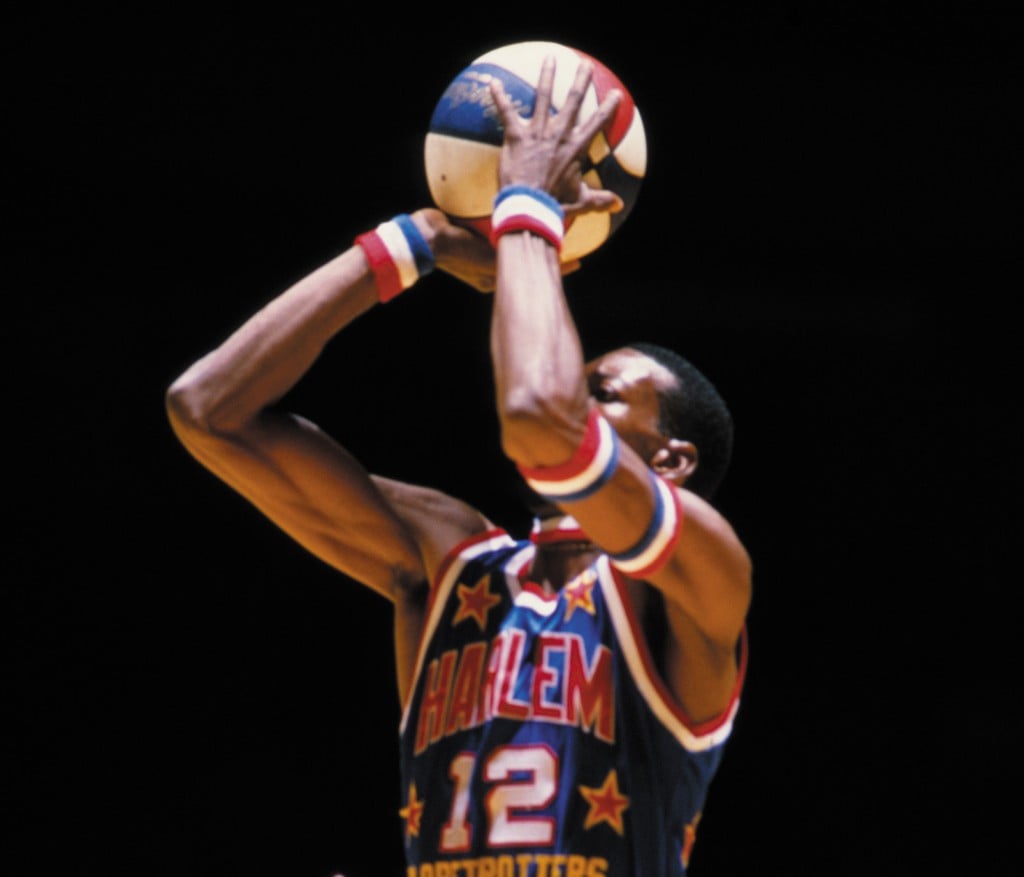 In the 95-year history of the Harlem Globetrotters, just 33 members of the organization have been named "Legends," a designation created by the organization in 1993. It honors retired Globetrotters for the unique contributions they made to the team, both on and off the court. One of the honorees is Quincy native Billy Ray Hobley, who spent 22 years with the world's winningest and most beloved basketball team (1977-1998). Few Globetrotters became such icons and inspirations to the fans, particularly younger ones, as did Billy Ray Hobley.
Nicknamed "Supertrotter" for his extraordinary athleticism and ball-handling ability, the 6-foot, 8-inch forward possessed the basketball skills and showmanship that have made the Globetrotters one of the world's premier athletic attractions for decades. The late, great Billy Ray Hobley was just as much a "Supertrotter" off the court as well, exemplifying the team's mission of mentorship for young people.
"Billy Ray could light up any room in the world," fellow Globetrotters Legend "Sweet Lou" Dunbar told ESPN at the time of Hobley's unexpected passing in 2002. "The nickname 'Supertrotter' fit him perfectly."
Hobley was raised in modest circumstances in Quincy in Gadsden County. His mother, Lucy, raised 14 children on her own after the death of Billy Ray's father, David. The family grew much of their own food and cut their own firewood. Lucy maintained order in the household by making firm rules and having inflexible expectations for her children's behavior. She made sure that her kids took school seriously. Her children were not allowed to go to bed until they finished their homework.
Hobley took up basketball at age 5, playing with his older siblings. He excelled in athletics, as he did in the classroom, from an early age. Hobley first came to the attention of Tallahassee-area basketball fans in the early 1970s at Quincy's James A. Shanks High School. Playing for the legendary Ron Miles, Hobley helped transform the Tigers of Shanks High, then a newly formed school, into a Big Bend basketball power. In addition to his prowess on the basketball court, Hobley excelled as a gymnast and a saxophone player in the school band.
"High school was tough for me," Hobley often told the crowds of young people that gathered to hear him speak. He persevered through peer pressure, avoiding drugs and delinquency as he pursued his athletic and academic goals.
Hobley earned significant attention from college scouts. He accepted a scholarship offer from Dillard University, a historically black college in New Orleans. He became one of the leading scorers in Dillard Bleu Devils history, pouring in nearly 1,500 career points while averaging nearly 15 points per game. And, he continued to excel in the classroom, earning a degree in health and physical education.
Following his college career, Hobley earned a tryout with the Harlem Globetrotters, who signed the 22-year-old acrobatic, ball-handling wizard. He joined a team that included the likes of Meadowlark Lemon, Hallie Bryant and Curly Neal, figures who were already internationally known from the team's appearances on network television and in Saturday morning cartoons. Hobley fit right in with the group, not only because of his basketball prowess but also because of his outgoing personality.
"Billy was such a personable guy. He was friends with everybody," Bill Campion recalled. From 1978 to 1986, Campion was a member of the Washington Generals, the Globetrotters' traveling rivals. Like Hobley, Campion had been an elite college player.
Hobley and Campion broke into the world of Globetrotters basketball within a year of each other and soon became good friends.
"When you first get there, they try to feel you out to see what kind of player you are. It's kind of tough to gain their respect," Campion said. Hobley was one of the first Globetrotters players to recognize Campion's skills. "I got along with Billy really well. He always used to compliment me on the way I played," Campion said. The respect was certainly mutual.
Hobley was known for his precise dribbling skills — especially for his ability to spin the ball on a fingertip and maneuver it around his body. He could shift the spinning ball from his finger to that of a bystander, even a small child's.
Hobley played in small-town gyms and big-city arenas around the United States during the fall and winter. In the spring, the Globetrotters toured the world, taking Hobley to places as diverse as South Africa, Saudi Arabia and the Soviet Union. The Globetrotters' brand of showmanship and family-friendly entertainment proved easily translatable to any culture.
Hobley exemplified the Globetrotters' commitment to community, going to tremendous trouble during his free time to be a good citizen and role model, both near and far from home.
In addition to his charity work during the Globetrotters' season, Hobley worked extensively with youth during the team's summer offseason. He developed special relationships with charities in Quincy and the Tallahassee-area as well as the Tampa-St. Petersburg region.
In March 1989, Quincy honored Hobley's contributions to the community at a special gathering.
"Wherever I go, whenever anybody asks me where I'm from, I'm proud to say I'm from Quincy," Hobley told a crowd gathered on the Gadsden County Courthouse steps. That night, he and the Globetrotters played before a full house at the Tallahassee-Leon County Civic Center. In 1992, he created an annual sports academy in Quincy sponsored by the A.S.K. Billy Ray Hobley Foundation, which featured a week's work of basketball clinics, anti-drug and mentoring talks and a special appearance by the Harlem Globetrotter himself.
Following his retirement from the Globetrotters, Hobley returned to Dillard University, serving first as an assistant basketball coach and later as interim head coach. His run as Dillard Bleu Devil basketball coach culminated in a Gulf Coast Athletic Conference championship in 2000. The following season, Hobley left coaching to focus on his charity work for children through his foundation.
Sadly, Hobley's move to full-time work in children's mentorship proved short-lived. On July 31, 2002, he died unexpectedly, suffering a heart attack in Phoenix while playing tennis.
"I was shocked when I found out that he'd passed away, a guy who was in the physical shape that he was," Campion recalled. Hobley, a devoted husband and father, was just 47 years old.
Posthumous honors for Hobley have been numerous. Dillard University retired his number and created a scholarship fund in his name, which supports numerous students annually at the New Orleans college. Since 2009, an annual Billy Ray Hobley Scholarship Gala has raised funds to support the scholarship program.
On Feb. 13, 2011, the Harlem Globetrotters immortalized Hobley in their ring of "Legends." The ceremony honoring Hobley took place at halftime of a Globetrotters game at the New Orleans Arena. In their press release, the Globetrotters noted Hobley's "rim-jarring dunks, blazing ball-handling and effervescent personality." The team calculated that Hobley had traveled the world six-times over for the Globetrotters during his 22-year run with the club.
Not bad for a young man from a small town in Gadsden County.
Clayton Trutor holds a doctorate in U.S. History from Boston College and teaches at Norwich University in Northfield, Vermont. He is the author of Loserville: How Professional Sports Remade Atlanta — and How Atlanta Remade Professional Sports (University of Nebraska Press, 2022). He'd love to hear from you on Twitter: @ClaytonTrutor.