A Final Salute
To Absent Friends, 'Lest we forget'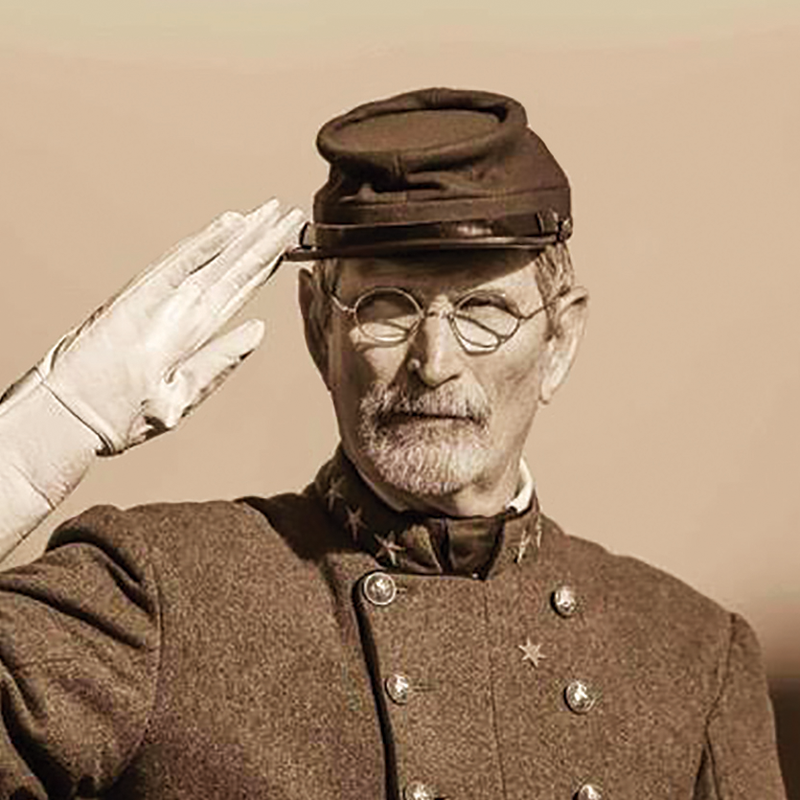 I asked God for strength, that I might achieve. I was made weak, that I might learn humbly to obey.
There's a dramatic turning point in the annual reenactment of the Battle of Olustee when the Confederate troops, low on ammo, are in danger of being pushed back by a resurgent line of Union troops. Like a dying candle flame, the rebel musketry sputters as the men desperately refill their cartridge boxes from the boxes of their fallen comrades around them. Soon, those rounds are spent, too. The shooting slackens and then stops altogether. For a moment, there's a lull. The troops are on the verge of wavering.
Then, he is there. A lone Confederate officer on horseback arrives on the scene at a gallop. But it's not just any officer. It's Col. Don Bowman, and he has come to rally the flagging line of butternut troopers.
I asked for health, that I might do greater things. I was given infirmity, that I might do better things.
Col. Bowman is instantly recognizable through the drifting smoke and haze of battle. He's ramrod straight in the saddle, and his corded slouch hat is pulled low and tight over salt-and-pepper hair. Flinty eyes, black like cannons, assess the situation from behind wire-rim glasses. He trots his horse around the line, proud and defiant, holding aloft the red flag of the Georgia Volunteer Battalion in his right hand. Reinforcements are coming; stand your ground. A cheer erupts as he gallops back along the rising line of men. From the woods behind them, a fresh line of Confederate troops appears, the two lines converge and over the din Col. Bowman's commanding, ringing voice can be heard: "Push on, men! Push on!" The men do, and the home team prevails — again — and all hail the colonel.
The scene was scripted and re-enacted time and again, but the affectionate cheers for "the colonel" always were genuine. 
I asked for riches, that I might be happy. I was given poverty, that I might be wise.
Donald D. Bowman grew up in Tampa, lived in Zephyrhills and was not a soldier by profession but an electrician. Still, he had the soul and ethos of a scholarly, warrior king. He was an avid Civil War historian and an iconic figure at re-enactments all over the country for 40 years. He had countless friends in the re-enactment community throughout Florida, including members of the Leon Rifles here in Tallahassee. He was a devoted family man, an authentic Southern gentleman and a mentor to many. He was always professional, gracious, kind, patient and dignified. He elevated the craft of historical re-enacting through his boundless knowledge, energy and enthusiasm. 
As field commander of the Department of the Gulf (which encompasses the Florida Battalion of Infantry and the Georgia Volunteer Battalion), his natural military bearing set a high standard for his men to follow. He was in every way a true leader, professional, always squared away and ready for action, and when he gave the command for the battalion to move, it did so with purpose and dignity. Under his direction, the "DOG" was always Nulli Secundus — "Second to None" — whether his men wore the grey coat or blue.
But darkness falls for all men. Don Bowman had a serious brush with a near-fatal illness in 1998 when his liver failed and an 11th-hour reprieve in the form of a desperately needed transplant restored him. He was able to return to his family and resumed his field command for 17 more years. Ever the historian, Bowman named his new liver "J.B." after John Brown Gordon, a tough and determined Confederate general.
I asked for power, that I might have the praise of men. I was given weakness, that I might feel the need of God.
But sickness would strike him again in recent years, and Col. Bowman found himself in a pitched battle against a vicious new foe: Merkel cell carcinoma, a rare but aggressive type of skin cancer. Despite fighting another gallant delaying action, Bowman succumbed to "Major Merkel's" overwhelming forces on Nov. 25. His funeral was held at a small Catholic church in Zephyrhills. In addition to his family and church family, more than 170 officers and men of the Department of the Gulf came from all over Florida and parts of Georgia to give him one final salute.  
Even though the colonel is gone, he is still leading by example. And I think one of the greatest lessons we can learn from his life is that "surrender" doesn't mean giving up or quitting. 
It's about fighting but also being willing to give ourselves over to a power, or a will, greater than our own, when there's no more ground to gain and victory is no longer possible. 
It's about quietly accepting the inevitable with dignity, grace and honor, being thankful for the time you were given, and being thankful for a second chance that many aren't blessed with.
It's about being at peace.
For those lessons, and many others, I am thankful. I am thankful I knew him.
Until our next post, colonel. Farewell.
I asked for all things, that I might enjoy life. I was given life, that I might enjoy all things. I got nothing that I asked for, but everything I hoped for. Almost despite myself, my unspoken prayers were answered. I am, among all men, most richly blessed. — "A Prayer to Enjoy Life," attributed to a Confederate soldier and carried by Col. Bowman for years.