A Family's Grief Becomes a Business Helping Veterans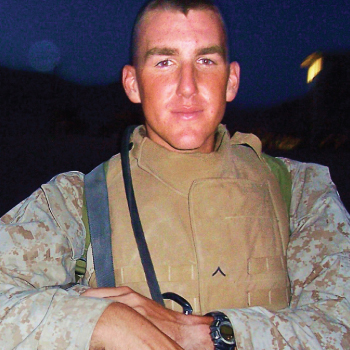 One Brave Marine
A Family's Grief Becomes a Business Helping Veterans
The night before 20-year-old Daniel Burroughs Chaires was deployed to Iraq, his father, Harry Chaires, asked him if he had gotten right with God.
"Yes, Daddy, I'm OK in that respect," the Marine lance corporal answered. And then he added: "If anything happens, I'd like to get buried in Arlington, but at your age, you wouldn't get up there that often. So, why don't you just put me in the backyard?"
Six weeks later, Daniel's family did just that after he was killed in a gun battle with Iraqi insurgents in Al Anbar province on Oct. 25, 2006. By doing so, they not only honored their son's wishes, but kept him in the center of a community his ancestors founded back in the 1820s.
Six years later, Daniel is still in the middle of things, as the face of One Brave Marine, an armed-security contracting company founded by his parents two years after his death. The company hires mostly veterans and contracts work for them ranging from personal/celebrity protection to special event security. Their larger clients include Florida State University and the Tallahassee Auto Museum, but many companies around town use their services.
Chaires, a former Marine who served 40 years with the Leon County Sheriff's Office, and his wife, Nan Cuchens, who spent 40 years in nursing, began the business as way to reduce their grief, stay connected to the military and raise funds for returning soldiers.
"We started with one mission, and now we have another," said Cuchens. "We needed to be connected because it was a link to Daniel, but now we find that the veterans come to us. They need us as well."
There are currently 35 men on the payroll working full-time in Tallahassee, and they've come from across the U.S. and from as far away as Puerto Rico after finding out about One Brave Marine by word-of-mouth and the company website, onebravemarine.com.
One recent hire, Marine Lance Cpl. Jeffrey Trudo, was introduced to Chaires through a friend who had also served in the military. Trudo served two combat tours in Afghanistan, in '08 and '10. As an infantry assaultman, he was stationed in Garmsir during a period of heavy fighting, and in Marjah, a haven for the Taliban.
He came to Tallahassee in 2010 and worked as a bouncer and bartender before meeting Chaires. Now a security officer at an Internet cafe on South Monroe Street, Trudo said he is proud to be employed by One Brave Marine because of what the company stands for.
"They're succeeding at what they do," said Trudo. "They're helping me and everybody who works for them."
"We hire the young men that are coming back, that have to find their own niche in life and get back in society," said Chaires.
"Working helps them re-enter the civilian world," added Cuchens. "They're good, strong men. They just need this adjustment time."
For Adam Shepherd, a former Marine Corps military police officer, meeting the Chaires family came just in time. He and his wife had been living on their savings for three months following his return to Camp Lejeune, N.C. After serving for five years, Shepherd was having a hard time finding a job, like many fellow veterans. Cuchens found out about Adam through his wife's mother, and it wasn't long before the Shepherds were welcomed into the family business.
"Harry pushed me to get my security license, and now I'm a security supervisor. I have nothing but respect for them," said Shepherd.
The salaries and profits from the company help returning vets with everything from keeping a roof over their heads to caring for their families to buying a needed belt or holster. Knowing how important every dollar is to them, Chaires and Cuchens often give up a portion of their profit so they can pay higher wages.
"Many security companies in Tallahassee pay their employees minimum wage and below," says Chaires. "I will not ask one of my men to put a gun on and put their life back on the line for minimum wage."
But the business is about much more than money.
"When they contact me, we get a rapport going," said Chaires, "and they come and sit in our living room and we talk. This business is a method for me to tell Daniel's story, and it's a way for us to help 35 other Daniels. Our business is to help our young men, to support them and to deal with the issues of stress that they have. We're like a mother and father to them."
And their help goes far beyond the 35 they employ. Every month, they send donations to the Wounded Warrior Project, the Injured Marine Fund and the LCpl Daniel B. Chaires Nursing Scholarship, which was established in November 2006 by the FSU College of Nursing, where Cuchens is a teacher.
"When we started, I wanted to provide more money to the Wounded Warrior Project," says Chaires. "I wanted to help the ones that were coming back that were in worse shape than Daniel, because there (are) a lot of things worse than death. The whole purpose of One Brave Marine was to raise money to give to the charities."
Being the head of a protective-service company seems a natural fit given Chaires' extensive background in the Sheriff's Office, where he served his last 17 years as Bureau Commander of Special Operations. His duties included coordinating helicopters, the K-9 unit, the traffic unit and the security operation at some of Tallahassee's largest events, including the Red Hills International Horse Trials, Springtime Tallahassee, the North Florida Fair and FSU football games.
But, according to Chaires, it's Daniel who deserves credit for the birth of this business with literally spiritual inspiration.
Daniel was killed at 11:30 a.m. Iraqi time. With the seven-hour time difference, it would have been 4:30 a.m. in Tallahassee. "He came to me at 4:30 that morning," says Chaires, "and stood by my bed. I got up and embraced him and just for a second there was substance, and then he was gone."
That was in 2006.
"In 2008, at 4:30 again, he came to me during a sound sleep, and said to me, 'Dad, you're going to die. The stress is going to kill you if you don't find something to do. You spent 40 years with the Sheriff's Office. Why don't you start an armed-security business?'"
"That was in August," said Cuchens, "and by September, we pretty much had the framework of it, and had filed the papers with the state."
"I haven't had any other contact with him since I got everything started," says Chaires. "I think he's happy and satisfied. And I see a little piece of Daniel in every one who works for us."
---
One Brave Marine
onebravemarine.com
Office: (850) 877-8210
Cell: (850) 510–0665
Fax: (850) 877–8210
info@onebravemarine.com
Wounded Warrior Project
woundedwarriorproject.org
The Injured Marine Fund
semperfifund.org
LCpl Daniel B. Chaires Nursing Scholarship
onebravemarine.com/scholarship.aspx