A Different Time
After a Quick Internet Search, Judy Coleman Finds a Family She Never Knew Existed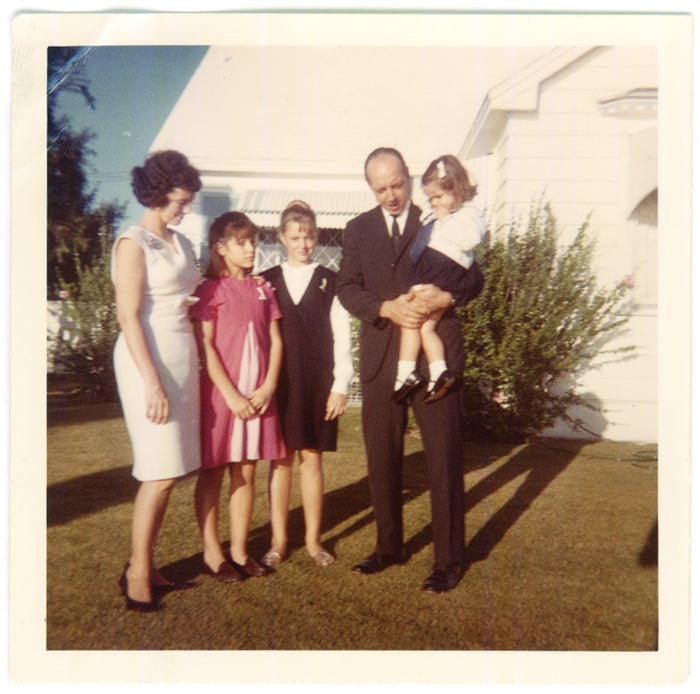 Visiting Tallahassee from her hometown of Sarasota, Lisa Hopkins was curious about the grandfather she never met and wondered if her 79-year-old mother, Judy Mackenzie Coleman, had ever searched for the father she never knew.
While Judy ran to the store for last-minute dinner groceries, her youngest daughter turned to a computer and started Googling genealogy sites. Lisa knew her grandfather's name was Rupert Mackenzie and, in less than five minutes, she found a man with the same name in her mom's hometown of Pittsburgh, Pa. She dialed the number, and as her mother walked through the door laden with grocery bags, Lisa announced, "I have your brother, Rupert, on the phone."
Since that moment, Judy's life has never been the same.
A Family Secret
In this free-flowing age of information and communication, it's hardly surprising it took less than a half hour to track down someone through an Internet search.
So to understand how two families could live in the same city for 20 years and never know anything about each other, we need to think pre-Internet, pre-WWII and a family that had a secret to keep.
Born in Pittsburgh during the Great Depression, Judy's parents separated before her birth on June 13, 1931. Mother and baby lived with Judy's grandparents. To a child unaware, her early memories are of a wonderful mother "who made it all happen in my life." Because she was a child, Judy wasn't aware of the quiet drama playing out for her mother.
Divorce was not illegal at the time, but it was definitely taboo. And laws made it difficult to break a union. Rupert couldn't just ask for a divorce on grounds of irreconcilable differences. It took seven years — and Judy's mother would be charged with desertion by the court — before the marriage was dissolved.
Judy was 6 when the divorce was finalized, and she recalls seeing her father for the last time on a street in their hometown. He was walking with a woman who was to become his second wife, Norma.
For Norma to marry a divorced man was scandalous enough for Rupert's new in-laws to digest. But they couldn't accept the fact he was a father. They forbade him from seeing or talking about his daughter. And so, with that edict firmly in place, the secret of Rupert's first child, Judy, was buried. Friends and family never broke their silence.
In a sad twist of fate, Rupert died of a heart attack when he was 41 years old. The 20-year-old Judy learned of the funeral, but she was conflicted with emotion and decided not to attend.
Now, she admits, "It always gnawed at me who this man had been. Had he started a new life and family?" There was also a sense of loyalty to the man who eventually became her stepfather when she was 12 years old. Happy and content with this new life, she pushed to the back of her mind those feelings and questions that lingered about her father and her past. "My mom was a very private person," she says."You just didn't ask questions like that."
Judy Mackenzie married Jack Swanson in January 1951. She started her own family in New York and eventually raised five daughters and a son in Florida. Happy in her growing family, dedicated to her work and her faith, she put her own childhood behind her. She never dreamed of the past coming so alive until Lisa made that fateful call.
The Second Family
Stunned at Lisa's pronouncement, Judy took the phone and spoke to Rupert, who told her that her father had left behind five young children when he died. Norma, 73, is the oldest sister; Rupert, 72, is the oldest brother; then comes Marjorie, 69; Joanne, 67; and Bill, the baby of the family at 65.
A huge smile brightens Judy's face, as she recalls getting the incredible news. "Needless to say, I was amazed. I was amazed," she says. Rupert, named after his father, goes by the nickname Bud. He, too, was shocked. "Once I realized it wasn't a prank, she knew too much random family information, we just talked," he said. At the end of that first call, Bud said he needed time to process this new information. Judy responded, "me too." Who could blame her? For nearly 80 years the great-grandmother thought she was an only child, so finding not one, but five, siblings takes some time to process.
During the call, Lisa remembers the "priceless" look on her mom's face. "It was so exhilarating you couldn't believe it. It was a gift she was looking for her entire life," she says.
It didn't take Rupert long to share the amazing information that he now had two older sisters. He called Norma first, and then the other three. And there was no hesitation to welcome Judy into the family. Still, Judy's oldest daughter, Christine Reker of Tallahassee, had concerns about the Mackenzie family's reaction. "Naturally I worried if the family shunned her then that would be another rejection, but it couldn't have turned out farther from the truth. The entire Mackenzie family embraced her."
Norma and her husband quickly got in their car and drove down the to meet this new sibling. "When I saw her standing on her porch to greet me," says Norma, "I turned to my husband and said, 'She looks just like Grandma Dobson, my Dad's mother.'" Judy remembers that "I stared at her coming in the drive, we hugged and then we cried. Norma's husband just stood there stunned to see these two women who looked so much alike."
After looking at some of the pictures from that first meeting, Rupert agreed, "Norma and Judy look more alike than the rest of the family."
Many of the first conversations were filled with questions. Like new friends getting to know each other, but with a common thread, they talked and talked. Judy wanted to know about the father she didn't grow up with. Hearing stories of the wonderful father the other children played ball and shared dinners with, Judy says, "I'm not jealous, just sad I never knew this man."
Through these long conversations, the more Judy learned, the more she uncovered eerie connections with her newfound family. Beside the uncanny resemblance between Norma and Judy, the two women shared many traits. "She looks like me! She acts like me! When we ordered lunch, she ordered the same salad and salad dressing," says Judy. "We watch the same TV programs, read the same books, we both love mysteries, both are dedicated to family and our faith. And both of us named our daughters Lisa." Norma adds, "She even loves cats like I do."
Family Reunion
Judy finally met the entire Mackenzie clan in August. As she was packing up for the weeklong trip to Norma's house in Carmichaels, Pa., there were butterflies and excitement. Judy confessed she was nervous. "I'm worried about what I'll say. I know I'll cry so I'm not wearing mascara."
When they gathered, no one lacked for conversation. "It wasn't a family reunion, because we had never been together before," Judy says. "It was our first union and it was awesome. I had waited 80 years of my life for this and it was worth every minute of the wait."
Everyone wanted a moment with Judy to welcome the new relation. There were so many nieces and nephews, Norma made flash cards so Judy could keep everyone straight. Thirty-five Mackenzies spanning four generations came to greet Judy. Even Norma's 17-year-old grandson, who was finishing culinary school, showed off his talents by preparing a farewell luncheon.
With a lump in her throat, Judy stood beside Norma, Rupert, Marjorie, Joanne and Bill, smiling for dozens of photos throughout the week. In good-natured humor, Norma reminds Judy, "We were lucky, there was no sibling rivalry growing up." On a more serious note Judy adds, "I have had a great hole in my past which has caused a lot of grief through the years." Surrounded with five new brothers and sisters, perhaps that void will now be filled.