A Day in the Life of Ruby Diamond
Behind the Scenes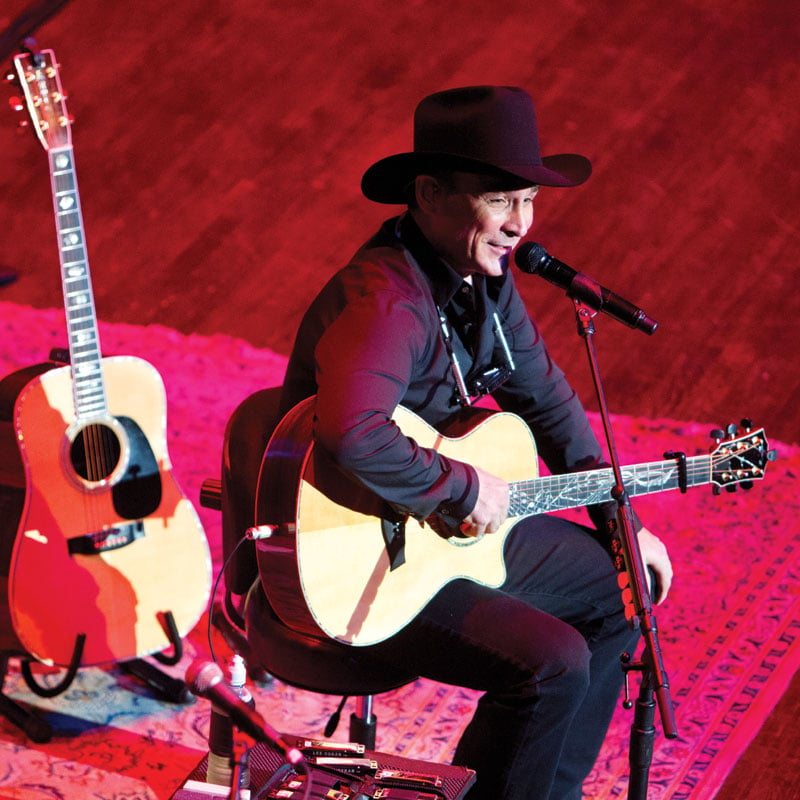 Florida State University's Ruby Diamond Concert Hall plays host to the most prestigious events in Tallahassee. From Medical School graduations to doctoral lecture series and the Tallahassee Symphony Orchestra, Ruby Diamond's 1,260 seats are continuously being filled by all levels of Leon County society.
Originally constructed in 1911, this distinguished building has gone through a series of rebuilds since its debut. After the completion of its most recent renovation in 2010 (which totaled $39 million) this intimate venue is at the top of its game.
When country music star Clint Black came to town on Sept. 25 as part of FSU's Seven Days of Opening Nights Series, we were able to take an exclusive look at the inner workings of Ruby Diamond to find out just what makes this concert hall so impressive.
After clicking through this gallery, be sure to check out the online bonus gallery featuring photos not seen in the printed issue.
Ruby Diamond's classic design makes it a suitable host for a variety of performances. For large-scale events like the Clint Black show back in September it takes an entire team, hustling from dawn until dusk, to be ready by show time.
Here in the largest dressing room at Ruby Diamond, performers spend much of their time before a show. To bring the flavors of home to an otherwise foreign environment, artists will have written into their rider (one component of a much larger contract with the venue) certain items they prefer. For the Clint Black concert, that meant English muffins, potato chips and a little red wine. Lunch and dinner are served in the "green room," (not shown) an area designated for the artist's relaxation. Historically, these rooms were indeed painted green, but according to urban legend, the term actually originates from the "green" stomachs of nervous performers. For lunch, the Clint Black folks enjoyed a deli tray consisting of roast beef, ham and a variety of cheeses, along with assorted chips and beverages. On the menu for dinner was roasted chicken.
A private star dressing room is available, though Clint Black declined to use it, opting instead to share facilities with his bandmates.
In just 8 hours, all of these moving parts will come together in order to give Tallahassee's country music buffs the relaxed musical experience they were hoping for.
Clint Black's crew arrived with two full-sized buses in tow. One for people, one for equipment.
With the help of Clint Black's crew, Ruby Diamond's audio engineer Mike Shapiro and his team worked tirelessly to ensure all systems were in order long before the audience arrived.
Ruby Diamond's team of experts made sure all hands were on deck to help pull together the many moving pieces of this production. According to Zack Berry, Clint Black's tour manager for the last 23 years, the kind of dedication to proper planning exhibited here is key to pulling off any show. "It's all about preparation," explained Berry. "Everything has to be planned to get to the point of starting a show. From the time we leave Nashville and even before, you're planning months in advance for what you have to do, where you're going, how you get there, what you do when you get there. And then the work begins."
The orchestra pit at Ruby Diamond can be elevated for extra seating, bringing the theater's capacity to 1,260, or simply for dramatic effect during a performance.
Tallahassee Community College President Jim Murdaugh (right) along with his wife, Sara, were among those invited to attend Clint Black's VIP Meet and Greet. The occasion provided the opportunity for a photo-op with the award-winning artist. "We're lucky as a community that we have this sort of a resource," said Murdaugh of the Seven Days of Opening Nights' program, of which TCC is a Platinum Sponsor. "It's incredibly important to have this in a community like ours."
Before Clint Black (left) entered the VIP Meet and Greet, his manager Zack Berry (right) set a few ground rules. First, he said, don't be offended that Clint isn't at his chattiest this evening — he prefers to save his voice in order to sing later. Second, no autographs. The crew was on a time limit. And third, don't forget to smile for the camera.
After the crowd began to fill the entryway to Wescott Plaza, breezing past the famed fountain, patrons ventured over to the concession stand in Ruby Diamond's ground floor. Soon the lobby began to take on a life of its own.
Slowly but surely fans started trickling in to the performance hall. By 8 p.m., Ruby Diamond was filled nearly to capacity.
Clint Black made a low key, timely entrance. No pomp or flash needed — just good music and a sense of humor to follow.
Though Clint Black took a minimalist approach with his performance, some shows require extensive lighting and props. According to Seven Days Director Chris Heacox, it's important for Ruby Diamond to establish the performers' expectation of the venue well before curtain call. Communication is key at every level. "It's really a team effort," stated Heacox. "It's the Seven Days staff and the Ruby Diamond staff working together — everyone has their role."
Throughout the evening, Clint and his band — guitarist Hayden Nicholas, drummer Richard Gay and bassist Jake Willemain — delighted fans with many of his classic hits, including "State of Mind" and "Like the Rain," and also introduced their newer material.
After clicking through this gallery, be sure to check out the online bonus gallery featuring photos not seen in the printed issue.