A Cover Band With A Blast of Brass
The RockitZ combine a five-member horn section and a load of fun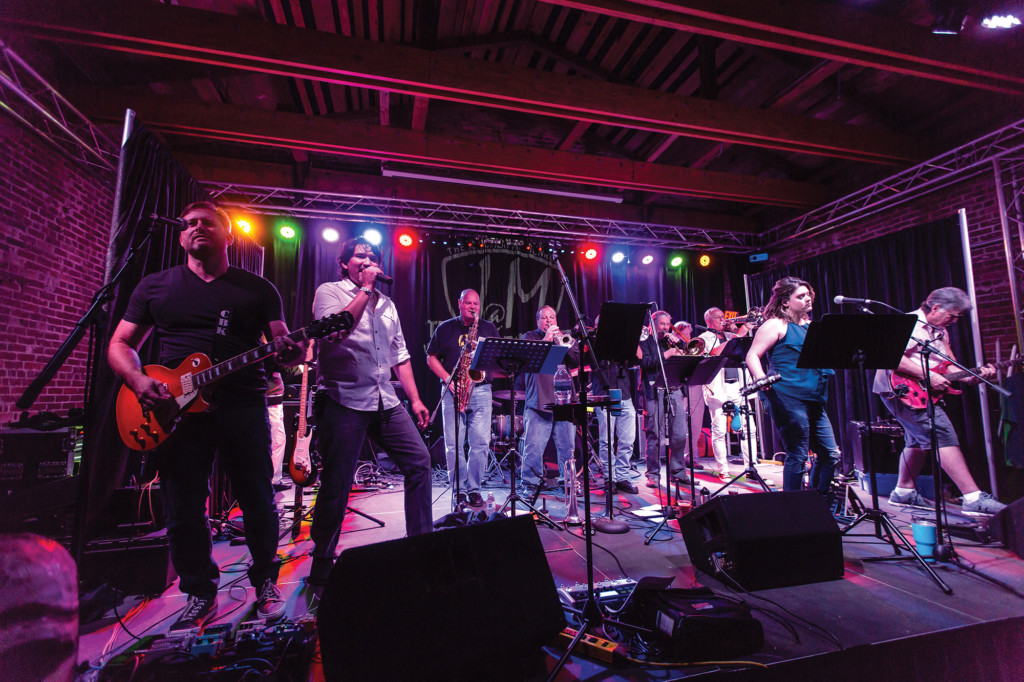 It's a Monday night at Good Samaritan United Methodist Church. Vocalist Michael Lynch, a physical therapist, stands centerstage testing the microphones.
He still has his scrubs on.
Keyboardist Chuck Cliburn walks intently around the rehearsal space as the band belts out its version of "Proud Mary."
He makes comments and cracks jokes.
He's having fun, which is easy to do when you're the leader of an eclectic and unusual cover band called The RockitZ.
"We all do this for fun," Cliburn said. "You'd starve to death if you did it for money."
The RockitZ exude zeal with a capital Z. They feature 12 members, most in their 40s, 50s and 60s, who otherwise call themselves firemen, lobbyists, IT specialists, medical professionals and then some.
The band includes the regular rock package of guitars, drums, keyboards and bass — plus a whole lot of brass.
Few bands feature two trombones, two trumpets and a saxophone. Perhaps even fewer include a dozen members.
The RockitZ play a mixture of pop, classic rock and soul tunes from artists such as Van Morrison, Tom Petty and, you guessed it, Chicago, which in the late '60s established a signature brass-heavy sound that continued with big success throughout the '70s and '80s.
But trumpet player Scott Gorman says the band is "trying to get into the 21st century." As such, the group added Florence + The Machine's "Ship To Wreck" and Bruno Mars' hit "Uptown Funk" to their repertoire, all with full horn accompaniment.
"We try not to do too many songs from the same band," guitarist Chris Keller said. "We don't want to be like the, 'Oh, hey — that's the Chicago cover band.'"
When the tunes don't involve horns, you can find the wind section singing backup vocals, playing percussion or generally having a good time.
Cliburn founded The RockitZ in 2015 while playing with the Good Samaritan church "praise band." With Phil Horning, the RockitZ's original drummer, Cliburn wanted to begin an outside rock group with a horn section.
"I always wanted to play in a horn band," Cliburn said.
From then on, a series of connections formed The RockitZ. One of the original guitarists knew Scott Schimpf, a trumpet player. Schimpf contacted Gorman, whom he played with in Florida State University's Marching Chiefs in the 1980s.
The rest of the members joined in a similar manner.
The RockitZ have no shortage of experience. Keller said he has played guitar for more than 20 years. Gorman said he has played trumpet since the 1970s.
Nearly every member of the The RockitZ is involved in other ensembles around town.
Gorman performs with the Tallahassee Brass Quintet; bassist Adam Gaffney plays regularly with the Wailin' Wolves Band; trombonist Greg Akridge and Schimpf play in the Thursday Night Music Club. Vocalist Lynch, guitarist Kent Rodriguez, trombonist Adam Bennett and drummer Walter Kelleher play in other bands as well.
The group has performed at venues such as at Proof Brewing Co. and The Junction At Monroe. The RockitZ find it difficult to fit all dozen or so members on stage, so they favor larger venues and special events such as the American Legion Hall, Tallahassee's Winter Festival of Lights, Springtime Tallahassee and weddings.
The wind section has remained intact. But, like other bands, The RockitZ otherwise have seen some turnover, which led to the recent arrival of drummer Kelleher and singer Cristi Izquierdo.
"It takes awhile to get a band stable," Cliburn said. "A lot of people join a band and they think they know what it means commitment-wise, then it's three months later and they're like, 'Man, I don't know.'"
And as for the odd spelling, blame the 21st century. Cliburn said "The Rockets" website domain was already taken.
"We weren't allowed to become the Lady Killers," guitarist Rodriquez said jokingly, referring to a term for men who tend to attract or seduce women. "So we had to think of something else."