A Cosplayer's Maiden Voyage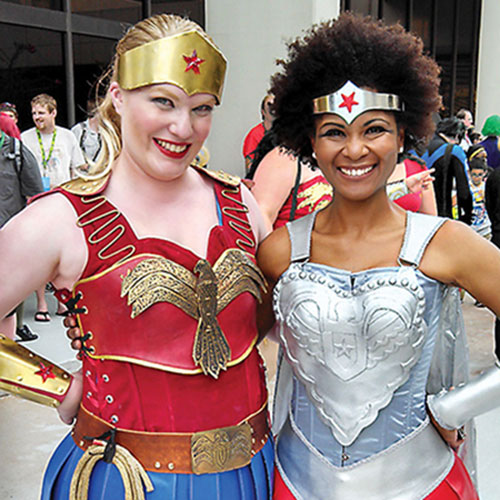 I was afraid it would sound like something right out of the Mid-Life Crisis Handbook.
My book club was meeting and, as usual, we were getting caught up on each other's lives and plans. Everyone there knew I loved comic books and blogged about them, and I was in friendly company. However, I was sheepish about telling people outside of my geek circle what I was up to.
A funny thing happened when I started talking about my plans to cosplay at Dragoncon and shared the photographic evidence once I returned, though.
Everyone thought it was awesome. Ultimately, so did I.
For a couple of years, I'd been content to sit on the sidelines of cosplay by taking pictures of costumed people who looked like they were having the time of their lives. It was only when my good friend and co-blogger Vanessa Gabriel (see article) bravely took the plunge that I decided to enter what I call the final and perhaps most flamboyant frontier of geekdom. It's easily one of the most fun and liberating things I've ever done.
For one thing, cosplay brought some much-needed whimsy into my life as a Serious Working Parent. Adults of a certain age need opportunities to play, too, and commissioning a costume is way cheaper than buying a sporty convertible.
Being a cosplayer for a day was also a deliberate exercise in facing the fear of judgment and being too conspicuous. By wearing a costume, I was essentially saying, "Look at me!" Even among countless other people wearing Spandex and capes, that was very much outside my introvert's comfort zone. I was also aware that I'd pay a price for wearing faux leather and tights in hot southern weather. But you can't beat the feeling of walking down the street and having a kid in a passing car look out the window and say, "It's Wonder Woman!"
Now I understand, in a very personal way, why cosplay inspires such devotion. It's an outlet for endless creativity and enthusiasm, and it's just plain fun. It also opened up a new world of imagination that I'm eager to keep exploring. Before we left the Atlanta city limits to return to Tallahassee, I was already brainstorming costume ideas for the future. Until then, I sincerely hope that a friend will throw a costume party and give me an excuse to suit up again.