A Commitment to What Endures
Cosmopolitan developer knows where his values lie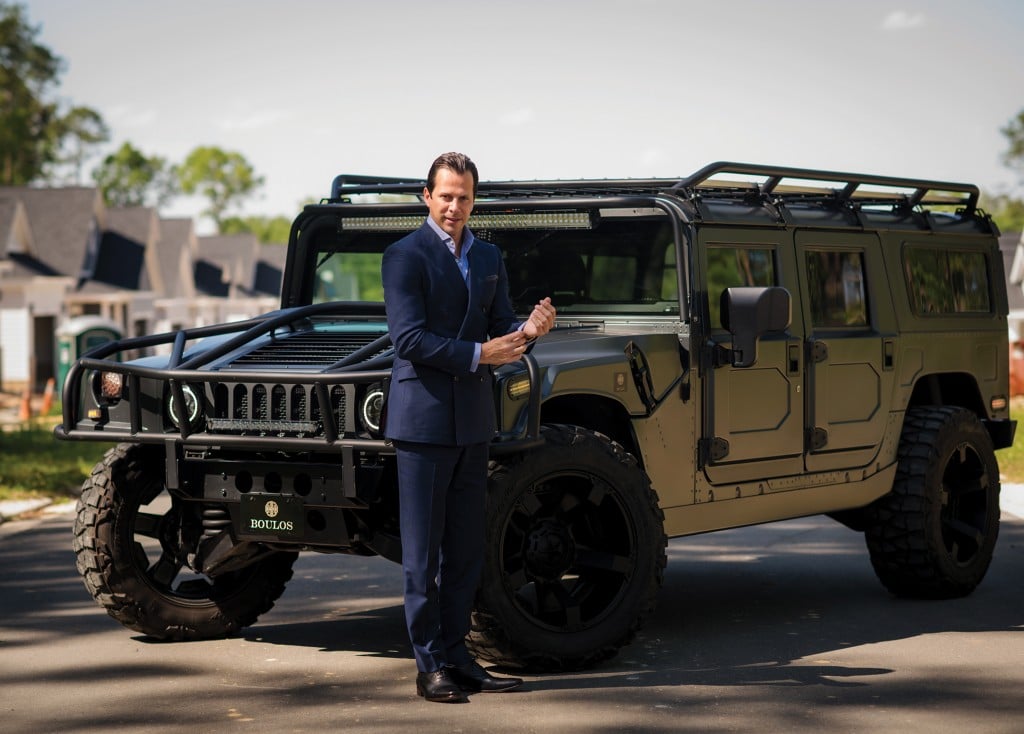 If, as the dictionary tells us, "style" refers not just to the cut of your suit or your choice of hues, but to "a mode of living; a particular, distinctive characteristic," then the style of Tallahassee housing developer and property management guru Hadi Boulos surrounds him. From the handmade suits he designs himself to his quest for the perfect roofline, to his own personal strivings to be the best in anything he does, Boulos' style tenets run deep.
At the downtown Tallahassee building he owns topped with its magnificent golden Boulos logo (another of his designs), Boulos welcomes a visitor as a guest. In the Middle Eastern tradition of hospitality, Lebanon-born Boulos offers tea or water, and a seat on a soft, streamlined divan.
Boulos Corporation is currently bringing over 600 new homes and 100 apartments and duplexes out of the ground in Tallahassee and its environs. And yet, the 47-year-old bachelor appears serene in an elegant blue suit, open-collared bespoke shirt and a naturally warm sophistication that nearly overshadows the ambition and vision of the born "doer."
With what might be a self-effacing smile, Boulos said that he has many experiences and influences to draw upon as the impetus for his future plans, many of which are inspired by a deep and powerful devotion to his father.
Born in Lebanon to a noted architect/developer and his wife, Boulos moved at an early age to Germany and added a fourth language to the French, Arabic and English he already knew. He was educated later at the Maclay School in Tallahassee — where his father had relocated after falling in love with the city's verdant and welcoming environment — and in France and Switzerland. Boulos said that the experiences to which his family exposed him, the steeping in the beauty of European architecture and culture and simply developing a taste for quality without compromise, have all become a part of what could be called Boulos' "personal style."
Upon graduation from university, Boulos began what would become a 20-year career in banking that found him as a vice president at Merrill Lynch in New York, director of Barclay's Bank in London and later managing director of Citibank in Switzerland. All the while, he and his father had been investing in Tallahassee real estate. Then, with a mid-career switch from banking to development, it seemed that the instincts that had led three generations of Bouloses in search of physical beauty were aroused in Hadi as well. He says, too, that with his deep understanding of banking and finance, he at all times "manages risk." That is to say, "if you are offering an extraordinary product and are not overleveraged, you will do well."
That is what Boulos looks for in his personal style choices as well — "the extraordinary product." Responding to questions, many of Boulos' answers tell of a life few in Tallahassee live, and yet, he quietly views the privileges in their greater context, that search for quality, and for what endures.
"I am a traditionalist," he said. "My avatars would be the men of the 1930s to 1950s, those with the casual elegance of actors like Clark Gable or Cary Grant. I don't like fashion trends, rather, apparel that is timeless and which feels effortless."
Boulos favors understated sparkle in a watch and prefers a British-made cologne he has worn for years, Penhaligon's Halfeti, with its blend of "vigorous grapefruit" and Turkish spice. He avoids the color black and spurns blue jeans. In Miami, Boulos can be found in linen jackets on the rear deck of his 90-foot Gianetti, which, with its Missoni wallpaper and treble-trayed ceilings, is a destination in itself.
To spend a weekend in the company of Hadi Boulos? Perhaps it would be in Miami, dining at Cecconi's, with its Venetian cuisine and art deco/Cubano decor. Perhaps aboard his yacht sailing near the Greek island of Simi. Together, you could enjoy the Louvre, then have late afternoon tea at the Hotel Costes, or with him as your guide, drop into the National Portrait Gallery in London.
Yet Hadi Boulos puts one thing above his successes, his acquisitions, his intercontinental voyages — even his commitment to finding beauty in the simplest acts of living — and that is a devotion to his father.
"My parents gave me a profound appreciation of family and values," he said. "My father is my closest friend. Along with my mother, from them I received a sense of style, love of the arts and meticulous attention to detail. Now that my father needs me in a new way, I have dedicated the last seven years to memorable quality time with him, which for me is a blessing."
In the end, there is little more to say about a man than to style him a faithful and devoted son — no matter what he is wearing or how big his boat.