A Christmas Crush on … Cranberries
This merry berry is healthy, versatile and just the "zing" you need for a festive menu!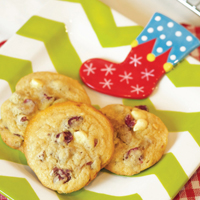 If you feel bogged down this holiday season, let the cheery disposition of cherry-red cranberries put some bounce in your step.
Recent research has shown each tiny cranberry contains phytonutrients, or plant nutrients, many of which are classified as flavonoids. Flavonoids are powerful antioxidants. Antioxidants help maintain cell structure and good health by combining with and neutralizing "free radicals," the highly reactive chemicals that damage cell walls. In fact, cranberries have one of the highest concentrations of antioxidants when compared to other fruits.
These bright berries also are bursting with vitamins C and K. They're full of fiber, and their antioxidant properties elevate them to the status of a "superfood." The National Institute of Health is funding research on the cranberry's effects on heart disease, yeast infections and other conditions, and other researchers are investigating its potential against cancer, stroke and viral infections.
Native Americans were the first to use cranberries as food, healing ointment and dye. Throughout history, cranberry fruits and leaves have been used for a variety of health problems such as wounds, urinary disorders, diarrhea, diabetes, stomach problems and liver disease.
We enjoy cranberries raw, dried, mulled, sautéed and stewed. And we serve them up in juice, sauce, relish, jam, salad and stuffing, to name just a few. Cranberries pack a flavorful punch, so they are like adding an exclamation point to your meal menu.
Though cranberries are popular served as part of holiday meals, you can certainly enjoy them year round. They freeze well and can be stored in the freezer for up to a year.
"Cranberries are a tasty and versatile ingredient," says Chris Leynes, executive chef at Hotel Duval. "Their tartness lends itself to both savory and sweet dishes. I like using them in savory dishes to balance out heavier, rich flavors."
He suggests cranberries for desserts because they serve as a counter to sweet flavors. "Try them in a hot sauce and serve over vanilla ice cream with pound cake for a simple, yet delicious dessert for the holidays," he says.
Whether you use them to trim your tree, simmer in a pot or garnish your cocktail, cranberries are a festive ingredient for holiday fun.
We raise our cranberry cocktail glass and honor the berry that makes us merry all year.
Cheers!
Here's a refreshing holiday cocktail created by the mixologists at the Midtown bar Alchemy:
Cranberry Ginger Smash
» 1 orange wedge
» 13 cranberries
» 2 pieces (1-inch each) crystallized ginger, minced
» 2 ounces Aperol
» 1 ounce Lillet Blanc
» 4 dashes Fee Brother Cranberry Bitters
or Peychaud's bitters
» Ice
» 4 ounces ginger beer
Directions: In a cocktail shaker, muddle the orange wedge with 10 of the cranberries and the minced ginger. Add the Aperol, Lillet Blanc, bitters and ice. Shake well. Double-strain the drink into an ice-filled Collins glass and top off with the Ginger beer. Garnish with the three remaining cranberries.
A Cookie to Keep 'em Happy
Susie Murray, the "Curious Cook" and co-author of "The Happy Everything Cookbook" by Coton Colors, gives us an elegant update on the traditional chocolate chip cookie. "The cookie has the sweet and salty thing going on, with the sweet taste of the white chocolate to start and then a bit of salt lingering after you finish eating the cookie," she says. "I love the orange flavor, and the cranberries are what make them the perfect holiday cookie."
White Chocolate & Cranberry Orange Cookie
Makes 4 dozen cookies
» 1 ½ cups dried cranberries
» 2 ¼ cups all-purpose flour
» ½ teaspoon baking powder
» ½ teaspoon baking soda
» ½ teaspoon salt (optional)
» 1 cup unsalted butter, softened, or 1 cup
butter-flavored Crisco*
» ½ cup granulated sugar
» ½ cup light brown sugar, packed
» 1 egg, slightly beaten
» 1 orange, zested
» 2 tablespoons fresh orange juice
» 1 cup pecan halves, chopped
» 1 cup white chocolate baking chips
» 1 cup semi-sweet chocolate baking chips (optional)
Directions: In a small bowl, pour enough warm water over dried cranberries to cover and set aside. In a medium bowl, sift together flour, baking powder, baking soda and salt; set aside. In a large bowl, cream butter and sugars with an electric mixer until smooth. Beat in egg, orange zest and juice. Reduce speed to low and gradually add the flour mixture until combined. Drain the cranberries. By hand, stir in cranberries, pecans and chocolate pieces. Cover dough and refrigerate for at least 15 minutes. When ready to bake cookies, preheat oven to 375 degrees and adjust oven rack to middle position. Scoop a heaping tablespoon of dough and shape into a ball. Gently flatten the top of the cookie. Place 2 inches apart on a clean cookie sheet. Bake for 10 minutes or until the cookie is golden around the edges. The cookie will appear to be "doughy" but should not be raw in the center. Remove cookies from oven and allow them to cool on cookie sheet for 1–2 minutes before transferring them to cooling rack. Wash cookie sheet and bake remaining cookies.
From the kitchen of Chef Chris Leynes, Hotel Duval
Duck and Cranberry Salad
» 2 cups mixed greens
» 4 ounces duck confit
» 3 tablespoons dry cranberries
» 2 tablespoons spiced walnuts
» 1 ½ ounces Sweet Grass Dairy Lil' Moo Cheese
» 2 tablespoons diced red onion
» ½ cup hot water
» 3 tablespoons extra virgin olive oil
» 1 tablespoon sherry vinegar
» salt and pepper to taste
Directions: Soak the dry cranberries in hot water for 15 minutes.
Remove from water and dry on towel. Wash and dry the salad greens. Toss the greens with oil, vinegar and salt and pepper in a mixing bowl. Layer the ingredients in a serving bowl, starting with the lettuce, followed by the onion, walnuts, crumbled cheese, cranberries and duck.