A Case of the Blu
In the glow of a Blu Halo, a dream comes to life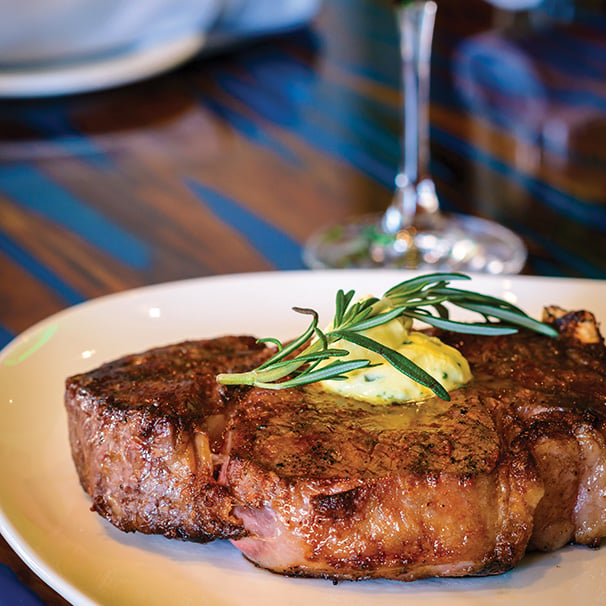 Keith Paniucki talking about his new restaurant, Blu Halo, is a little like hearing from a mystic touched by a religious experience. While Paniucki didn't have to go to a mountain for inspiration, his mission seems no less consecrated to providing the very finest dining Tallahassee has to offer.
"I'd been thinking about it for years," says the 48-year-old entrepreneur. "When I heard one night on the news that Bannerman Crossing was to be developed I knew this was it. I couldn't sleep all night and the next morning got in touch with the developers, the Summit Group … reserving the first … and the best … spot for my new restaurant!"
But at that point, locally born Paniucki was no restauranteur. It was true that he had worked in Tallahassee eating establishments as a youth and "loved it," and growing up what he calls, "dirt poor," had always had dreams. Yet later, after receiving a degree from Southeastern University, he landed a job with an IT company and quickly established a side business as a franchisee of two Tropical Smoothies eateries. From there, in 2003, he struck out with his own company, Signal House Communications, servicing commercial, government, academic and health care audio visual needs. Yet, despite the rapid growth and expansion of his AV business, that old restaurant bug was still nipping.
Along with architect Kevin Sossong, SheltonDean Designs' Catherine Baker, who had created interiors for Level 8 and Madison Social, was called in to transform Paniucki's color schemes and vision into reality. Chef Tyler McMahan, from Destin would generate unique recipes ranging from dry-aged steaks to hard-to-find Chilean sea bass. Experienced General Manager, Andy Donato, was put in charge. And signature cocktails were created … including silky swirled alcohol made with a liquid nitrogen machine that cascades plumes of icy cloud as it produces spectacular drinks you eat.Today, Paniucki looks around the Blu Halo, aglow in shades of blue and metallic greys, polished wood and stainless finishes shimmering even at midday. Set just off one of several intimate roundabouts, and including an outdoor dining space, he says, "I wanted a high-end restaurant like those I found traveling out of town. The food would be exceptional, the adult beverages unique or hard to find, and the décor would be both romantic and comfortable." He had even drawn a schematic of a softly lit blue pyramid holding fine spirits, crowned by a ceiling halo of glowing indigo. But though he'd done research, Paniucki was, after all, a business major, and as CEO, he wanted to structure his restaurant around experience and expertise.
Like concentric rings, a massive round bar and encircling banquettes expand outward to intimate booth and table groupings. Long polished high-tables of inlaid pecky cypress are perfect for friendly groups. And a quiet private dining room with heavy frosted glass doors lies just to the side. Seating, indoor and out, for 185, with a wine cellar of 1500 bottles to choose from, makes Blu Halo as unique and elegant as can be found in Tallahassee.
"This is my dream come true," says Paniucki, as he gently fingers a bottle of 25-year-old scotch "I think we got it right."
---
Things You May Not Know About Blu Halo
– Blu Halo has a Private Library Collection of fine wines in pullout drawers inside of a refrigerated wall. Some of these wines can only be reached using an antique library ladder on a track.
– Blu Halo is home to a $1,800 bottle of Lafitte Rothchild 1995 that is quietly waiting for a taster with something big to celebrate.
– Private Wine Member lockers, bearing the names of their owners, are on display in the restaurant; although they look like gym lockers, they contain house-bespoke bottles. Blu Halo also offers subscribers special wine dinners.
– Once a month, after 10 p.m., the lights dim, the tables are pushed back, themed music is turned up and guests are invited to dance in the Halo's "blu" glow. Listen for Latin music in March and disco jams in April.