A Caring Voice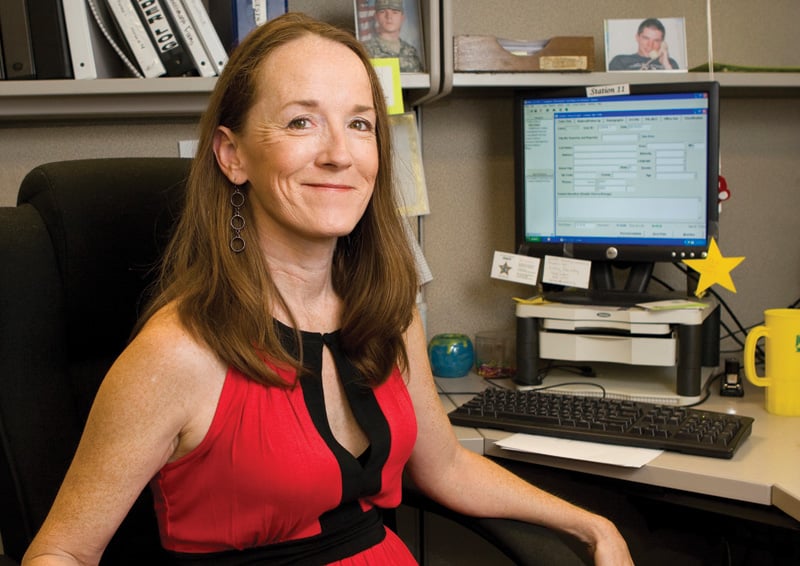 A listener by trade, 2-1-1 Big Bend's Carrie Tyree gets a chance to do the talkingA Caring Voice2-1-1 Big Bend's Carrie Tyree Makes a Difference One Phone Call at a Time
While everyone is familiar with 911 for emergencies, 211 may be the new number to dial in the time of crisis. 2-1-1 Big Bend is a 24-hour free community crisis and referral hotline. Callers can receive 24-hour counseling; suicide prevention assistance; substance abuse, community, HIV/AIDS and family health information; parenting advice; and local, statewide and national referrals.
Carrie Tyree has been involved with 2-1-1 Big Bend for seven years, starting out as a volunteer. Having called the hotline herself after a serious car accident, she felt she needed to give back.
"I felt that they went above and beyond, and I wanted to do the same for others," she said.
Within months, Tyree took a part-time job as coordinator of PhoneFriend, an after-school service for youngsters, and then became a volunteer coordinator at the nonprofit organization.
In 2005, she moved into the position of hotline supervisor and now works to assure the smooth operation of the "phone room."
Tyree recently sat down with Tallahassee Magazine writer Anitra Ellison to share information on the services 2-1-1 Big Bend offers.
TM: About how many calls do you get a day?

KT: Last year we received 16,000 calls – which would average to about 45 calls a day. The calls can last for as short as five minutes to as long as four hours.
TM: What is the nature of most of the calls received?

KT: We usually get about two suicide calls a day. Most of our popular referrals deal with the basic needs – food, clothing and shelter.
TM: How did 2-1-1 Big Bend originate?

KT: It started in 1970 as the Telephone Counseling Center at the Florida State University Counseling Center, and it was only open to Florida State students. After seeing the need for such services in the community, it was taken over by a nonprofit organization and incorporated in 1976. In 2003, the named was changed to 2-1-1 Big Bend.
TM: How can someone become a counselor?

KT: Most counselors start out as volunteers. To volunteer, you must be at least 18. You have to attend the training, which is offered three times a year in May, September and January. Training is typically two and a half hours each Tuesday and Thursday evening for 10 weeks. When you are done training, you will have supervised calls until you are ready to take calls on your own. After training, you have to complete 200 hours of service. Last year, our volunteer hours totaled 10,000.
TM: 2-1-1 Big Bend recently made its hotline accessible to cell phone users. How has that affected its use?

KT: Most college students don't have a landline phone. We felt that the most important thing was that everyone have the same access to 2-1-1 Big Bend. Cell phone access has increased our call volume.
TM: With the increasing use of technology, do you see 2-1-1 Big Bend counseling through e-mails and/or through text messaging?

KT: The Florida HIV/AIDS Hotline has instant messaging due to the personal nature of the calls. Few people use it, but it is starting to increase. As technology changes, we'll have to change, but a warm, empathetic voice is hard to transmit through an instant message.
TM: What do you hope to see 2-1-1 Big Bend achieve in the future?

KT: I want to continue to recruit students and other community members of all different ages, races and backgrounds. I think diversity will help the callers even more.