A Brightened Future
Makeover broadens the appeal of the landmark Governors Club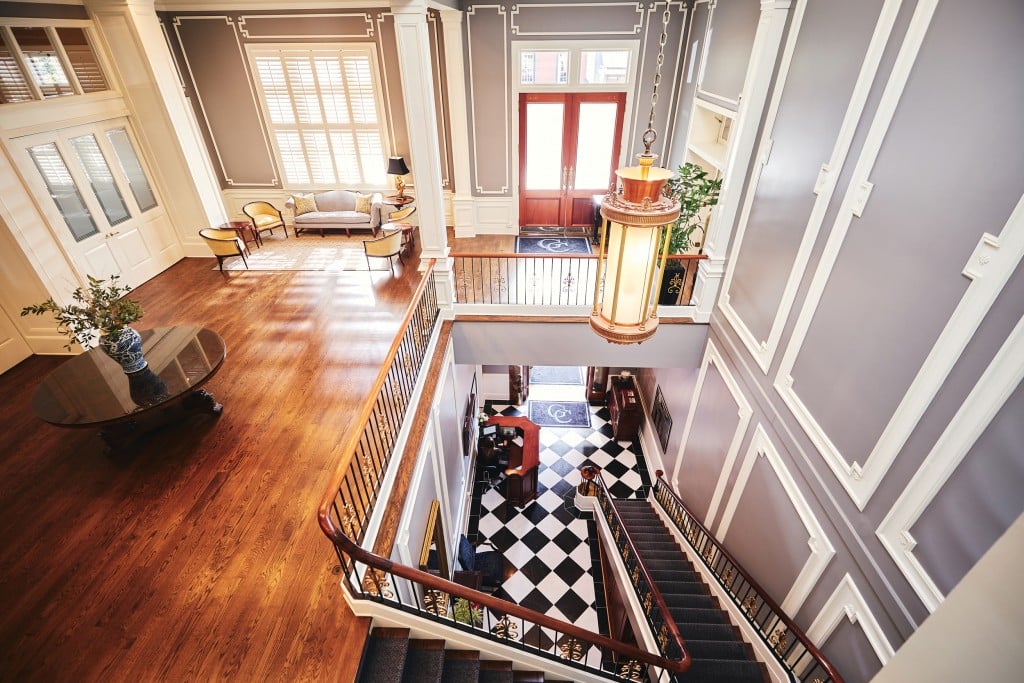 Barry Shields recalls leading a soon-to-be bride and her mother on a tour of downtown Tallahassee's Governors Club and how they reacted to its look and feel. The women, who were checking out possible reception venues, found that the club, dark in cast, was not what they had in mind for a celebration.
Shields, the club's general manager and chief operating officer, surely had that and similar experiences in mind when, several years ago, he and the club's board members began discussing a thorough renovation of the formidable meeting place at the intersection of College Avenue and Adams Street.
"From its inception, the club has made modifications such as adding a balcony or a casual dining area, but it had never undergone a complete interior renovation," Shields said. "The board and I recognized the need to keep up with the times and to give the club a fresh look. We have to be able to compete with other venues in the market to attract the kinds of events we would like to host."
So it was that the club's leadership committed to converting a club that historically had been a dark wood into something more like a meadow.
Work began last summer when meeting spaces on the club's second and third floors were freshened. This summer, the focus was on the Grill dining room and the foyer on the ground floor.
"Of course, you never really complete this sort of thing," Shields remarked.
It's like work on I-75. It never stops.
"We've already begun talking about doing something at the lounge next door," Shields said.
Shields said the renovation work was gauged to respect the club's Southern roots.
"At the same time, we provided new furnishings and worked with new color schemes to give the club more of a modern look," he said. "Where floors were redone, we went with lighter stains. We have worked to brighten the club and open it up, make it not so much of a men's club."
The makeover is consistent with the programmatic direction that the club has taken recently.
"Over the last several years, the activities that we offer the membership have changed a great deal," Shields said. "For many years, the club was primarily a place to conduct business. Now, we are taking into account the entire family and the different interests among the membership."
Club activities include cooking classes and pizza/movie nights for children.
"We are more family oriented and more social. We want to be a place where friends and families will come in the evening and during the weekend."
That emphasis, Shields said, has resulted in a more diverse and younger membership. He estimated that the average age of a member at 55.
"But plenty of charter members are still with us," Shields said. "And, about a third of our members are from outside of Tallahassee. They are the folks who relate to activities of the Legislature. Meetings conducted at the club during legislative sessions and periods of committee meetings make up the majority of our business."
Senior members have a special fondness for the club's "library" and its details, including handmade wooden panels on its walls. Accordingly, that room, except for carpeting and new furniture, was left untouched by renovation work.
It falls to Executive Chef Tim Drown to keep the club's menus fresh, as to both ingredients and offerings.
"In hiring Tim, I hired one of the best chefs in the club's history," Shields said. "He has done an excellent job and has taken the quality of our cuisine up a notch."
Generally, the menus resemble those of an upscale steak house with an emphasis on local sourcing of produce and seafood along with wild game from South Georgia and prime USDA cuts of beef.
Second stint
In 1982, Shields was a student at FSU majoring in finance when he accepted a job as a busboy at the Governors Club not long after it opened.
"It didn't take long before I fell in love with the club business, and I knew that it was what I really wanted to do," Shields said.
He changed his major to hospitality and remained at the Governors Club until he departed for a job as food and beverage director at a city club in Savannah, Georgia, after rising in the ranks at Tallahassee to the job of maitre'd.
ClubCorp, founded by the late Robert H. Dedman Sr., for whom the hospitality school at FSU is named, owned the Savannah club, and Shields remained with the organization through a series of stops: Orlando, Atlanta, Montgomery and finally Tampa. Shields managed the Tampa Club, located in the Bank of America building downtown, for 18 years before finally boomeranging to Tallahassee in 2014.
In the Capital City, Shields is cognizant of the many powerful pols who have visited the Governors Club.
"If the walls could talk, they would have plenty of stories about politicians from yesterday and how politics used to work," Shields said. "The Sunshine Law (an open-government statute enacted in 1995) was a huge game changer on how things are done. Prior to that time, it was basically a competition to see who could outspend whom."
Shields has a favorite quote from the club's earliest days, one he attributes to founding board member Jon Shebel.
"He said the club was going to be for all kinds of people — even rednecks," Shields said.
Well, not exactly.
Steeped in Prestige
From the start, the club offered fine food and welcomed members of distinction
Following are excerpts from a limited edition, large-format book, Governor's Club: The First 25 Years, written by Heidi Tyline King, illustrated with photographs by Joseph Rupp and published in 2005 by Rowland Publishing. Carrol Dadisman, a one-time president/publisher of the Tallahassee Democrat, chaired an editorial committee that pulled the book together. In September 1980, a planning committee began looking into the feasibility of organizing the Governors Club. A little over two years later, the club opened by welcoming members with an extravagant reception.
The Club's Raison D'etre
As stated in Article II, Section 2.1 of the club's bylaws, the specific and primary purpose for which the organization was organized was as follows:
to provide the City of Tallahassee and Leon County with a downtown club with dining and meeting facilities where business and professional people can meet in a congenial atmosphere to discuss business and professional matters.

to encourage and foster high ethical standards in business and professions through the recognition thereof by election to membership in the Governors Club of those who have maintained those standards.

to develop and encourage friendship among leading business and professional people, and

to assist in the revitalization of the downtown Tallahassee area by providing a meeting place to attract business and professional people to the downtown area.
Finding a Home
The Odd Fellows Lodge at the corner of Adams Street and College Avenue was an ideal site for the club. Constructed in 1926, the building was at first co-owned by the Andrew Jackson Lodge of Free and Accepted Masons No. 1 — Florida's first Masonic Lodge — and the Leon Lodge No. 5, Independent Order of Odd Fellows, one of the oldest and largest fraternal organizations in the world. In 1956, the Masons sold their half to the Odd Fellows. The site was within walking distance of the Capitol. It had cultural significance, not only to the community, but also as a meeting place for community leaders. It was a historic building, with the traditional look and feel of an established private club. And it was spacious, with definite possibilities for innovative renovation. The club's organizing board of governors set to work tracking down leaders of the Odd Fellows to see if their idea was viable. "That was actually harder to do than it sounds," said Bill Horne, who began promoting the idea of a downtown club in 1979. "We'd set up a meeting and then it would be cancelled due to sickness or a death in the family. I don't think there was a member who was younger than 76 at the time."
Happy Birthday, Governor
The first private function held at the Governors Club took place on
Nov. 9, 1982, the night before the club opened for business. According to a Nov. 14, 1982, article in the Tallahassee Democrat, club manager Bill Horne graciously consented when Florida First Lady Adele Graham called and asked if they would serve dinner to celebrate the governor's 46th birthday. Because Chef Albert Ughetto and his staff had been testing out dishes on each other for weeks, the Grahams, along with daughters Gwen, Suzanne and Kendall, became the first non-staffers to sample the vichyssoise, French onion soup, medallions of veal, avocado salad and a dessert of crème caramel. They toasted the special occasion with champagne left over from the wedding of Lady Diana and Prince Charles, flown in as a surprise by Mrs. Graham. "It was delicious and beautifully served," she said. "The waiters were well trained and looked great in their white gloves and black tuxedos, and Bob loved it."
Importance to Community
Architecturally speaking, the Governors Club building has little significance. Described as an oversized, two-story structure with a flat roof, the most notable feature is the 18-inch square inlaid marble relief carving of the Odd Fellows symbol and the Masonic square-and-compass emblem on the second floor, visible from the balcony. Yet according to Lee Yawn, at one time the acting executive director of the Tallahassee Trust for Historic Preservation, a building can be important to a community for a variety of reasons. "Originally, that part of town was dirt roads and dusty storefronts," Yawn said, "but cleaned up, the entire Adams Street has a look and feel about it that is needed for downtown to survive and thrive. There are examples where we want to preserve authenticity like the Brokaw-McDougall House, but it is a museum and it preserves daily life. Adams Street today and indeed the Governors Club make use of past architecture, but in a modern sense. It makes it livable. Preservation from that standpoint can be used as a draw both socially and economically."
Anticipating Change
As the next 25 years begin in the club's history, change is anticipated and expected, but the founding ideas of being good stewards of the club's amenities, facilities and funds remain constant. "A lot of the changes are not really changes, but a growing up and maturing — a process that was set in motion when the founders got together," said Peter Harris, chairman of the club's board of governors in 2004. "More than anything, that has guided us as a board. We look at what we have inherited, and we see so much promise."