Venvi Art Gallery exhales art
A Breath of Fresh Air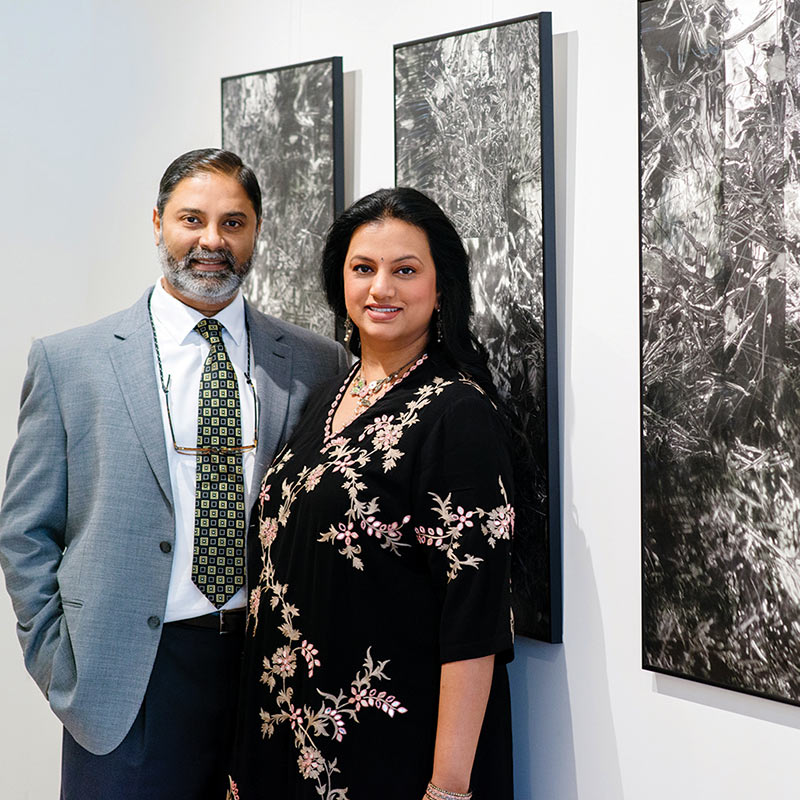 Bright, vibrant colors offer an exciting contrast to the white walls of the gallery. These colors converge into shapes that entice the viewer. I'm drawn to the shades of blue and green that run parallel to each other in Ray Burggraf's Jungle River piece. The calm, instrumental music playing in the gallery makes it easier for me to contemplate the meaning of the artwork.
Nearly a year after its inception, Venvi Art Gallery has hosted the work of five different artists and held six exhibits. Owners Brinda and Veernag Pamulapati spent careful time building and designing the gallery. They did ample research in Toronto, where Brinda was trained, and visited as many art galleries as they could.
Veernag, who has an engineering background, paid careful attention to the lightning designs and specifics of the gallery. Not only did the technical aspects take time to understand, but the concept of abstract art did, as well.
"When Brinda started doing abstract art, it didn't make any sense to me," Veernag admits. "But after six months of not relating to it, after I kept seeing it, I started picking up what was happening. Eventually, I gave up the idea that art has to have form."
Veernag's realization is one that the couple hopes many of their visitors will have, especially younger ones. Brinda encourages parents in the community to bring their children when they visit art galleries, because doing so can spark a newfound interest in or appreciation for art.
Venvi is an especially fitting gallery for children, because its focus is on color, creativity and quality. The passion for color in all of the exhibits can get audiences of every age thinking about the way humans respond to color.
"The creative energy of the artists brings it all together," Brinda says. "You don't see these pieces anywhere else."
When they first founded Venvi, Brinda and Veernag were looking for artists who had proven their qualifications and demonstrated their uncommon techniques. They soon found out that artists in the community were looking for just this kind of outlet.
"Talking to initial artists, the enthusiasm they had with the new things they were creating — we weren't expecting to see that," Veernag says. "They took to it like water in the desert."
Venvi gives committed artists the opportunity to keep doing what they love without having to stop and worry about whether or not their work will be seen or appreciated.
"They're so passionate," Brinda says of the artists featured in the gallery. "I started this gallery as an artist, and now I'm so excited about how these artists are so involved and ready to show their work."
In turn, Brinda and Veernag are ready to show the artists' work to businesses in the community. "Instead of shopping for art in bigger cities or online, businesses can come here and find art," Brinda explains.
Venvi Art Gallery was built as a space where people can interact with different creative ideas and practices. With the enthusiasm of its owners merging with the enthusiasm of the community, Venvi has quickly become a place where quality meets devotion.
"It's an entire community celebrating art," Brinda says. "I'm very honored to have a platform for them." 
---
Artists Ray Burggraf and Mark Messersmith
One of the artists featured at Venvi is Ray Burggraf. Ray is currently an Emeritus Professor of Fine Arts at Florida State University. He often refers to his work as "color constructions," and it's easy to see why in pieces such as "Hell's Bells." The contrast between the smooth dark greys and bright oranges shapes creates an enticing conflict for the viewer. 
Mark Messersmith is also a featured artist at the gallery. Mark's work focuses on the struggles within the modern world's natural environment. "Weight of Darkening Silence" captures this clash in vivid shades of blue and yellow. Various types of birds are highlighted in gold in the center of the piece and are surrounded by blue animals that soften the brightness.