A Bittersweet Gift
Donating Her Ponytail to Help Another was Easy; Parting with a Loved One's Wasn't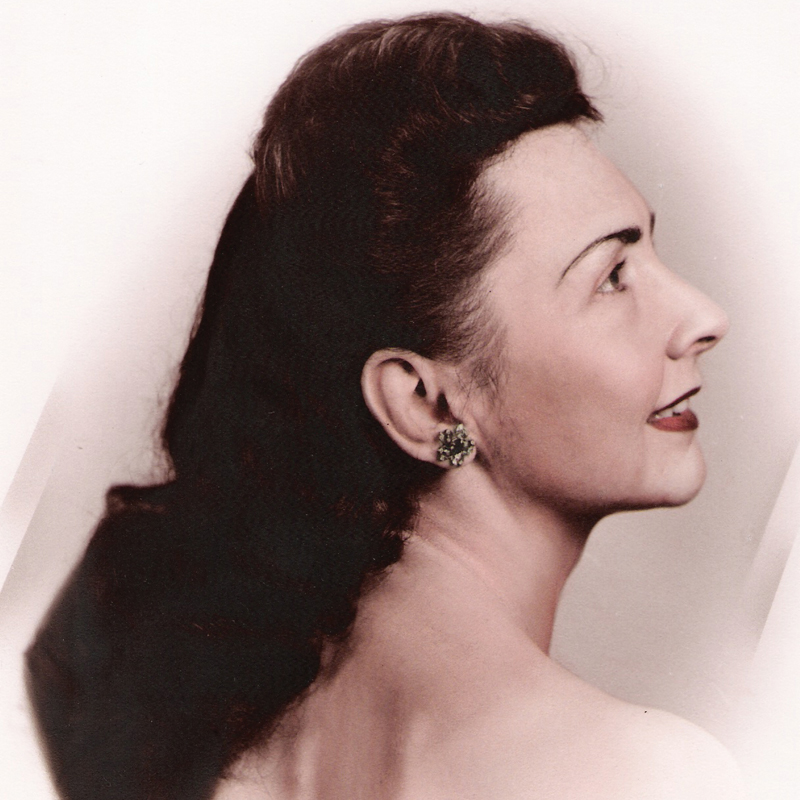 As a child, I always had very long hair. But as I got older, I wore my hair shorter. It was easier to manage and, honestly, it looked much better short.
I had gone for a while without cutting it, and in the fall of 2009 it was getting long — past my shoulders. I decided I would keep growing my hair and donate it to an organization that made wigs for women and children undergoing cancer treatment the next spring, when the weather turned hot.
Meanwhile, at the end of October 2009, my 91-year-old mother had a bad fall and broke some ribs. She was hospitalized, then transferred during the first week of November to a facility to receive pain management and to recover so that she could return home.
It was a Thursday, and Mom had had a particularly good day. Her pain was under control, and we felt that she had turned a corner. I had sung some of her favorite songs to her earlier in the day, including "Bridge Over Troubled Water" and "Jeanie with the Light Brown Hair."
All of a sudden, Mom asked me what I was going to do with my hair. That was her way of being nice. What she really meant was that my long hair, which hadn't been highlighted in a year, looked terrible — and I needed to do something with it. So I explained to her why I was growing it out.
Mom looked at me and asked if I knew where her hair was. An odd question, but I knew exactly what she was talking about. She kept a very long ponytail of beautiful auburn hair at home in her dresser. She was in her 40s when she cut it — about half a century earlier. At the time, it was practically down to her backside. Mom asked me to send it in with mine. I told her I would certainly do that.
My mother once told me the story of sitting in the beauty shop listening to a woman on the other side of the curtain tell the hair stylist, "Why can't you do something with that Mrs. Starr's hair?" The stylist replied, "Why don't you tell her yourself?" and pulled back the curtain, revealing my mother. She was in her 40s then with a newborn baby (me), which was not common in the 1950s. I suspect that she was trying to look younger than her age (which she had no trouble doing) since she not only had a newborn but also a husband who was seven years younger than she was, as well as two teenage boys from a previous marriage. I do not know how long after that it was that she cut her hair, but I imagine the woman's comment did influence her.
On that Thursday evening last November, my mother fell asleep and was sleeping very hard but peacefully. I told the nurses I felt comfortable going home for some sleep myself since Mom had had such a good day and seemed to be doing so much better. I no sooner walked in my door at home than the phone rang and the voice on the other end, a nurse, told me Mom had passed away.
Fast-forward to this past spring: As the temperatures were climbing into the upper 80s, it was time to cut my hair. I have been going to Patty Rich at Patty's Place for around 20 years, but it had been a long time since I last came to the shop to get my hair cut. Patty had never seen it this long. We put my hair into a ponytail, and with just a snip or two it was gone. I knew I would miss it, but I also knew I would feel better, not just because I would feel cooler with short hair, but because I would be helping someone who was going through a time in her life that I could not even imagine.
I brought my mom's hair with me for Patty to see, and she was amazed. It was in wonderful condition and such a beautiful color. It was more than twice the length of mine.
We put the two ponytails into Ziploc bags ready to mail off. But was I ready to mail off Mom's?
I have handled big events since Mom passed as anyone would expect — or maybe I was more stoic than most. What has surprised me are the little things that really upset me. The routine things I used to do are gone, and that has been hard. Now both of my parents are gone, and at times it does get very lonely. It is a normal process of life, but that does not make it easy.
Mailing my hair off was not a big deal; I can grow more. But Mom cannot, nor will I ever see her hair again. I know it is just hair, and it is not her. Someone will see it and, I pray, fully enjoy it. I pray it will ease their pain while going through a difficult time in their life — a more difficult time in life than I have ever known.
In the big picture of life, this is a very small thing I can do for someone else, and the bottom line is, I am glad to do it.
---
Two organizations that accept hair to be manufactured into wigs are Locks of Love (locksoflove.org/donate hair) and Pantene Beautiful Lengths (pantene.com, click on "News and Offers"). Visit their websites for specific information on requirements for making a donation.