A Bit of Honey
Honey Hilliard's artwork takes flight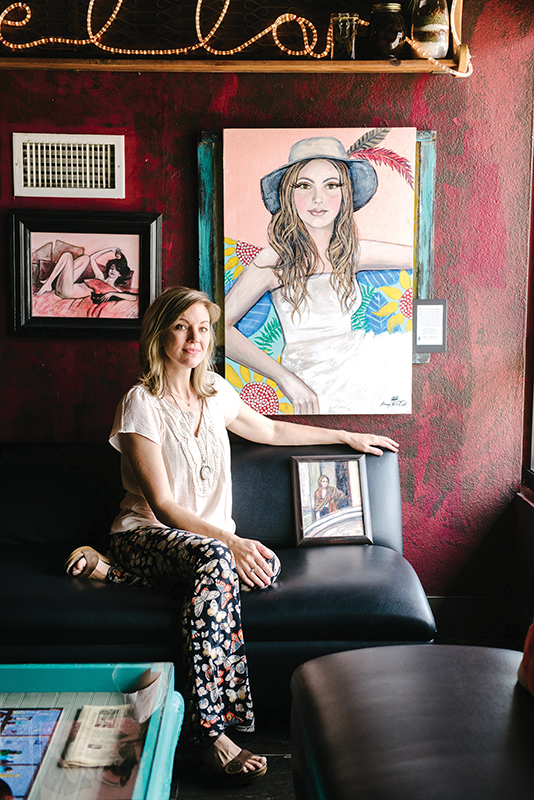 Speckled with a warm amber color, Honey Hilliard's eyes match her name. For that matter, so do her hair and her sweet disposition. Hilliard is one of those rare people you feel at peace with instantly — so much so, that my interview with her turns into a three-hour conversation in which I end up driving to her house, touring her studio and meeting her husband and two-year-old daughter.
Our meeting begins at Bella Bella, where a large collection of Hilliard's paintings is currently housed. Directly behind the hostess's stand hangs a Florida Fish and Wildlife Conservation Commission poster that depicts birds found throughout Florida, drawn with science-textbook accuracy. This poster is a staple in classrooms and wildlife centers across the state.
It is also Hilliard's first claim to fame.
After graduating from Florida State University with a degree in art, Hilliard pursued a job with the conservation commission as an artist; but she now works for herself, showcasing her art throughout Tallahassee.
As we proceed through the various rooms of the restaurant, it becomes obvious to me that her art has evolved since the time when she first began drawing for the conservation commission: Her work is no longer as measured, precise or rigid.
"After having such a controlled portfolio, with wildlife and medical illustrations, it's nice to let loose and not have control — though birds have become a constant in my art, along with other winged creatures: dragonflies, bees and especially butterflies," Hilliard says.
A series of portraits at Bella Bella that holds my particular interest features notable women, often the obvious victims of tragedies, posed alongside symbolic birds and poisonous flowers.
"I like my paintings to tell a story, and I have a lot of fun coming up with the stories," Hilliard says.
On the wall opposite the portrait series hangs two paintings in complete juxtaposition with one another: Marilyn Monroe and The Virgin Mary.
One night Hilliard dreamed she needed to paint the iconic blonde; she woke up and did it, only to find out later that it was Monroe's birthday. As for Mary, Hilliard was toting her toddler through the grocery store checkout when she noticed that surrounding them were magazine covers depicting celebrities in various scenes of turmoil. Hilliard remembers thinking she wanted her daughter to be influenced by a positive figure, so she went home and painted Mary surrounded by glittering gold stars.
The female form is a constant in Hilliard's work, whether bedecked in fashionable clothing or nude. The paintings of the nudes at Bella Bella fit with the style she experimented with during her six weeks of living in France in 2013 and are reminiscent of Degas and Monet — pastoral French scenes with expressive brush strokes and warm palettes.

But any expectations I might have about Hilliard's work vanish when she leads me to her display of colorful skulls on pine backgrounds that line the wall behind the bar. The skulls are textured, layered, bejeweled, flowered and often smiling.
I'm learning that Hilliard's art is rife with symbolism, and after viewing her work at Bella Bella, I feel that it's essential for me to know the space in which she creates. I'm happy to say that she invites me to her studio, and I don't even have to ask.
It's beginning to rain when we walk up to the front door. Stella, Hilliard's youngest daughter, is immersed in various toys, meaningfully scattered before her. In an instant, she is wrapped around her mother, telling her about her day.
The house is quaint, charming and expressively decorated. The studio is much like a sunroom with large windows throughout, giving way to tranquil views of trees. The rain drips from the leaves outside, and I can see how it would be easy to create in this space.
A long table stands in the center of the room. At this table, Hilliard teaches art classes to teens and adults with various levels of artistic talent.
"I like to teach how to tap into your inspirations and listen to those creative voices and to act on them in order to satisfy that urge to create," explains Hilliard. "I think that's a calling for most of us. I think we are all creators."
Hilliard shows me her coloring book, "Looking for Butterflies." Published before coloring books for adults were trending, "Looking for Butterflies" is based on a day Hilliard spent with her oldest daughter, Autumn, at St. Marks.
After a pause, Hilliard decides to tell me about her brother who passed away many years before and her mother, who died more recently. Both were influential in Hilliard's life, beliefs and artwork. She explains that in many cultures, butterflies are viewed as resurrections of our souls.
Throughout Hilliard's life, she has had many encounters with butterflies.