A Beginner's Guide to Enjoying Tallahassee's Four-Day Homage to Independent Movies
Film Festival 101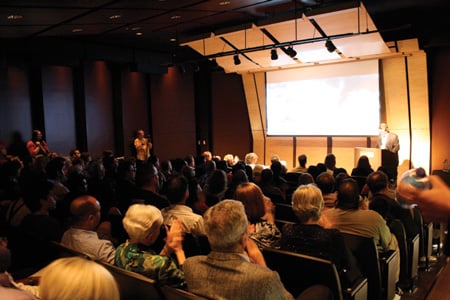 Love movies, but tired of seeing the same old Hollywood schlock at crowded, overpriced theaters?
Then you have a treat coming.
The fourth annual Tallahassee Film Festival begins April 6 and organizers are promising more than 70 cutting-edge indie films — from full-length features to animated shorts — over the course of the four-day event.
Film buffs can pick and choose from a schedule packed with quirky comedies, heartbreaking dramatic narratives and compelling documentaries or, for less than the cost of a dinner for two, have their choice of everything on the program.
And the screenings are just part of it.
When you want to take a break from the visual feast, you can learn about the art of storytelling in seminars and Q&A sessions with the filmmakers, and socialize with industry names at upscale after-parties thrown in some of downtown's most popular nightspots.
Heck, you might even get to meet a celebrity or two. After all, this year's event celebrates the 25th anniversary of the black comedy "Something Wild," which starred Melanie Griffith, Jeff Daniels and Ray Liotta and was largely filmed in Havana and Tallahassee.
Just remember, seats are first-come, first-served, so start planning now to make sure you get the most out of this rich, big-screen experience.
"You've got to sit down and really make a plan," said Carolyn Smith, the volunteer heading up this year's festival. "Enjoy everything. Don't just go to the films."
Hitting the ground running
The Tallahassee Film Festival debuted four years ago as a project of the Knight Creative Communities Initiative.
The volunteer members of KCCI were looking for ways to take advantage of Tallahassee's unique characteristics to help boost the local economy. As a state capital, home to Florida State University's respected Film School, and a former location for several high-profile movies, the idea of a film festival just seemed natural.
A staff of volunteers provided the labor — the festival is run as a nonprofit organization — and grants and sponsorships covered the costs.
The first festival was a three-day event held in mid-May 2008, offering a dazzling selection of films, including Werner Herzog's Antarctica documentary, "Encounters at the End of the World."
Mark Hinson, a movie critic and senior columnist for the Tallahassee Democrat, said, "they got off the ground pretty fast. The first year, they kind of surprised everybody." The second festival was a little weaker, he said, but returned strong last year with a showcase of films by FSU grads.
"They get some really good, kind-of-experimental stuff," said Hinson, who serves as a judge for the festival. "They do a pretty good job of getting a sampling of everything."
Among his favorites of the 2010 film festival: "Special When Lit," a documentary on the rise and fall of pinball in America; "Taqwacores," another documentary about the Muslim punk rock scene in Buffalo, N.Y.; and "Medicine for Melancholy," a love story starring Comedy Central's Wyatt Cenac and directed by FSU grad Barry Jenkins.
This year is likely to offer more screen gems.
Programming Director Chris Faupel said the festival has received more than 200 entries, the highest number since the festival began. That includes entries from more than 30 countries, including Australia, New Zealand and much of Asia, he said.
"That's pretty decent for our size festival," he said.
Films to 'sink your teeth into'
The 2011 Tallahassee Film Festival opens on a Wednesday night with select pre-event screenings and a party on the 8th floor of the Hotel Duval.
It continues the following night with additional films and is followed by two full days of screenings on Friday and Saturday and the "Best of …" showings on Sunday, which will feature the festival's winning entries in feature films, shorts, documentaries and other categories.
All together, the festival is expected to screen between 70 and 80 films, split between shorts that typically last 15 minutes or less and feature-length films running an hour or more.
The films will be shown at several venues, including the Regal Miracle 5 theater, the All Saints Cinema, the FSU Student Life Center and Florida A&M University. Available seating will vary by venue.
Between screenings, the festival will offer seminars with the filmmakers on topics such as screenwriting and editing, and Q&A sessions with the directors of selected festival films.
Festival organizers are even trying to get Jonathan Demme, director of "Something Wild," or Liotta, Griffith, Daniels and other cast members to attend this year as part of the film's silver anniversary.
The panel discussions, seminars and after-parties are a big draw, said festival chair Smith.
"One of the neat things about a film festival is meeting the people that make the independent films," she said.
As for specific films on the schedule, the list had not been finalized at press time.
However, Faupel said, "we have a really good mix. It's pretty well balanced between narrative-type films and documentary films."
He said last year's entries were a little darker, including several crime dramas and horror films, while the selection this year leans more toward specialty documentaries and dramatic films about families.
"There will be some stuff this year that people can really sink their teeth into," Faupel said.
Smith said the key to enjoying the festival is planning ahead to pick the films and events you want to attend. The way to do that is to look on the festival's website, tallahasseefilmfestival.com, for the program, which should be posted by the first week of March, she said.
"It would be virtually impossible to see every (film)," Faupel said. "Folks will have to pick and choose."
That's why the schedule is arranged in "paths," he said, so attendees can easily pick out the types of events they prefer. For example, if you're interested in documentaries, the schedule is arranged so you will be able to see almost all of those types of film screened during the festival.
"It makes it more of an engaging experience," he said.
Tickets for individual events are $5 and go on sale 15 minutes before show time. Tickets to Opening Night and Sunday's "Best of …" are $10. The best deal is the all-access pass for $25, which grants entry to all events and priority seating before general admission ticket holders.
Hinson, from the Democrat, said the price is a bargain for someone who wants to check out a film festival.
"I've been to Sundance, and you're not getting in there cheap," he said. "I think people in general are just kind of scared to take a chance … but I say, for a $25 pass, what the hell?"
---
Tallahassee Film Festival — April 6-10
Locations: Regal Miracle 5, Florida State University Student Life Center, Florida A&M University, All Saints Cinema
Price: $25 for an all-access pass with entry to all events and priority seating; $10 for entry to Opening Night or the Best of Fest Screening on Sunday; $5 for general admission to individual events (tickets go on sale 15 minutes before show time)
Website: tallahasseefilmfestival.com
Festival TipsThinking of attending the 4th Tallahassee Film Festival? Here is how to get the most out of your experience.
Buy an all-access pass. It's only $25 and gets you into all the screenings, seminars, Q&A sessions and parties. Plus, pass holders get priority seating at events.
Go to tallahasseefilmfestival.com. There, you can see film trailers, descriptions and show times for movies you might want to see. You also can get information on seminars and other special events.
Write out a schedule to make sure you get to see everything on your list. Remember, while some films will have multiple showings, others will be screened only once.
Film Festival Remembers 'Something Wild'
Tallahassee hit the big time in 1986 when director Jonathan Demme ("Silence of the Lambs") chose it as a location for his offbeat road comedy.
The movie stars Jeff Daniels as closeted rebel Charlie Driggs and Melanie Griffith as Audrey, an uninhibited oddball who lures Charlie into a weekend road trip to attend her high school reunion. As they rob a liquor store, run out on restaurant tabs and impersonate a married couple, they're pursued by Audrey's violent, jealous ex-con husband, played by then-newcomer Ray Liotta.
Among the spots used in the movie: the old Apalachee Motor Lodge on Apalachee Parkway, a motel across from Lake Ella that is now the site of the Golden Corral restaurant, Mom & Dad's Italian Restaurant and downtown Havana.
Locals, including poet David Kirby, also showed up in the film as extras.
This year's festival will include a special screening of the movie, as well as seminars and panel discussions.
Special Events48-Hour Contest Held March 18–20.
This is a contest for professional and amateur filmmakers. Teams of three to five people are given a line of dialogue and one random prop and must complete a five-minute film incorporating those items within 48 hours. Winning films will be screened during the festival.
Digi Explorers On March 19, middle schoolers selected from area schools will go to Tallahassee Community College to learn how to put together 60-second films from beginning to end, then upload them to Facebook.
---