7 Days On The Road
FSU's Cultural Festival Travels Around Town During Ruby Diamond Renovations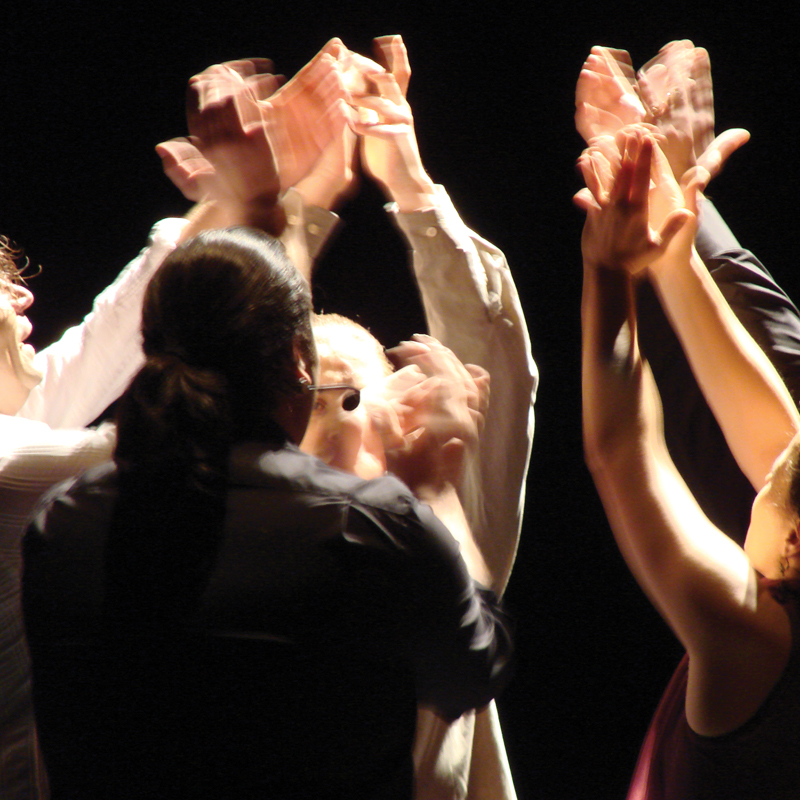 It's early November in the office of Steve MacQueen, program director for the popular Seven Days of Opening Nights arts festival. The centerpiece of the room is a large dry erase wall calendar. The calendar pretty much glosses over Florida State University Homecoming, and Thanksgiving, Christmas and New Year's.
The red marker scrawls on the calendar show where MacQueen's mind is firmly focused – February – and the upcoming 11th season of Seven Days.
From across the room, MacQueen gives the schedule an approving nod.
"I'm pretty proud of this year," he says. "It's working out all right for me."
While his tone may seem casual, MacQueen's credentials and vision for coordinating the popular cultural event are anything but. An FSU alumnus and former writer for the Tallahassee Democrat, he lived in the area for 13 years before leaving in 1996 to plan arts festivals at various parks and universities throughout the United States.
The spring of 2007 marked his return to Tallahassee, and much of 2008's Seven Days calendar was set when MacQueen arrived. This will be the first year he has selected each of the visiting artists for Seven Days of Opening Nights, which offered a particular challenge: It is also the first year the festival will veer away from its usual home at FSU's Ruby Diamond Auditorium.
While the traditional venue is in the midst of an extensive two-year-long renovation, festival events have gone "on the road" and will be held at various locations throughout Tallahassee, including Bethel AME Church, FSU, Florida A&M University, Tallahassee Community College and The Moon.
MacQueen admits finding alternative venues to house the performances – most of which are clustered between Feb. 13 and March 1 – was a challenge.
"A lot of my real, long-term ambitions are a little downscaled this year and next just due to venue and logistical concerns," he says.
However, his familiarity with the area came in handy and, in some ways, the reconstruction allowed MacQueen to make this year's events especially unique and memorable.
"Having the Blind Boys (of Alabama) at Bethel AME was something I had fantasized about when I didn't even live here," he says. "I saw Shirley Caesar at Bethel years ago, and it was really transcendent."
The Feb. 13 gospel-soul concert featuring the Blind Boys and husky-voiced Mavis Staples is certainly a show that MacQueen looks forward to. However, when asked which performance he is most excited about, he has a good word for all.
"I can safely say that I would go see any of these," he says, studying the calendar. "Noche Flamenca is a mind-blowing dance troupe and the lead dancer, Soledad Barrio, is the greatest dancer I have ever seen in my whole life. Marcus Roberts is one of the major-league, top 10 jazz pianists in the world, and Dianne Reeves is the best jazz singer out there. Turtle Island is doing a really interesting show – they're a string quartet, but they're performing music by John Coltrane. And I think Dr. John and the Neville Brothers is the perfect way to cap it all off."
Tallahasseeans are also excited about the film screening Feb. 28, which will feature a movie selected by Geoffrey Gilmore, Sundance Film Festival director and faculty member of the FSU Film School. In 2008, attendees enjoyed a months-in-advance preview of Tom McCarthy's "The Visitor."
"It was something nobody had seen before," said MacQueen. "They hadn't seen it in New York yet. They hadn't seen it in L.A. yet, and we were seeing it."
Audiences are looking forward to the festival's two visiting writers, Pulitzer Prize winner Junot Diaz and best-selling author David Sedaris, as well. In fact, tickets to Sedaris' show, which will be held April 16, sold out in a single day. MacQueen is confident that both men will give superb appearances.
"Writers are solitary and sometimes they don't deal well with people," he says. "But Junot Diaz is very at ease with a crowd and Sedaris will be great. He is as much a comedian as he is a writer."
As wonderful as the 2009 festival promises to be, MacQueen has even greater aspirations for the future of Seven Days of Opening Nights. One of his main goals is to broaden the educational aspect of the program.
Currently, many of the presenters teach graduate-level seminars to FSU students during their time in Tallahassee. MacQueen would like to create similar opportunities for younger students and other members of the community.
"The educational component is why I do university presenting," he says. "I would like to expand on the current education program, keeping it strong in the university – building it up even – but also breaking it out into through the K-12 part of the community. Those are always my favorite shows, looking out into the audience and seeing an enthralled 10-year-old … Especially in this economy, teaching the arts in elementary schools is going to be a low priority. It's up to arts organizations to pick up some of the slack. And they do."
When asked which artists he might like to book in the future, MacQueen prefers to remain vague.
"I would like to see A-listers, like (soprano) Renée Fleming," he says, "but I also want to keep the more underground, more cutting-edge avenue open. I don't want it to become a shiny, toothless thing."
Other ambitions? MacQueen has plenty. He hopes to eventually spread the festival's events out over a larger time frame, allowing more people to attend multiple "opening nights." He also wants to increase the number of satellite events going on, helping Seven Days to live up to its moniker of "festival."
"I would love to do some things more dotted around the calendar, keeping a dense focus in February since that is part of the festival's identity," he says. "I would also like to work on making it more of an actual festival, with things going on at times other than 8 p.m."
With a staff consisting of himself and one part-time graduate assistant, MacQueen has his work cut out for him. But he also has the vision to make progress, and he's glad to be back in Tallahassee.
"I'm surprised by how much it's changed and how little it's changed in the same way," he says. "I see lots of movement afoot, and that's great. Tallahassee is a pretty amazing place. There's so much … physical and natural beauty, and the campus is so beautiful."
Even more shocking to MacQueen is experiencing Florida weather again, after living in New York and North Carolina.
"No matter how well you think you know how miserable the summer is, you're always surprised by how hot it is," he says.
Guess that's one more reason for MacQueen to keep his calendar focused on February.