40 UNDER 40
The Entrepreneurial Spirit is Alive and Well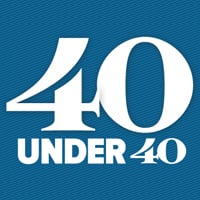 With a combination of ambition, compassion and innovation, young professionals living and working across Northwest Florida are proof that the entrepreneurial spirit is alive and well in the 850 region.
We asked the business community across our 16 counties to help us select 40 up and coming — or already established — business leaders under the age of 40 to highlight over the course of 2012. You answered the call, and we received dozens of nominations covering nearly every one of the region's counties, from the bigger cities to the small towns to our rural areas.
In this sixth and final installment, we highlight eight who are leaders in their community and their chosen field of endeavor — and who are leaving their mark on our region.
Nathan Boyles earned his undergraduate degree in civil engineering from Florida State University, and while going to school became a real estate agent and broker. He then went on to get a law degree. Today, he runs his own law firm in Crestview, plus a land title company, plus Yellow River Winery, where local fruits are made into wine. In his spare time he campaigned for and was elected to the Okaloosa County Commission.
John Certo runs a restaurant in Panama City Beach where everybody may not know your name, but he does. A third generation chef, his mantra is, "We don't do fancy … we do fresh." A local favorite, Andy's Flour Power has been featured in Southern Living and many travel magazines and John has served as a celebrity chef at plenty of local fundraising events. Three of his four grandparents were Italian, the fourth came from Bay County, which he visited while on vacation in 2005 and then decided to make his home.
Kayla Gude learned the farming business while growing up on a citrus farm in Central Florida. In her first job out of the University of Florida, where she earned a degree in food and resource economics, she serves as marketing director for the Panhandle Fresh Marketing Association. Tapping into a surprising set of business skills for a 22-year-old, in a few months she built the organization to where it is helping farmers diversify their crops and market local produce to WalMart and several other retailers in the region.
Brothers John and James Hosman earned their MBAs from the University of West Florida and have been active in the Pensacola business world and community ever since. As young alumni the brothers helped found Pensacola Young Professionals and started CollegeFrog.com, a website that James Hosman describes as "a combination of Match.com and Monster.com, connecting accounting students with accounting firms." Both remain active in that endeavor. While James has worked to help Panhandle business owners obtain financing for commercial real estate, machinery and equipment, John is a partner in a financial advising firm.
Kim Rivers loves the art of the deal and her work shows it. Inkbridge, the Tallahassee company she runs with partner J.T. Burnette, last year closed New Market Tax Credit transactions totaling approximately $60 million to commercialize solar technology developed out of Florida State University. That resulted in two manufacturing facilities, three solar demonstration sites that will provide power to local utility companies and new jobs. So far in 2012, the company has invested in ProBank, a local community bank, to help launch an SBA lending platform and purchased two limited service hotels, among other investments.
A fifth generation Floridian, Jay Smith is vice president and owner of Ajax Building Corporation, a Tallahassee-based company started by his grandfather 55 years ago. He oversees 130 workers and the company's active projects, which can range from 15 to 30 in design or construction at the same time. He also leads business development efforts throughout the southeast and helps with the management of JBK Insurance.
Phillip Singleton is the legislative director for the Pittman Law Group in Tallahassee and, at the age of 27, has already worked with Fortune 500 companies, the Florida Legislature, collegiate sports teams and the banking industry. Last year he was recognized by the Florida Conference of Black Legislators as an "Emerging Leader" in politics. He works to raise money for a wide range of charities, teaches basketball to underprivileged kids and also runs his own company, PGR Outreach Consultants, which provides opportunities for college students and young professionals in the marketing and political world.
Kayla Gude, 22
Pensacola
Produce Marketing
Marketing Director, Panhandle Fresh Marketing Association
Business Philosophy Go where you've never been before.
My Work Entails Building and maintaining relationships with local small farmers and large retailers to promote consumers purchasing local produce.
Definition of Success Leaving everything a little better than you found it. As long as you are enjoying what you are doing and having fun, success will come to you in many forms, personally and professionally.
Mentor/Role Model My parents and grandparents. All of my grandparents have been very successful … building businesses and reputations. My parents are the same. They have taught me to respect every person I meet and to stand behind every decision I make, even if it is not the right one at that particular time.
My Career I grew up on a small farm in Central Florida. While attending college at the University of Florida, I found I had an interest in sales and management. I get to work directly with small farmers in Northwest Florida and help them grow and market their produce. My goal is to make sure local farms have a fighting chance in the retail markets.
Important Leadership Skills Never be bigger than your front line. You can never move your company forward without the employees who work for you. The employees will tell you what is wrong with your business if you listen to them.
Northwest Florida Business Growth Increase local product consumption. There is a multiplier effect that happens when the consumer purchases from a local farm or business. Sixty percent more of every $100 spent goes back into the local economy when you purchase items from local farms or businesses.
Nathan D. Boyles, 29
Crestview
Attorney, Wine Maker, Entrepreneur, Okaloosa County Commissioner
Owner, Nathan D. Boyles P.A. law firm; Owner, Main Street Land Title Company; Owner, Yellow River Winery and Wine Bar
Business Philosophy Fake it until you make it.
My work entails No two days are alike. I've been known to show up for court with my hands still stained blue from processing a load of fresh local blueberries the night before.
Definition of Success I certainly aspire to do well in business and provide economic stability and opportunity for my family. Yet economic opportunity may be the means but it must not be the end. True success must be measured in the impact we have on our community.
Hardest Lesson Learned Consumers will not purchase protein bars from snack machines. I formed my first corporation at 18, wrote a business plan and solicited investors. I installed six vending machines at various fitness centers in Okaloosa County with the grand plan of cashing in on the growing health bar craze. After six months of losing money, I moved all of the machines out of fitness centers and onto car lots and bus yards, filled them with Twinkies and honey buns and began breaking even.
Mentor/Role Model I prefer to identify key character traits in individuals that I admire and then adopt the best traits of the many good people I have the opportunity to interact with.
Important Leadership Skills Be positive, dream big and don't take yourself too seriously. Otherwise, you'll begin to think you are more important than you really are, and that's how you end up on the front page of the newspaper in an orange jumpsuit (or at least that's what my mom tells me).
Northwest Florida Business Growth Make wise decisions to position Okaloosa County and all of Northwest Florida to capitalize on the tremendous natural and human resources that we possess.
---
James Hosman, 35 Pensacola
Entrepreneur
Vice President, Florida First Capital
Co-Founder/Chief Operating Officer, CollegeFrog Inc.

Business Philosophy Continuously push forward and never settle.
Definition of Success The ability to lay your head down on your pillow at night knowing you accomplished what you needed to do and gave 100 percent in doing it.
Mentor/Role Model My brother (John Hosman). We push each other to the next level and constantly challenge each other. I have been blessed to have surrounded myself with a lot of really great friends, and I respect them all as leaders in their businesses and the community and push myself to be as good as they are.
Hardest Lesson Learned The most important thing for any businessperson to remember is to not "oversell" and to "under promise and over deliver."
Important Leadership Skills Surround yourself with great people and be able to work with them in different environments. I am a firm believer that one person cannot lead an organization. It takes a team. There may be one person that coordinates the efforts of that team, but ultimately, without the team, nothing gets accomplished. If there is not a team, is there really a leader?
What advice would you give your 16-year-old self? Don't take life so seriously. Enjoy it and realize that there is a tomorrow.
Inspiration My wife, family and friends. I have been fortunate enough to be surrounded by great people that inspire me daily.
Northwest Florida Business Growth Eliminate any negativity. Success starts with a great attitude, and there is still some negativity in the Panhandle. This is a great place to live and work, and I wish everyone shared that view. It won't be long before everyone does.
John Hosman, 34
Pensacola
Financial Advisor/Entrepreneur
Partner, FS Advisors
Co-Founder/Partner, Sizemore
Creek Beverage Company
Co-Founder/Partner, CollegeFrog Inc.
Business Philosophy Communicate, set reasonable expectations and deliver!
My Work Entails Everything that is involved in growing and running a business. I like coming up with ideas and strategies that grow the business and then implementing them. This is a never-ending process.
Definition of Success Success to me is not financial — that is a byproduct. Success is doing the right things all the time for the right reasons. Keeping integrity and developing a good work-life balance.
Mentor/Role Model My parents, my brother and my wife. They all make me a better person and have characteristics that I strive to possess myself.
Hardest Lesson Learned Honesty and integrity. I learned shortly after college that everyone makes mistakes, but we all need to fess up to mistakes that we make and repent. If we do things for the right reasons all the time, we will make fewer mistakes. But when you do make one, correct it ASAP!
My Career God showed me opportunities and gave me the ability to add value to those opportunities. When the door came open, I acted and didn't look back.
Important Leadership Skills Passion, honesty and integrity coupled with the ability to set reasonable expectations and then the ability to execute and deliver on those expectations.
What advice would you give your 16-year-old self? Follow the same path, but don't stray so much — you won't meet your wife 'til the end of college.
Northwest Florida Business Growth Create more business opportunities as well as help young entrepreneurs get started. I have a couple ideas on cultivating businesses and opportunities for Northwest Florida, but describing them here would be too long!
John "Jay" Bloxham Smith II, 38
Tallahassee
Construction Management
Vice President, Ajax Building Corporation
Business Philosophy Work hard, be honest, have fun.
Definition of Success Balance — faith, family, friends, health and business.
Mentor/Role Model My mother and father. As I grow older, I have a deeper appreciation for their integrity, the challenges they overcame and their ability to grow a company and provide every opportunity in life for their children.
Hardest Lesson Learned The downturn in the economy taught us to broaden our reach. We were pretty diversified in our markets — building in the education, health care, public safety and government arena — but it also was necessary to take on larger and smaller projects, educate ourselves about sustainable building practices and expand our geographic boundaries.
My Career Ajax is a family-owned company, started by my grandfather 55 years ago, so I was literally born into the business. Growing up, I always had a sense of awe in the structures we built and still feel that today when we complete a project.
Important Leadership Skills The ability to listen and learn.
What advice would you give your 16-year-old self? Make sure you go to the old flagpole at that FSU football game because you just might meet the most important person in your life (my wife).
Inspiration My wife, Bri, and my three daughters.
Northwest Florida Business Growth (I would) focus on improving our K–12 education system. It is the backbone of economic development, and businesses depend on a well-educated workforce to thrive.
What I hope to be doing in 10 years Fascinating advancements are being made in sustainable living. As a top "green" contractor in the U.S., it's exciting to be on the frontier. Since I don't have a crystal ball to see what the buildings of the future will look like, I'll just have to stick around to find out what the next 10 years bring!
Kim Rivers, 34
Tallahassee
Financing/Investing
Principal, Inkbridge, LLC
Business Philosophy "No" means you're closer to "Yes!"
My Work Entails My partner and I call what we do "financial engineering." We structure and execute complex acquisitions involving government programs such as New Market Tax Credits, state and local incentives, tax exempt bonds. We also invest in business opportunities and consult with businesses in their acquisition or repositioning efforts.
Definition of Success Loving what you do. If you're passionate about something, it's not work.
Mentor/Role Model My mom. She has the most amazing work ethic and dedicated her life to selflessly educating children in the public school system for 25 years. All the while she beautifully balanced being a mother to me and my brother. She was and is the definition of super mom.
Hardest Lesson Learned When you stand up for what you believe in, don't be surprised if you get knocked down. Make sure the message is worth it. If it is, and you get knocked down, stand right back up.
My Career After moving to Tallahassee, I decided to work in real estate and continued to enjoy the personal interaction with clients but hungered for what I call the "big deal high" I had while practicing law (in Atlanta). When I decided to make a change, I was fortunate enough to reach out to my now-business partner, J.T. Burnette, a quintessential entrepreneur with multiple business successes.
Important Leadership Skills The ability to fail, get up and move forward; to be decisive and to act.
Inspiration My son Andrew. He is almost 3 and full of energy and potential. My goal is to leave things better for him and for him to be proud to call me "Mommy."
Northwest Florida Business Growth Encourage young entrepreneurs and create environments in our communities that nurture their success.
Phillip Singleton, 27 Tallahassee
Lobbyist/Governmental
Affairs Consultant
Legislative Director, Pittman Law Group
President, PGR Outreach Inc.
Business Philosophy Stay humble and hungry.
My Work Entails My role in politics is quite diverse and my work varies each day.
Definition of Success Leaving a lasting impact on the world that transcends your physical time on earth. To me, it is never what you do but what you did to make a difference in the world.
Mentor/Role Model My favorite role models are Muhammad Ali and Michael Jordan. They both worked hard to become the best at what they did but never settled on being the self-proclaimed best. They continuously proved it to the world.
Hardest Lesson Learned Nothing in life or business comes easy. You literally have to work for everything you want and need.
Important Leadership Skills Having the ability to listen to others and knowing when to take their advice. Being humble regardless of your success. Trusting your intuition to make the right decisions regardless of the results. And being able to motivate people around you.
Inspiration My grandmother, Clementine Spence. She came to America in the 1960s from Jamaica for a better life for her family. With no formal education, she worked for years as a maid and put off personal ambitions so her family could have a better opportunity at life. (Her) sacrifice is what drives, motivates and inspires me daily. I keep her picture next to my bed as a daily reminder to never stop.
Northwest Florida Business Growth Build a platform for college students and young professionals (18–35) to better showcase their professional skills and abilities, while also providing entrepreneurship opportunities. Northwest Florida is a hotbed of young, innovative and remarkable people with a skill set that will enhance business development and growth. They just need the stage for it.
John Certo, 34
Panama City Beach
Restaurant Owner
Owner/Executive Chef, Andy's Flour Power Café & Bakery
Business Philosophy Don't just work hard — work smart!
Definition of Success When you hear a customer tell you it was the best breakfast or lunch they have ever had and you feel satisfied that all the hours of hard work truly paid off.
Mentor/Role Model I have always looked at how hard my father worked, and that was a huge influence on my work ethic. That is one of the factors that I believe has helped make my life successful. I have also learned to manage and juggle a lot at one time through experiences with my very close friend, Tommy Dollar.
Hardest Lesson Learned Actions speak louder than words.
My Career When I was nine, my parents opened a gourmet food and catering business in New York, and I found myself spending every extra moment there — initially out of necessity but eventually because it was where I wanted to be. I grew up in the business, and I found that my passion for food and cooking grew in me.
Important Leadership Skills Good work ethic, experience in the field you are managing, ability and willingness to do what you expect your employees to do and the ability to earn the respect of people.
Northwest Florida Business Growth I would like to provide a better environment for training people for the jobs that we need filled in our area. It is essential that employees obtain not just better skills and techniques for the jobs they desire. Knowledge of the industry and a better work ethic are essential to their success, which is essential to the success of the community.