Tallahassee is Home to a Diverse and Growing Selection of Religious Institutions
Many Ways to Worship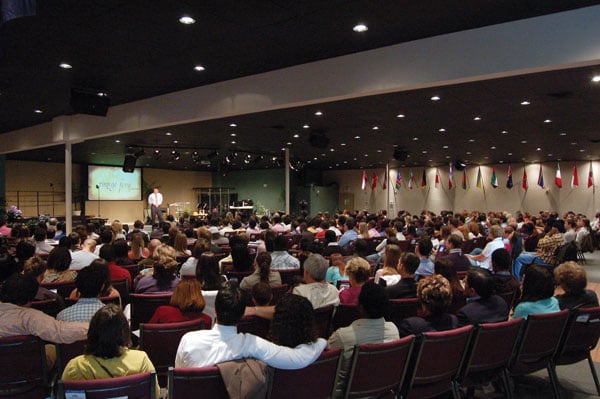 Going to church was practically de rigueur in the 1970s. Most people took church attendance for granted, showing up for worship at 11 a.m. every Sunday without thinking twice about it.
Not so 30 years later, says Doug Dortch, senior pastor of Tallahassee's First Baptist Church.
"Thirty years ago, I think even 13 to 15 years ago, we could count on the fact that we were solidly in the Bible Belt. But Tallahassee today is a very different place, which I think is why it's such a great place to do church," he says. "People don't just take church participation for granted like they used to. They participate because they want to."
And it's not just the church's place in society that has changed. Today, there is a greater diversity of places to worship, with places such as Every Nation Church, Chabad of the Panhandle and Cypress Tree Zen group springing up around town.
"In terms of Buddhism, our group was the first Buddhist group in Tallahassee," says Anne Rudloe, who has been a part of the Cypress Tree Zen Group since its inception in 1989. "Over the years, several other groups have formed. Buddhism, like Christianity, has different sects."
Other congregations have been long-established fixtures in Tallahassee's religious community but have changed and grown under new leadership.
Christian Heritage Church is one. The church was started in 1911 but experienced a radical transformation under Pastor Richard Ledford, growing from a congregation of 400 to a congregation of about 6,500.
"If you come to this church to visit, at some point in that time that I'm speaking, I'm going to say something that's going to seem to you and feel to you like that God is speaking to you directly," Ledford says. "It's got to be personal. It's got to be life-impacting."
Ledford made changes to his congregation that had huge effects on the life of the church. Since his arrival, the church has moved from its location near Lake Jackson to a strip mall location on Sharer Road where Waccamaw used to be. It also has become far more racially diverse. More than half of the congregation is African-American, while 45 percent is white. There are about 38 different ethnicities represented at the church, Ledford says.
Another church that has seen some big changes has been Every Nation Church of Tallahassee, which, like Christian Heritage, is a charismatic evangelical church that makes a point of being relevant and accessible to the younger, technologically savvy generation.
"It seems like the more spirit-filled or charismatic churches are having a chance to grow and prosper in the city, versus just kind of being 'the weird people,'" Senior Pastor Ron Miller says.
A few years ago, the church completed a renovation project, upgrading its projection system, installing new lighting and making other changes that would allow the services to incorporate new
technology.
Temple Israel is another congregation that has been in Tallahassee for a while but has changed over time. Under the leadership of Rabbi Jack Romberg, the music has become more contemporary and the configuration of the synagogue has changed to make it more accessible to members of the congregation who have disabilities.
While the music is more modern and doesn't just revolve around the organ, in other ways, the Mahan Drive synagogue has reached back in time to borrow from tradition.
"I think the congregation has responded to a lot of changes in the Reformed Jewish world, (including) more Hebrew in the service, more traditions that had fallen out of practice," Romberg says. "Now those traditions are being revitalized and brought back into the congregation."
Just in the last seven years, the synagogue has grown from a congregation of 330 families to 400 families as more Jewish people have moved to Tallahassee and other Jews who had walked away from their faith returned to it. There have even been some conversions, which in the past has been pretty rare, since the synagogue does not proselytize.
"When we have people who are looking to embrace Judaism, we don't see it as normal," Romberg says. "In the seven years that I've been here, there've been about 50 conversions, which is a huge amount."
Romberg says converting to Judaism and becoming a member of the synagogue involves a long period of studying the Hebrew scriptures and becoming familiar with Jewish traditions.
The return to tradition is not unique to the Jews. It's something the Catholic churches in town have seen as well, says the Rev. John O'Sullivan of Blessed Sacrament Catholic Church on Miccosukee Road.
"I would say, and this is even surprising to me, there is a yearning for more tradition, you know, going back maybe to the original things," O'Sullivan says. "I think we have been down the other road … We might think that it is cool, the contemporary, modern whatever. But you know, what the youth say is, 'We have that, and we don't expect that when we come to church. That's part of that busy world out there.'"
O'Sullivan says he finds the college students of today are more conservative than the students of the 1960s and '70s. They come to church looking for an encouraging word, something that they can take away and chew on for the rest of the week.
For Brant Copeland, senior pastor of First Presbyterian Church, sticking close to tradition is something he has been doing for the nearly 23 years that he has pastored the downtown church.
"We've not tried to jettison those traditional elements, because worship itself forms people in certain ways, and if you abandon those elements, then you distort the message that we're trying to convey," he says.
Copeland says one of the things he has noticed over the years is an increase in the willingness of local congregations to engage not just in interdenominational dialogue, but also interfaith dialogue. First Presbyterian has joined with some Islamic and Jewish congregations to form the Tallahassee Interfaith Group. Together, they have built a Habitat for Humanity house and are looking at working on some other joint projects in the near future.
The members of St. Peter's Anglican Church on Thomasville Road have been busy with projects of their own.
"I think the young people who are coming to us really want to experience the presence of God and put it to work caring for poor people," observed Eric Dudley, the rector at St. Peter's. "We have students who get up at 3 or 4:30 a.m. to help feed the labor pool. And we have some who are involved with ECHO (the Emergency Care Help Organization) and some who help with the prison ministry. I think the desire to be engaged with the work of Christ really matters to them."
St. Peter's was founded in 2005 after a group from St. John's Episcopal Church broke off to form their own group. Dudley says the split was precipitated by the ordination of an openly homosexual priest in the Episcopal Church, but the main reasons for the division were controversies over whether Jesus was the only way to God and whether the Bible was the inspired word of God.
"We're still Anglicans," Dudley says. "We still have the Eucharist at the center of worship, we still kneel for prayers, we still dress in vestments, we still use prayer books. The difference is that we're not willing to bend on faithfulness to Scripture."
While some in Tallahassee may be looking for something more traditional, others are more than happy to embrace concepts of church unimaginable in the '70s.
Take Element3 Church, for example. The Mahan Drive church was started four and a half years ago by Mark McNees, a former business owner from Los Angeles. McNees isn't shy about sharing his testimony, which started with him growing up an atheist in a Christian home, becoming a drug user in his teens and 20s, and eventually becoming a very successful businessman with all the comforts money could buy.
Six months after getting married, however, he sank into a deep depression and eventually came to the point where he had decided to commit suicide.
At that point, McNees says, his father came to visit him. Growing up, he hadn't had a good relationship with his father, but this time, desperate and unhappy, McNees opened up and shared what was really on his heart.
"It was probably the first human I was honest with in 15 years about how I was feeling," he says. "And as I was talking, he was smiling. And then I told him I wanted to die and he was smiling. I was thinking, 'I just told him I wanted to die, and he's smiling!'"
"Your mother and I have been praying that you'd come to the end of your rope," McNees' father told him. "The thing you've been missing in your life is a relationship with Jesus Christ."
At that point, McNees says, he decided to trust Christ. And the relationship with God that began on that day eventually led him to give up his successful position as a business owner and move to Tallahassee to start a church that some people have described as "a nightclub on Sunday morning."
The church meets in a former restaurant. People enjoy free coffee at the coffee bar and then sit at tables to discuss Christian spirituality.
"We wanted an environment, a space that makes sense to normal people who don't go to church or have ever gone to church," McNees says. "People understand going to Starbucks and hanging out and talking about deeper things."
McNees says his church of about 600 people seeks to be a place where faith, authenticity and emerging culture meet. He wants to engage the culture and also encourage people to have honest conversations about God and about where they are on their spiritual journeys with Him.
Element3 also participates in a meal ministry in Frenchtown. The church believes strongly in helping to break the cycle of poverty, McNees says.
That's a vision that the African-American churches in town have strongly embraced in recent decades, says Darryl Jones, the executive director of the Bethel Community Development Corporation, an organization that works to provide affordable housing for first-time home buyers. It was created by Bethel A.M.E. Church in the 1990s.
Bethel A.M.E. and other African-American churches in town, such as Bethel Missionary Baptist Church, have been working hard to start ministries such as A Life Recovery
Center, which is a faith-based center for those with substance abuse problems.
"The African-American Church has certainly created programs to respond to the social crises found in the neighborhoods that we're located in," Jones says. "Both Bethel A.M.E. and the Bethel Baptist church are concerned about the quality of the lives of the people who live in the shadow of the church."
Bethel A.M.E. has grown a great deal over the decades, doubling in size over the past 30 years. Jones attributes a large part of that growth to the growth of Florida A&M University.
"When I came here 20 years ago, we had a FAMU student body of about 4,800," he says. "Now the school boasts an enrollment of 13,000, and so subsequently, as one of the major employers in the community, personnel had to increase exponentially as well."
Some of the mosques in Tallahassee also draw congregants from FAMU. Over the last 30 years, the presence of African-American and immigrant Muslims has changed and grown in Tallahassee, says Rashad Mujahid, imam at the Masjid Al-Nahl mosque on Bragg Drive. In the '70s, there were two mosques in town – Masjid Al-Nahl, started in 1975 by Muhammad Siddeeq, Mike Tyson's spiritual adviser – and another, the Masjid Awaal-Jami mosque on Hudson Street, which was part of the Dhal Islam movement.
Many of the students and professionals who were a part of the Hudson Street mosque moved away, so it shut down in the late 1980s. The imam, Ahmad Aliyy, later joined Mujahid's mosque.
Also around that time, a new mosque known as the Islamic Center of Tallahassee formed on Pensacola Street. The Islamic Center draws mostly immigrants and students from Saudi Arabia, Yemen, Pakistan and other Muslim countries, while Masjid Al-Nahl is predominantly African-American, Aliyy says.
Regardless of their religious affiliations, the leaders of Tallahassee's churches seem to agree that the city today is a great place for ministry.
"The really cool thing about Tallahassee that a lot of people don't realize is how many different kind of ideas and minds come here from all over the world," McNees, of Element3 Church, says. "Considering its population, Tallahassee is a very influential city."
From the Pages of Tallahassee Magazine
The founder of Tallahassee Magazine, Jerry Lundquist, was a Christian man who often wrote about his faith in his publisher's letters. The first-anniversary issue of the publication in Spring 1980 included a photo essay of the variety of area churches and an essay ruminating on the variety of places of worship written by then-Associate Editor William Needham.
The Way We Worship
You don't have to drive far through North Florida or Tallahassee before seeing a place of worship. North Floridians of different faiths gather to worship in churches, synagogues, rented halls and even private homes, amid surroundings that range from simple to ornate, and with rituals that reflect long traditions and distinctive understandings of how to approach God.
The places of worship suggest the diversity of the worshippers. A small white frame church building under the trees set far off a rural road contrasts with the glass-and-brick sanctuary on a main street. Vaulted ceilings and stained glass windows serve one congregation not far from a building that houses the unadorned altar and folding chairs of another. The First Presbyterian Church and the Episcopal Church of St. John are housed in structures that trace their origins to the early days of Tallahassee, while other congregations of diverse persuasions celebrate the recent construction of new buildings.
The approaches to worship show not only in the forms of the buildings but in the windows, candleholders, chalices, pulpits, choir robes and other symbols that adorn the interiors. The attitudes of worship appear in the songs, the prayers, the gifts and in the faces of joy and the good works of those who come to worship.
Those who worship come from diverse backgrounds and occupations, reflective of the diversity of Tallahassee itself, but many would agree with the words of the psalmist, "I was glad when they said unto me, 'Let us go into the house of the Lord.'"