30 Years: Shopping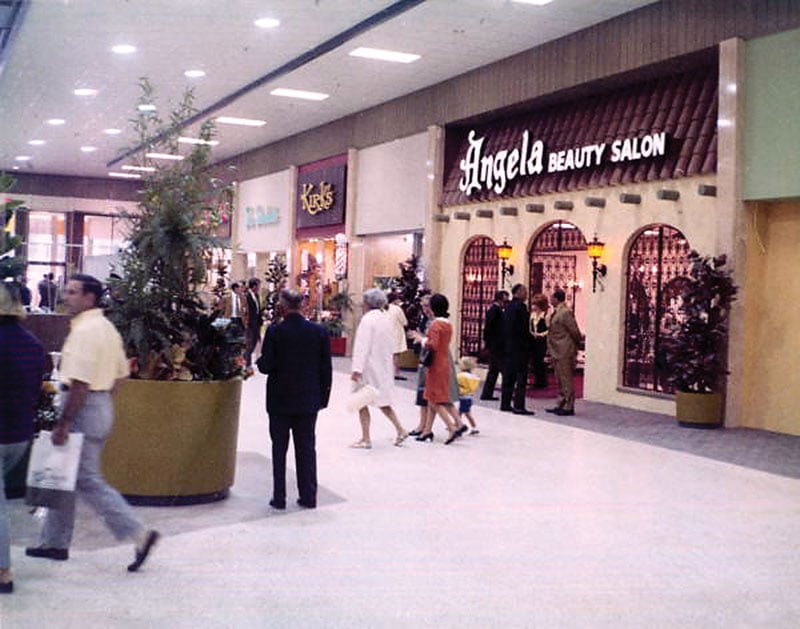 Of malls, big boxes and the locally owned specialty stores
The Evolution of Shopping
Of Malls, Big Boxes and the Locally Owned Specialty Stores
By Victoria Rich
My mother has both lived in Tallahassee for most of her life and been part of its advertising circuit for almost as long. So whenever kids needed to appear, my brother, sister and I were there.
One time, it was a holiday-inspired advertising spot for Tallahassee Mall. My sister and I were tapped to play Santa's little elves, skipping around the mall with him as he shopped. We ventured into Tallahassee favorites such as Gayfers, Parisian and Oshman's – all now distant memories.
For a camera-shy 10-year-old, the idea of having my face splashed across television screens all over Tallahassee was a bit mortifying; however, that day marked the beginning of my love affair with shopping.
Many Tallahasseeans have witnessed the ebb and flow of shopping centers and local specialty stores throughout the last 30 years. From the launch of Tallahassee's first shopping mall in 1969 and the grand opening of its first Wal-Mart in 1997 to the revolutionary beginning of online shopping and the departure of beloved department stores such as Rheinauers and Gayfers, the retail industry of the Capital City has continued to change and evolve with the decades.
Click for slideshow.
The Mall Experience
With the introduction of a mall to Tallahassee, many shoppers began experiencing a new kind of town square, fully equipped with department stores, restaurants and the overwhelming realization that the retail world as they knew it would never be the same.
The area's first true shopping center, Northwood Mall, opened in 1969. There, Tallahasseeans would enjoy the luxury of one-stop convenience for the entire family. Mom might begin her day browsing through department stores Rheinauers and Mendelson's, then stop by the Birdcage Restaurant for lunch, which sources say served the best chicken salad in town. Dad might venture to Arnold's, one of the local men's apparel stores, and then relax at DuBey's Book Land skimming through novels until the family could meet up for a delicious steak dinner at the Silver Slipper.
Trends toward the one-stop shopping experience have continued to rise for the last few decades. Tallahassee Mall and Governor's Square were quick to follow Northwood Mall's direction in offering a wide variety of department stores and restaurants. However, each location would take its own direction. Through the years, Northwood Mall would be converted into state offices, Governor's Square would continue to thrive, and Tallahassee Mall would see both a change in ownership and a change in direction.
Lou Ann Woerner, the senior marketing manager for Tallahassee Mall, has watched the shopping mall experience in Tallahassee evolve.
"What has changed the most about retail is the sheer number of choices people have," she says. "There used to be only a couple of major department stores and a handful of other stores, but now we are seeing so many more individual niches and target marketing to specific age groups and lifestyles. Even though retail has grown exponentially, it has become more personal at the same time."
Woerner says she believes the key to shopping mall success today is customer convenience. Traditionally, shopping malls would strategically place similar stores apart in an attempt to lure the customer throughout the entire complex. Now owners are responding to the needs of the time-pressed consumer.
"We're seeing a more hybrid property developing industrywide, where traditionally mass merchandisers and grocery stores would have never gone into a mall 20 or 30 years ago," Woerner says. "We're now seeing places with a traditional department store on one end and a grocery store on the other. The industry as a whole is more aware of the shopper's needs and preferences. They're much more in touch with the human side of the business."
And what of technology and the retail world? Woerner admits that there was "a lot of talk about what online shopping would do to malls," but she believes the stores have risen to the occasion nicely.
"Most retailers are very consumer-friendly with their return polices for online purchases," Woerner says. "But there is a social aspect of coming to the mall that people don't get when shopping online. I think people do both."
This new appreciation for the time-pressed consumer could also be an important and necessary reaction to the spread of supercenters such as Wal-Mart and Target.
"In my opinion, Wal-Mart has become so successful because of their customer-friendly neighborhood approach to shopping," Woerner says. "They make it as easy as possible for people to shop without having to go very far from home, and they're constantly changing their inventory to meet their customers' needs."
However, Woerner also believes that there are many aspects of the shopping mall experience that people continue to enjoy.
"There is certainly the social and entertainment aspects to shopping at the mall that people still enjoy very much," she says. "You can have dinner, go to the movies and shop. It's an experience for the entire family."
The Specialty Store
As chain department stores and online shopping continue to rise in the Tallahassee community, many may assume the old-fashioned, locally owned specialty shop stands at the brink of destruction. However, while Tallahassee favorites such as Nic's Toggery, a men's apparel store, and Mays-Munroe, a local appliance and mattress retailer, hold true to their original ideals, they too have changed with the times.
Growing up in the retail business, Mike Gavalas and his family have learned firsthand what a local business needs to flourish.
"Ever since I was 9 or 10 years old, my brother and I would help out around the store, doing everything from gift wrapping and marking merchandise to straightening up the store and sweeping the floors," Gavalas says. "That's just how it was done back then. Most people had their kids work in the family business because they needed the help."
However, Gavalas and his two brothers continued to enjoy working in their father's store and have since seen Nic's Toggery grow into a local favorite, now with three Tallahassee locations.
"There have been a lot of changes – not in the specialty stores as much, but in retail in general," Gavalas says. "Today, it's all about price instead of product knowledge and product presentation. The sales people are just order takers trying to get things done as quickly as they can at the register, and out the customer goes. There really isn't that established relationship."
Gavalas believes it is his family's commitment to customers and a vast knowledge of products that keep people coming back.
"We are professional in what we do, and we've worked really long and hard to establish a lot of good, trusted relationships with customers," he says. "There are people in the department stores and other retail markets that do the same thing too; it's just harder for them to do their job that way in the environment they're put in. We just enjoy giving a high level of customer service and try to offer a unique product."
Tallahassee native Mike Munroe of Mays-Munroe Inc. has grown up in the family's home appliance business and also knows a thing or two about what keeps local stores afloat. While Munroe originally sought a life of constant travel in the fast-paced environment of corporate America, he soon returned to his roots and began working for his father, Ray Munroe.
"At the end of the day, I really just wanted to have my own real estate (his father lured him home by offering him the Mays-Munroe Sleep Gallery) and the chance to raise a family," Mike Munroe says.
No stranger to the retail market, Munroe grows more and more excited as technology and concepts continue to evolve.
"It's amazing to see what has happened to kitchens. Appliances have come so very far," he says. "And you really have to know the products, because we now have a much more educated customer. Most of our customers go on the Internet and come in with printouts. A lot of them are then overwhelmed by all their research, and it's our job to help them find exactly what they're looking for."
Munroe believes one of the most important aspects of his family's success is their vast knowledge of the products. As technology continues to change and evolve, so must their expertise.
"What differentiates us from all the box stores is that we can do the stuff they can't," he says. "You need to be told everything an appliance can do to improve your quality of life, and you know, I don't think a lot of our competitors can do that."
Munroe also attributes much of the business' success to its ability to provide full service at a fair price. After every purchase, customers are taught how to use the products and have the Mays-Munroe service department only a phone call away should there ever be a problem.
"We're always going to bat for our customer when there's something above and beyond needed, and that's how we've been able to find our niche in the market," Munroe says. "If it was all about price, we can be competitive because we're part of a buying group, but we really like to give our customers something more."
Most importantly, specialty stores across Tallahassee understand the importance of offering up-to-date products and services to their customers.
"We realize that if you want to be buyable, you can't do things the way they were done 30 years ago," Munroe says. "You have to evolve, because the market's changed and times have changed. That's what is so neat about being a multi-generational store – we have so many different family members with such a variety of life experiences."
From the Pages of Tallahassee Magazine
Designers and Shopping and Wares, Oh My!
Excited to have a first-class fashion designer in our midst, Tallahassee Magazine featured Icelandic native Kristin Skagfield in our Spring 1988 issue, written by Joy McIlwain.
Tallahassee fashion designer Kristin Skagfield says that one of the best things about the Reagan-Gorbachev summit meeting in Reykjavik, Iceland, last year was that people in this country got to learn something about the tiny land she calls home.
"We're very proud of our heritage," she said recently at her Tallahassee dress shop and design studio. "Our language has not changed for the last thousand years. It's the only living Classic language in the world. And almost everyone can read and write. People there can't get married without being able to read and write."
Iceland may be the native country for Kristin, but Tallahassee is her adopted home, and has been for almost 38 years.
Kristin came to Tallahassee with her husband, Hilmar, in 1950, so he could attend graduate school at Florida State University. The young couple had only intended to stay a year, but they ended up settling here.
After the birth of their three children, Kristin decided to start her own fashion design studio, a business she had studied as a university student in Iceland. She began in 1957 in a house on Calhoun Street, then moved to her present Call Street location in 1960.
There, for almost 30 years, Kristin has designed custom clothing for major Southern events. Her clients have included debutante brides, the wives of governors and legislators and beauty contest winners. New Orleans' Marti Gras Krewes have sought her services as have the major participants in Tampa's annual Gasparilla festival. She designed gowns for both the Miss Florida and Miss Universe pageants for a number of years.
But one of the events she enjoyed the most is gone now – Tallahassee's annual May Day Festival, which took place in one of the Park Street squares on May 1 of each year.
"It was just beautiful," she says, remembering the local event. "There would be the May Queen and her court, as many as 18 Leon High School girls dressed in colors of the rainbow. I've used as much as 50 or 60 yards of material for one dress."
Kristin has scaled back the business in recent years, but during the 60s and 70s she had as many as seven seamstresses working for her at one time.
After Kristin had talked to the client and gotten some idea of how he or she wanted to look, she would sketch an idea for the customer's approval. Once the design was approved, then a fabric would be selected, the pattern cut and the garment stitched.
There were problems in running a design business from such a small town, away from fashion centers such as Paris and New York. And the day came when Kristin was forced to choose between a New York career and her Tallahassee home.
"I was offered a very good designer's job with Bergdorf-Goodman," she said. "It was a good opportunity, but my husband had just started his business (Skandia Draperies) and I couldn't see uprooting my kids. To me, the comforts of a good community and good family were more important."
Kristin's House of Design stayed in Tallahassee and in 1968 began to carry a few women's retail lines. "I had some FSU interns at the time, and they needed exposure to customers," she explained.
She shops several times a year – in Atlanta and New York – for a wide range of suits and dress clothing. She has moderately priced items for working women as well as more expensive lines for those able to afford it.
What about retirement? Not a chance. This transplanted Scandinavian is not about to give up her life's work after 37 years. "I don't believe in quitting,"  she says flatly, although she admits she has thought of closing the retail part and working strictly as a limited specialty designer.
When the Skagfields came here in 1950, the farmer's daughter from Iceland never dreamed this small Southern city would be her permanent home. "Hilmar loved it and we stayed. I have to say I did not for the first three years. Then I began to see its beauty. And I always loved the people," she said with a smile. "They are very genuine."