30 Years: Health Care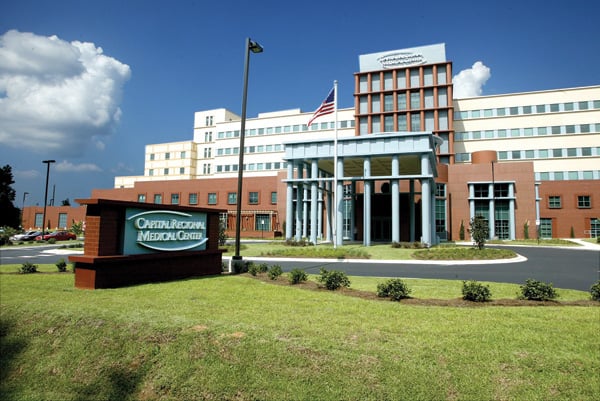 Challenges have grown for physicians over past three decades
The Evolution Continues …
In order to commemorate Tallahassee Magazine's 30th year, we're looking back to see how many aspects of our hometown and lifestyle have grown and changed, along with our publication. For our second installment, the subjects being scrutinized are Health and Medical, Higher Education and Fashion. Join us, as with words, pictures and graphics, we share a slice of recent history.
Health Care Faces Complex Change
Challenges Have Grown for Physicians Over Past Three Decades
By Jason Dehart
When Dr. Myrle Grate looks back on the past 30 years, he is simultaneously enthusiastic and dismayed.
"It's hard to see a profession that I love so much have war declared on it. Despite all the things we've been able to achieve, I don't know what's going to happen," says Grate, an ear, nose and throat surgeon who opened a practice in Tallahassee in 1976.
A former member of the board of directors of Tallahassee Community Hospital (now known as Capital Regional Medical Center), Grate has seen medicine in Tallahassee make marked improvements in quality of care and in pricing, thanks in part to the competition that CRMC brought when it opened in 1979.
"The competition between the two hospitals really benefited the community," he says. "There is also a freer market now within the medical field as it exists in Tallahassee. Earlier, if you wanted to change your pediatrician, you couldn't. But with more pediatricians in town, you have a choice. Additionally, when I came to town, there were some significant price controls. There was a lot of what the Federal Trade Commission might call price-fixing, and doctors today are prohibited from doing that. Outpatient services are really expanded; almost all surgeries are outpatient, and it drops the price quite a bit. And there's also more inter-specialty cooperation."
But rising health care costs and falling reimbursements are related problems that have undesirable trickle-down effects. And Grate has some honestly held views on those and many other subjects.
"We can do an awful lot of things in this town, but there are a lot of people who don't want to do those things anymore in Tallahassee," he says. "We send it off because of reimbursement reasons."
As an example, Grate cites one case in which he and another surgeon used a groundbreaking, minimally invasive outpatient surgical procedure to remove a brain tumor through a patient's nose.
"It's one of the neatest operations on the planet, to remove a brain tumor through the nose and have the patient up and walking the next day and out of the hospital with no apparent injury at all," he says.
"But here's the kicker: The other surgeon and myself only received $250 each," Grate said. "We complained for a year, and they finally gave us a total of $1,250. Then they said they overpaid us by $400 and wanted it back. So we don't do those kinds of procedures anymore – we can't afford it."
A Losing Proposition
"Our biggest problem is government has somehow intruded into medical care to a degree you wouldn't believe," Grate says.
Grate can cite several examples of situations in which government stepped in and made things needlessly complicated and expensive. And they're problems every physician in town has to deal with.
He recalls the time in 1985 when hazardous medical waste – syringes and sponges – washed up on a beach in New Jersey. Newspapers nationwide trumpeted the news.
"Turns out, it came from a U.S. aircraft carrier with a faulty incinerator," Grate says. "It became a big deal, and they enacted the biohazardous waste laws. Costs $8 billion a year. And it's not going to stop the spread of disease in the U.S. At least 50 percent of the population is throwing away a tampon at least once a month – not in a hazardous waste container."
After the new law came out, all kinds of medical waste was tossed for fear of doing something wrong and facing a heavy fine, Grate says.
"Drive by the back dock of a hospital and what do you see?" he asks. "Huge boxes. Ninety percent, even by federal regulations, doesn't belong there."
Everything Has a Number
Other complex laws aggravate doctors too – such as laws governing billing codes.
"You can't believe how complex it is," Grate says. There are codes for various categories of patients and visits, and the guide is a manual 3 inches thick, he says. The task falls on nurses to pull patient files.
"All of that work is not reimbursed," Grate says. "It's unpaid time and expense to do the folder work. And they are lowering physician reimbursement all the time."
Another big inconvenience is HIPAA, the Health Insurance Portability and Accountability Act. Grate says the concept for HIPAA – one common insurance form to streamline the process for everybody – sounded good in the beginning. But now doctors pay thousands of dollars for what he calls "draconian" regulations. Putting the program in his office cost $25,000, he says.
"I had to have a HIPAA compliance officer, and had to have HIPAA manuals written specifically for my office," he says. Privacy concerns led to even more regulation. "So they … made us do these crazy things in our offices, when it wasn't even what this act was intended to do at all. It was supposed to give us standard forms."
Fortunately, some of the more burdensome measures were retracted, "but not before it cost us a whole bunch of money," Grate says.
Dr. Raymond Bellamy, a retired orthopedic surgeon who now teaches part time at Florida State University's College of Medicine, started his practice in 1974 and has seen the changes as well. He shares Grate's distaste for bureaucracy.
"Since 1970, the number of doctors has doubled in the U.S.A.," Bellamy says. "The number of administrative (personnel) has gone up 25 times, so there is a massive increase in the bureaucracy to deal with all these different health plans, HMOs, PPOs, Blue Cross, CHP, etc."
Bellamy agrees a big challenge facing hospitals today is that fewer patients have insurance.
"And the number is increasing as we speak," he says. "Now, almost 25 percent of Floridians are uninsured. Another 25 percent are underinsured. So those have some insurance, but it's not enough. Trouble is, they may not know that until they get sick. Of course, employers who traditionally covered workers have been cutting back on the comprehensiveness of coverage and increasing co-pays and deductibles to cover the 10-percent-cost-a-year increase in health insurance. And if you look at family bankruptcy, over half of personal bankruptcies are due to medical costs. And most of those people had health insurance when they got sick. So just because you got health insurance doesn't mean your illness won't bankrupt you."
For the past two years, the private, not-for-profit Tallahassee Memorial Hospital was given $300,000 a year by local government to provide trauma care, says Bellamy, a small percentage of the $20 million worth of care it provides to uninsured and indigent patients.
"They don't get any other tax money from the city or the county for treating indigent people," Bellamy says. "What they get from the city is help with their bond rating when they borrow money for their building or hospital expansion."
"The uninsured problem is an expensive challenge," he says.
Hospitals Need Nurses Now
Bellamy and other physicians say the nursing shortage of 30 years ago has only gotten worse today, despite their best efforts.
"It's estimated that Florida is short 12,000 nurses," Bellamy says. "So many are retiring, and we are not graduating enough nurses to meet the demand. Tallahassee has three nursing schools, and hospitals have come up with creative recruitment programs to attract graduates. But there are 10,000 qualified candidates for nursing school who get turned away in Florida annually because there are no slots in schools for them. If we had more openings, they would be admitted."
Grate, the ear, nose and throat surgeon, agrees staffing has become a challenge.
"As soon as they finish school, there are other places like drug companies that want nurses, and airlines want to use them as stewardesses," he says. "A lot of companies like to hire nurses, so getting people to go into nursing and stay in nursing is difficult. The push is for them to become nurse practitioners.
"We've also changed the mode of nursing education," Grate says. "Many hospitals have canceled their three-year nursing programs – it's all through universities. Which are fine, but they are not trade schools."
Bellamy says the Florida Department of Education's SUCCEED Florida grant program was designed to offer grants to help with nurse training, but there is less money available thanks to recent legislative cutbacks.
"So we anticipate the nursing shortage is going to get even worse," he says.
Dr. Alma Littles, associate dean for Academic Affairs at FSU's College of Medicine and former director of the Family Practice Residency Program at Tallahassee Memorial Hospital, says hospital care has changed so much that many different types of nurses are needed in hospitals – despite the fact that hospital stays are much shorter today.
"Patients are in the hospital for much shorter stays, but they tend to be much sicker because nowadays you have to be really sick to be admitted," she says. "It takes a lot more nurses to manage all of that. Care is more specialized these days. You have an ICU for the heart, ICU for strokes, ICU for post-surgical, for children, for neonates, and all of those individualized specialty-care areas require specialized nursing care."
But the number of nurses in the job force can't keep up with the volume of patients, Littles says.
"So hospitals are doing creative things. There's a whole service of traveling nurses who make a living traveling around the country wherever they're needed," she says. The problem is there's no continuity there, for the hospital, the patients or the employees. Other places actually bring in nurses from places like the Philippines to do the work. The issue of having employees as part of the community, you lose that. But that's what hospitals are having to do to provide the patient care that's needed."
Another troubling trend, Grate says, has to do with the shrinking number of American-born doctors in practice. That is a direct result of the increased bureaucracy and expense, he says.
"What are we doing to get our physicians? We go to Third World countries and steal their doctors under the guise of giving them specialty training so they can go back – but they don't go back," Grate says. "We're going to Third World countries because it's hard to get American men to go into medicine anymore."
"When you see a nurse practitioner with two years of additional school, she gets paid the same amount the doctor does," Grate says. "Reimbursement is by the code number placed on the visit, so if it's a physician's assistant or a nurse that see you, the code is the same and she gets the money – but (the doctor) gets the liability."
But Littles has reason to hope. She once had a family practice in Quincy in the early 1990s and says the goal of the Residency Program at TMH is to train and recruit doctors for the local area.
"The Family Medicine Residency Program started in 1971, and the first group of graduates was in 1973," Littles says. "At that time, there were only three family doctors in Tallahassee. That's why the program was started. It was recognized that there was a shortage of physicians in Tallahassee."
Since then, 283 have graduated from the program, and 87 are practicing medicine in Tallahassee today, with another 14 in nearby rural areas.
"So the program certainly fulfilled its goal in getting more family physicians," Littles says. "But one of the things that hospitals would love to do now is use that same concept for some of the other physicians (where there are shortages). It's been proven that anywhere you put a residency program, a certain number will stay in the area and practice."
Littles says that aside from nurses, Tallahassee is now experiencing a shortage of general surgeons.
"The ones we have are nearing retirement age. The same with cardiovascular surgeons, general internists and probably some others," she says. "Hospitals are having conversations about the problem Florida has with not having enough residency training programs. So many students who graduate from med school in Florida leave the state for their residency, and a lot of them don't come back because they get rooted during that training. The goal is to try and keep as many med school grads here for their residency training (as we can) so we can keep them here practicing medicine in Florida."
Littles explains that students wanting to become doctors must first earn a bachelor's degree, then graduate from four years of medical school. But that doesn't mean they're ready to practice. To be board-certified, trainee doctors must complete a certain number of years in a residency program in their field or specialty. That takes time, she says.
"The shortest residency program is a three-year program, and family medicine is one of these," Littles says. "It can extend up to seven years, depending on the specialty. You have to complete a residency program in order to become board-certified in a specialty, which is pretty much the norm now."
That wasn't always the case years ago.
"In the era of the general practitioner, what they did was complete medical school, did one year of residency and hung their shingle," Littles says. "You don't see that today. You can't just do one year (of) residency and quit."
More Reason For Hope
For all the bureaucratic headaches, positive change has occurred, especially in the large number of specialties that exist in Tallahassee today.
"There are very few areas (where) we don't have coverage now," Bellamy says. "We don't, however, have a burn unit. People with burns probably need to go to Gainesville. We don't have pediatric heart surgery here. In general, more than 99 percent of situations we can treat in Tallahassee."
Grate says the biggest advances have come in the area of preventive medicine.
"We've had a lot of technological advances, but we are treating disease that has already occurred," he says. "If we can prevent disease by, say, helping people quit smoking, that would be fantastic. Ninety-five percent of our head and neck cancers are related to smoking."
Patients More Educated Today
"With the massive advances in technology and medicines, the other thing that has contributed to the change in health care – from the patient's perspective – is the development of the Internet," Littles says.
The Internet allows patients to be much better informed of health care issues in general, and as a result, the relationship between patient and physician has changed.
"Often patients come in and have researched the Internet, and it has forced the physician to be more attuned to that in terms of helping the patient," Littles says. "The role of physician as educator has become much greater in terms of helping the patient. The patient comes in with much more specific questions about their health condition."
Another modern trend confronting physicians today is the direct consumer advertising used by pharmaceutical companies to reach new customers.
"From the physician's perspective, that probably creates more problems than benefits," Littles says. "Just because a drug is available, it doesn't mean that drug being advertised is really the best treatment for you. Patients are asking for drugs by name, and again, it takes time and education to get them away from that."
From the Pages of Tallahassee Magazine
We've Got Medicine Covered
The giant is definitely awake.
Three years ago, Tallahassee Magazine paid homage to a booming industry on the verge of breaking loose. The headline shouted triumphantly, "Suddenly, the Capital City is on the Cutting Edge." What followed was an 82-page special section that not only kicked off a year-long series of "corridor" stories, but a tribute to "visionary leadership" of Tallahassee's medical community.
In fact, a foldout cover featured many of those visionary leaders, such as Dr. David Stewart of the Capital Medical Society; John Hogan, president and CEO of Capital Health Plan; Mark O'Bryant, CEO of Tallahassee Memorial HealthCare; and Sharon Roush, CEO of Capital Regional Medical Center.
"Time was, folks considered medical care in Tallahassee and the surrounding region as adequate – merely adequate," wrote Christina Bohnstengel in 2005. "For run-of-the-mill ailments and standard surgeries, local offerings were, well, OK. But when the health problem was complex, or the diagnosis was grim, or the patient simply had the means to seek out the 'best,' many headed to out-of-town facilities such as Gainesville's Shands Hospital or Jacksonville's Mayo Clinic."
Bohnstengel points out that while medical care was around, it really began to take off in the decade leading up to 2005.
"The momentum is gaining force as it rolls through the region, grabbing anyone daring enough to jump on and go along for the ride into the future of Tallahassee's health." She quotes Sharon Roush, CEO of Capital Regional Medical Center, as saying, "Our community is large and advanced enough that patients don't have to leave to find quality medical care."
For example, in 2003, CRMC opened its new $100 million hospital, which was built to grow with the future in mind. Roush said it was the largest plan in the HCA (Health Corporation of America) at that time. At TMH, the big news of the day was its partnership with the H. Lee Moffitt Cancer Center & Research Institute, which has headquarters in Tampa. The Moffitt Center serves and supports cancer programs statewide through clinical trials, research, education, prevention and screening. At the time, the goal with this partnership was to have a closer collaboration between the doctors at the Moffitt Center and TMH.
But coverage wasn't limited to hospitals. The 2005 health care issue took a look at Tallahassee's own not-for-profit HMO, Capital Health Plan, noting that it was serving 112,000 members in Leon, Gadsden, Wakulla and Jefferson counties. It had 350 participating doctors and in the previous year had been named among the top 10 health plans in the nation by the National Committee for Quality Assurance.
This wasn't the first time Tallahassee Magazine took an in-depth look at the Capital City's health care needs. The May-June 1996 edition's cover carried the teaser "Health-Care Industry: $1 Billion Sleeping Giant." At that time, an estimated 5,639 people were employed in Tallahassee's health-related services. Currently 11,300 people are employed in the industry in the four-county region, according to the Tallahassee Economic Development Council.
Andy Lindstrom wrote in this story that before 1979 there was only one hospital in Tallahassee –Tallahassee Memorial. That changed when Capital Medical Center (renamed Tallahassee Community Hospital) came on the scene.
"In those early years, skirmishing broke out between the two hospitals on several issues that threatened to erupt into open warfare," Lindstrom wrote. "Ambulance service and TCH's decision to expand its obstetrical program headed that list. Eventually, though, the two sides called a truce."
Of course, health and medical interests have been covered by the magazine since its very start, in 1979. In the first anniversary issue of Tallahassee Magazine (Spring 1980), a brief profile of the town's medical care facilities had this to say: "Various health-care facilities are available. There are two hospitals, Tallahassee Memorial Regional Medical Center (now Tallahassee Memorial HealthCare) with 600 beds and the new Capital Medical Center (now Capital Regional Medical Center) with 180 beds. An ambulatory center provides surgical services not requiring hospitalization, and its walk-in emergency facility provides treatment for medical needs requiring prompt attention."
Three years later, in 1983, the profile was condensed: "Two hospitals, one walk-in emergency center, three retirement centers, three convalescent homes. About 300 physicians, 75 dentists, 14 optometrists."