30 Years: Charities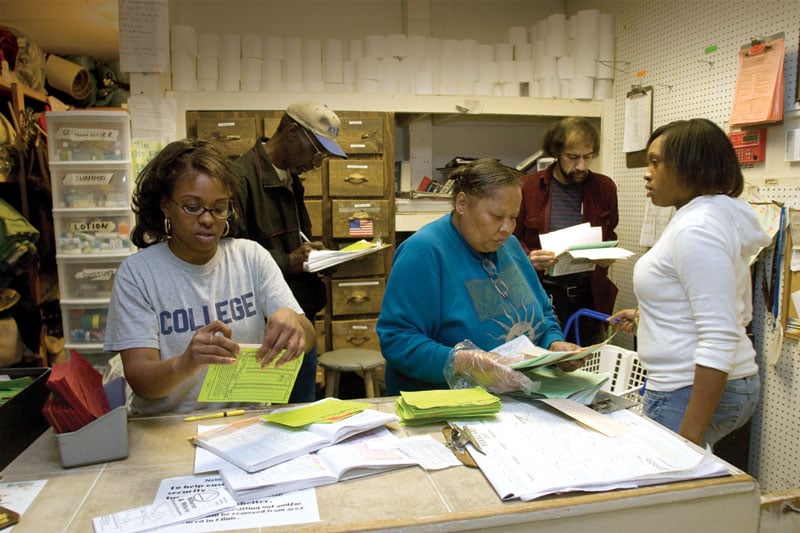 A boardroom approach helps local nonprofits survive during tough timesThe Business of Helping Those in NeedA Boardroom Approach Helps Local Nonprofits Survive During Tough Times
By Nathan Spicer
In this world, finding people who care more about others than themselves – who make it their mission to improve others' lives, who sacrifice time, effort and money to make the world a better place – can prove difficult.
But these kinds of people can be found here in Tallahassee. Nonprofit organizations have thrived in this city, demonstrating the caring nature of people around the area and how many base their life's work around assisting the less fortunate.
Over the years, numerous programs have popped up, ready and willing to work for the good of the community. Ken Armstrong, the president and CEO of the local United Way, has amassed a great deal of knowledge pertaining to the history of nonprofits, how they have operated, and how they have been perceived by the public.
"In the post-Depression years … the growth of nonprofits really began," Armstrong says. "It wasn't until after the Second World War that (the United Way) became prominent in Southern communities."
Within a relatively short span of time, a large percentage of Tallahassee's nonprofits appeared, and more have followed.
"Within the next 10 or 20 years after (World War II), probably 50 other significant nonprofit organizations were developed in this town," Armstrong says. Some were spin-offs of large, nationwide organizations, while others were homegrown.
Click for slideshow.
Success Stories
One example of a spin-off is the United Way of the Big Bend. Nine citizens established a Tallahassee branch of this organization in February 1943, one of the city's first nonprofits. In June 1990, United Way changed its name and began servicing the seven surrounding counties in the Big Bend region (Franklin, Gadsden, Jefferson, Liberty, Madison, Taylor and Wakulla). The organization's mission has remained constant to this day: "Dedicated to supporting the greatest variety of human service agencies in the local area and reaching people from all walks of life and income groups."
Even though United Way opened nearly four decades earlier, 1981 was the first year it raised $1 million. Most of its income comes from individuals' donations at workplaces supporting the United Way.
"I'd say 75 percent (comes from) people filling out pledge cards at the workplace," Armstrong says. "Probably 10 to 15 percent of our money comes from businesses that make corporate donations. Another 10 percent comes from people making individual gifts, but they don't work in a place that's doing a UW campaign."
This year, the United Way's goal is to raise $7.25 million to support area charities. Last year, the organization raised $7.24 million.
Occasionally, the United Way focuses its efforts on helping those in need outside of the immediate Big Bend region. On such occasions – such as recovery from Hurricane Dennis in 2005 or after the terrorist attacks of Sept. 11, 2001 – United Way of the Big Bend donates funds to ensure victims receive the necessary assistance.
United Way of the Big Bend's Certified Agencies, a coalition of human service providers, includes many of the area's most prominent nonprofit organizations. One of these Certified Agencies, and a recipient of United Way of the Big Bend's contributions to other nonprofits, is 2-1-1 Big Bend, founded in 1970 as an independent, confidential hotline center. Callers can find assistance from all types of problems ranging from domestic violence to thoughts of suicide. Sometimes it just helps to have someone to talk to, and 2-1-1 Big Bend provides that service. Every day, operators receive around 175 calls, including at least one call relating to suicide.
2-1-1's primary source of funding comes from the United Way, while other government organizations, such as the Florida Department of Health, and private donations account for the rest of the nonprofit's income.
While 2-1-1 Big Bend focuses its efforts on virtually every form of assistance, Refuge House spends most of its time dealing with domestic violence. This establishment is the center for survivors of sexual and domestic violence in Leon and its seven surrounding counties.
To help with the local homeless population, there is the Tallahassee-Leon Shelter Inc. According to its Web site, The Shelter has its roots in a 1986 incident in which four homeless men froze to death outside in Tallahassee during the winter. After downtown Tallahassee's First Presbyterian Church had its concern elevated by that tragedy, it opened its basement to homeless people searching for an escape from the harsh winter weather. That initial movement opened the church members' eyes to the necessity for a year-round shelter designed specifically to house homeless men and women and in November 1991, the Cold Nights Shelter, as it was then known, opened its doors to guests. It hasn't closed them since.
In 1993, The Shelter removed "Cold Nights" to reflect its status as a year-round facility and since has purchased a permanent residence on West Tennessee Street, as well as undergoing a $154,000 renovation project. The year 1996 saw The Shelter purchase the building next door and also start an emergency service program.
Big Brothers Big Sisters is another successful nonprofit that has been around for a number of years and has done some great work in the community. The organization, which opened its doors in Tallahassee in 1981, functions as a chapter of the national Big Brothers Big Sisters operation. It matches mentors with at-risk children, giving these kids a chance to spend time with positive role models who can encourage them to do their best in every area of their lives.
"We have outcomes that show statistically, year after year, that they improve grades, school attendance, their attitude and their behavior," says Colette Podgorski, the resource development director for the organization. "It's an impact on the whole child, not just one area. And it gives them a friend."
Capital City Youth Services also provides services for young people, although its focus is on teen and pre-teen runaways. Established in Tallahassee in the mid-1970s, the organization serves as a shelter for runaways. At first, it just provided three meals a day and a place to sleep, but over time, the services offered have expanded to include counseling, parenting education, prevention services and aftercare.
"We have several success stories," says Executive Director Stacy Gromatski. From time to time, Gromatski receives letters or e-mails like this one from people who have received help from Youth Services:
"Last year, I made a donation to CCYS, never suspecting it would be my child and my family who would benefit," one anonymous client wrote. "Things at home had spun out of control and we had to get back on track, somehow. My 17-year-old spent 14 days in the shelter, learning very valuable communication skills and ways to cope with family and life experiences. She learned how to say thank you and how to show appreciation, something that a lot of kids are lacking today."
Evolution of Operations
Not every organization has experienced ease in their development. In fact, more complications and issues arose somewhat recently that have altered how local nonprofits must operate.
Ralph Brower, an associate professor of public administration at Florida State University who specializes in nonprofit and civic leadership, explains one way nonprofits have evolved over the last 30 years.
"They have had to become more 'businesslike,'" he says.
Kris Knab, the executive director of Legal Services of North Florida, a private nonprofit corporation, echoes Brower's statement.
"We (in the nonprofit community) have learned to run our organizations much more like businesses," Knab says. For example, Legal Services of North Florida has had to become much more aware of how it allocates funds.
"It's more complicated than it used to be," she says. There are "lots of administrative tasks you have to be careful with." At Legal Services of North Florida, the organization must account for emergency money designated specifically for the elderly as well as specifically for children, which places it in a precarious position because the organization must balance the distribution of the funds, making sure each needy segment receives the required amounts.
Back in 1976, when Legal Services of North Florida and Knab started, "There were no restrictions," she says. In the 1980s, she encountered restrictions on federal funds, but no other sources.
In 1996, the federal Legal Services Corporation, which funds legal services to the poor, placed severe restrictions on how its funds can be used, according to the Web site "OMB Watch."
FSU's Brower goes on to explain how, when he was president, Ronald Reagan decreased government funding in the area of human services, believing nonprofits would "naturally step into the void." However, Brower says, nonprofits "did not then or now pay their way from bake sales or car washes. In fact, the relationship between government and nonprofits were highly interdependent … Government provided more than half of the funding for nonprofits … Government had come to depend on nonprofits of many services because nonprofits were actually more nimble, more flexible."
But when government cut the funding for those organizations, the need for their services actually increased, which, in Brower's words, "caused nonprofits to become much more businesslike in their pursuit of resources … About 55 or 56 percent (of the sector's resources) comes from what we call 'program services fees.' That means nonprofits charging for their services." The charges are not typically conspicuous – most are just entrance fees to a community theater or museum. But they still charge in the same way businesses do.
This has positives and negatives. According to Brower, the changes make the organizations more efficient, which is a positive. Conversely, Brower claims that "when nonprofits are compelled to become more businesslike, it sometimes causes them to make strategic decisions to offer services that are profitable (or that pay for themselves) rather than because they are badly needed in the community."
One of the conundrums about nonprofits is that when economic times become troublesome, the need for the organizations increases. With that increase comes a larger demand on their services, which they struggle to provide because of less-than-favorable circumstances.
But that will never decrease the enthusiasm and passion with which those organizations operate. Many employees get involved with the nonprofit sector out of the good of their hearts, not because the bureaucratic practices manage their days perfectly. The less fortunate have a place to go, people to see, and a quality city to count on. – Tabitha Yang contributed to this story.
From the Pages of Tallahassee Magazine
Helping Others: A Tallahassee Passion
Tallahassee Magazine has written about nonprofit organizations since its inception. As a valuable part of the city, it's only natural that these organizations receive comprehensive coverage.
Sometimes nonprofits' work doesn't even involve people, and the magazine takes time for them as well. Jon Hooper explored the St. Francis Wildlife Association in the January-February 1990 issue story titled "Healing Hands of St. Francis." Writing about the wild animal rescue organization founded in 1977 by Mary Jane Shaw, he wrote, "The St. Francis Wildlife Association plays a key part in the Tallahassee area … Groups like St. Francis and people like Jon Johnson and Mary Jane Shaw preserve a precious part of our world that is slipping away."
In the July-August 1990 issue, freelance writer Ashley Athey wrote the article "Tallahassee Runs for Others," in which she explored the annual "Run for Others" race that benefits ECHO, the Emergency Care Help Organization, a "local private charity that was founded in 1981 to assist people facing emergency situations." Athey told of "the challenging 8k road race, a 2.5-mile fitness walk, a kiddie run, a running and fitness expo, refreshments and an after-race celebration." One of Athey's interviewees, Ismail Mami, said, "We're fortunate, we want to help others less fortunate. This event gives us the opportunity to care for people."
Barbara Burkett Doran explored Boys Town in the September-October 1992 issue. "A new foster parent couple described their experience as 'the next best thing to being married … hard to put into words,'" Doran wrote. "But, they added, it has been a lot of work." Celebrating its 25th anniversary this year, the Boys Town's branch in Tallahassee was the first of its kind outside of the organization's headquarters in Omaha, Neb.
In the May-June 2004 issue, Monique Pellerlin and Bart Pfankuch composed articles relating the stories of two women who started nonprofit organizations. Pfankuch wrote about Lori Fahey, who founded Family Café, "a non-profit group that has provided guidance and support to thousands of Florida families with disabled children."
Pellerlin detailed the journey of Brenda Rabalais, a mother of a 14-year-old son who was diagnosed with, and then lost his life to, cancer. She took a trip to the Grand Canyon and discovered inside her a longing to help, later founding Lee's Place. "It has become well known through the community as a refuge where people who are hurting, even dying inside, can find solace," Pellerlin wrote.