25 Years of Mickee Faust
25 Years of Mickee Faust, Known Homo Sapiens and Practicing Thespians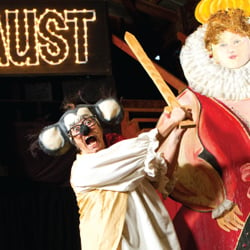 Mickee Faust has been poking fun for 25 years. Photo by Scott Holstein
For a quarter of a century, a merry band of self-proclaimed misfits has taken to the stage to educate and enlighten audiences to the diversity of humanity — often in shocking but always in the most slyly clever manner that members' twisted imaginations could conceive.
Mickee Faust, the cigar-chomping namesake of the troupe, claims to be the sewer-rat sibling of that wildly popular mouse of cartoon and amusement park fame. Alas, family discord abounds. (Are you beginning to get the picture?)
This self-described "community theater for the weird community" welcomes all, particularly LGBT people and the disabled. Its rollicking, raucous and occasionally randy cabaret shows blend the serious message of inclusion with hilarious skits and song and dance.
The yearlong 25th anniversary celebration continues at Railroad Square with the Best of Faust Film & Video on Sept. 29; the Best of Shakespeare & Shakesparody on Oct. 19 and 20 and on Oct. 25, 26 and 27; and Faust Radio's Award-Winning "War of the Worlds" on Oct. 31.
Perhaps George Smathers was having visions of future Faustkateers when, in the 1950 U.S. Senate campaign, he supposedly called incumbent Claude Pepper "an extrovert," his brother a "known homo sapien" and his sister a "practicing thespian." Visit mickeefaust.com for more information.