2013 Best of Tallahassee Results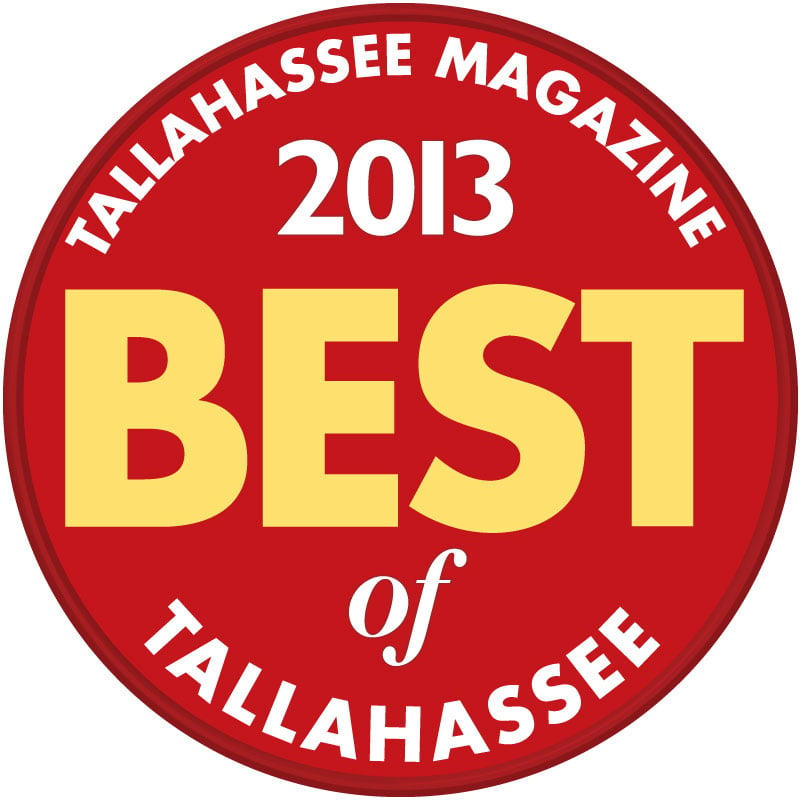 From small mom-and-pop restaurants serving up unique, sizzling dishes to fabulous, fashionable boutiques dressing us in all the latest trends, Tallahassee residents have a wonderful assortment of local businesses to choose from — for any good or service. With so many enticing options, choosing can be the hardest part. 
After tallying up votes from hundreds of local connoisseurs, we've put together a list of this city's best eateries and bars, service providers, shopping spots and entertainment options. Whether you're looking for the perfect steak dinner or a capable surgical practice, you'll find the best options — in our readers' humble opinion — right here.
(For our Best of Tallahassee database showing all of the winners since 2007, click here.)
Food & Beverage
Appetizer: Sage Restaurant
With its fresh ingredients and reputation for masterful, sophisticated preparation, Sage Restaurant has nabbed the No. 1 appetizer title. Enjoy the perfect bite in the comfortably elegant atmosphere inside, or in the romantic setting provided by the outdoor patio. Either way, the food will be fabulous!
Honorable mention: Bonefish Grill
Asian Restaurant: Masa
Masa's Asian-fusion menu creates dishes blending Eastern and Western cuisine everyone can enjoy. The fun, modern environment is sure to put you in the mood for some menu favorites like Grilled Miso Chilean Sea Bass, Yellow Curry Lamb Chop, Stir-fried Tilapia and Masa Chili Chicken.
Honorable mention: Azu
Bakery: The Cake Shop
From your plain vanilla and chocolate to specialties like Snicker's Candy Bar and Chunky Monkey, The Cake Shop provides delicious cakes and cupcakes for special occasions or just to satisfy your sweet tooth. Their fresh cookies include chocolate chip, snickerdoodle, peanut butter and chocolate-dipped pecan with chocolate chips.
Honorable mention: Tasty Pastry
Bar: Level 8 Lounge
What better way to enjoy cocktails, wine and beautiful people than atop the eighth floor of downtown's Hotel Duval? The view from Level8 is breathtaking, the couches are plush and the waitresses are at your service. Throw on your best attire, and come see the exquisite nightlife Tallahassee has to offer.
Honorable mention: Midtown Filling Station
Barbecue: Sonny's Real Pit Bar-B-Q
Nothing satisfies a rumblin' stomach quite like a plateful of hot, savory barbecue; and if you're looking for the tastiest grilled dishes, Sonny's has them in spades. With classic favorites like baby back ribs, smoked turkey and char-grilled chicken (served alongside baked potatoes, freshly made coleslaw or barbecue beans), you'll always get the greatest food and hospitality a Southern kitchen can offer.
Honorable mention: Piggy's BBQ
Breakfast: The Egg cafe & Eatery
For a casual, delicious breakfast, head over to The Egg for a cup of coffee or hot chocolate and some sweet beignets with apple butter. The Egg offers some surprisingly yummy combinations, such as the peanut butter and jelly French toast. Of course, breakfast favorites like eggs benedict are also served.
Honorable mention: Canopy Road Cafe
Brunch: The Egg cafe & Eatery
With a full brunch menu, The Egg has all the classics and more to satisfy your mid-morning cravings. Unwind with a Mimosa or Poinsettia cocktail, and enjoy the shrimp and grits skillet. You can never go wrong with options like the French toast, huevos rancheros and specialty omelettes. Honorable mention: Mockingbird Cafe
Cajun Restaurant: Coosh's Bayou Rouge
This Cajun-themed restaurant brings the best of the Bayou State right to your table. With a menu jam-packed with Louisiana-style dishes, guests can enjoy favorites like jambalaya, red beans 'n' rice, crawfish etouffee, po'boys and seafood gumbo. Not in a Cajun mood? Coosh's also offers classic hamburgers, salads and chicken wings. Honorable mention: Harry's Seafood, Bar and Grille
Casual Dining: Chicken Salad Chick
It's hard to go wrong with chicken and mayo. But Chicken Salad Chick exceeds expectations, with 15 different chicken salads to choose from — each with its own unique flavor — served in a bright, fast-casual setting. There are also deli sandwiches, side items and soups, and a cookie of the day for those who aren't chicken salad fans. Honorable mention: Red Elephant Pizza and Grill Restaurant
Catering: Black Fig
This year, Black Fig snagged the No. 1 catering company title. Catering everything from weddings to corporate events, their delicious, fresh cuisine is always presented with flair.
Honorable mention: Klassic Katering
Celebration/Special Occasion Restaurant: Cypress Restaurant
To make a special evening a cut above the rest, bring the celebration to Cypress. Known for its sophisticated take on Southern cuisine, this restaurant won our readers' votes for setting the scene and providing perfectly sumptuous food to match the grandeur of any occasion.
Honorable mention: Shula's 347 Grill
Coffee Shop: Starbucks 
Whether you're craving a Caramel Ribbon Crunch Frappuccino or a simple cup o' joe, Starbucks provides a wide variety of beverages that will satisfy even the most adventurous caffeine addict. Along with their coffee and classic café atmosphere, local stores offer free Wi-Fi and a delicious selection of sandwiches, salads, pastries and ice cream.
Honorable mention: Eternal Grounds
Deli: Hopkins' Eatery
This deli provides more than just your average sandwich. Favorites like the Ultimate Turkey and the Linda Special and a variety of salad meals keep customers coming back for more. And it's healthful, too!
Honorable mention: Publix
Dessert: Sage Restaurant
This Tallahassee favorite received resounding recognition for its classic, perfectly executed desserts. Enjoy rich, deep chocolate flavors in such desserts as the decadent flourless chocolate cake, or opt for a fresher sweet treat like sorbet or blueberry rhubarb bread pudding.
Honorable mention: The Cake Shop
Fine Dining: Sage Restaurant
Fine dining is about both flavors and atmosphere. Sage's menu spans a wide variety of flavors and masterfully melds regional influences, including Southern and French, to produce some of the finest cuisine in town — as evidenced by their multiple Best of Tallahassee 2013 wins! The setting is gorgeous but cozy, and the outdoor patio sets a charming, romantic tone for a relaxed evening. For any occasion, Sage Restaurant will be a sure hit.
Honorable mention: Cypress Restaurant
Food Truck: Street Chefs
Tallahassee residents flock to the Street Chefs truck for modern twists on classic comfort food items like "Not Your Mama's Grilled Cheese Sandwich." Established in 2011, the truck and its chef, Rebecca Kelly, have quickly made a name for themselves as Tallahassee's "best" food on wheels!
Honorable mention: Mobi
Hamburger: Vertigo Burgers and Fries
The No. 1 spot for hamburgers this year went to Vertigo, home to some of the juiciest, funkiest burgers in town. The modern building provides a no-frills setting to enjoy such favorites as the Vertigo Burger, a beef patty with fried egg, applewood bacon, grilled jalapenos, sharp cheddar and Vertigo sauce, and the Greak Out, with a lamb patty, tzatziki sauce, fresh tomato, kalamata olives, red onion, feta and pepperoncini peppers.
Honorable mention: Five Guys Burgers and Fries
Happy Hour: 101 Restaurant
Whether you work nine to five or just want to enjoy a night out with friends, 101 has a happy hour for you! Guests can choose from a selection of delectable martinis, two-for-ones and a bevy of other drinks. And they have not just one, but two happy hours to choose from — from 4 to 7 p.m. or 10:30 p.m. to 12:30 a.m.
Honorable mention: Level 8
Hibachi: Osaka
This hibachi steakhouse provides dinner and a show with chefs seasoning and preparing your meal right in front of you. Dinner favorites like Osaka Umi No Sachi (scallops, lobster and shrimp) and the Osaka Chef Special (steak, shrimp and chicken) are served with soup, salad, fried rice, Japanese noodles, vegetables and dessert — a meal that's sure to leave you satisfied as well as entertained.
Honorable mention: Japanica
Italian Restaurant: Bella Bella
Take your taste buds to Italy with a trip to Bella Bella. This locally owned and operated restaurant has a cozy atmosphere with all the classics to satisfy your cravings: Capellini Marinara, Fettuccine Alfredo, Manicotti, Lasagna, Chicken Parmesan and Eggplant Parmesan.
Honorable mention: Carrabba's Italian Grill
Locally Owned Restaurant: Sage Restaurant
As a winner in so many categories, it comes as no surprise that Sage Restaurant also received voters' recognition as Tallahassee's best locally owned restaurant. Bouncing back from a fire in late 2011, the restaurant was said to have been reincarnated — and better than ever. If you haven't already, give Sage a try.
Honorable mention: The Front Porch
Lunch: Sage Restaurant
Sage offers delicious creations for lunch-goers looking for a fine meal. The Bistro, a sandwich with brined and roasted turkey breast, French Brie, spinach, sour apples and Dijon mustard dipping sauce is a tasty delight, while the watermelon, tomato and cucumber salad refreshes your taste buds on even the hottest Tallahassee day.
Honorable mention: Hopkins' Eatery
Martini/Cocktail: Level 8
This modern downtown rooftop bar at the Hotel Duval is the perfect setting for any get together. The signature martinis are to die for, and the upscale environment sets the bar high, keeping this rooftop bar at the top of our reader's list.
Honorable mention: Bonefish Grill
Mexican/Latin American Restaurant: El Jalisco Restaurant
In the mood for sizzling enchiladas and frozen margaritas? Make your way to El Jalisco, where they do Mexican cuisine to perfection. Enjoy delicious two-for-one margaritas and entrees from a menu that's sure to satisfy your taste for something from south of the border.
Honorable mention: Morelia's Mexican Restaurant
Outdoor Dining: The Front Porch
Located in the heart of Midtown, The Front Porch mixes Southern comfort with fresh seafood to make for one of the finest casual dining experiences in Tallahassee. Stop by for dinner or a special Saturday/Sunday brunch. With their innovative dishes and outdoor setting, the menu and the atmosphere will always delight you.
Honorable mention: Food Glorious Food
Pizza: Momo's
After devouring a slice at Momo's, chain pizza simply is not gonna cut it. From the Johnny Cash posters to the ear-shattering punk music, the restaurant has an unmistakable "hole-in-the-wall" vibe, while the newly expanded dining area at their flagship Tennessee Street location allows a lot more seating, with plenty of room for large parties.
Honorable mention: Barnaby's Family Inn
Seafood Market: Southern Seafood
Whether you're looking for fish, shrimp, oysters, scallops, crab or lobster, these guys have you covered. Unloading the bounty from local fishing boats every day, Southern Seafood brings the ocean's freshest choices right to Tallahassee's front door.
Honorable mention: Capital Seafood Market
Seafood Restaurant: Bonefish Grill
With countless perfectly cooked, succulent seafood items to choose from, in addition to delicious "turf" options for those who do not enjoy their food from the "surf," it's no wonder Tallahassee selected Bonefish Grill as its favorite place to chow down on fish. Don't miss out on their signature appetizer, the Bang Bang Shrimp.
Honorable mention: The Front Porch 
Sports Bar: Primetime Lounge and Restaurant
With 40 high-definition televisions, two 15-foot projector screens and gourmet menu choices, Primetime has revolutionized the way you watch sports. Guys, grab your favorite brew, and ladies, order a delicious cocktail from the one-of-a-kind frost-top bar. Relax and enjoy the lounge ambience and upgrade your sports bar experience.
Honorable mention: AJ Sports Bar and Grill
Steakhouse: Marie Livingston's Steak House
Dining at Marie Livingston's is upscale yet comfortable and always a special treat. It's not just a steak house that serves up savory cuts of prime rib or marbled beef, it's a Tallahassee tradition, and newcomers owe it to themselves to make it a priority to visit.
Honorable mention: Shula's 347 Grill
Sushi: Masa
For another year, Masa has held its recurring title as the No. 1 sushi restaurant in town — and with good reason. This Japanese fusion restaurant packs bold, delicious flavors into each finely crafted, authentic roll. Come for the sushi; return to try everything else on the menu.
Honorable mention: Osaka Japanese Hibachi Steakhouse
Wine: The Wine Loft
Located in Midtown, The Wine Loft features a variety of worldly wines and bartenders who love to experiment. Perfect for parties large and small, or simple solitary reflection, The Wine Loft is conveniently located in Midtown and ready to help you relax and enjoy the evening.
Honorable mention: Clusters & Hops
Wings: Wingstop
After being voted best in town for the seventh year in a row, it's safe to say that this joint is the ultimate source for chicken wings. With three locations in the Tallahassee area, Wingstop offers a variety of homemade sides and 10 mouthwatering flavors for their wings, including Cajun, Lemon Pepper, Garlic Parmesan, BBQ and Louisiana Rub.
Honorable mention: Hurricane Grill and Wings
Service Providers
Accounting Services: James D. A. Holley & Co.
Leave the tough number crunching to the professionals. With specializations that include auditing services, tax and accounting services, strategic tax planning and financial planning, James D. A. Holley & Co., founded in 1946, is sure to leave you feeling relaxed and reassured that the job is being done right.
Honorable mention: Carroll & Company
Air Conditioning/Heating: Benson's Heating & Air Conditioning
Summers in Tallahassee can be brutally hot and humid. That's why you need a dependable heating and air conditioning company to help you keep your cool. Benson's is proud to have provided North Florida and Southern Georgia with 24/7 service for more than 30 years. It's a safe bet they can take the heat.
Honorable mention: Keith Lawson Company
Alterations: Helga's Tailoring and Alterations
Get your clothes fitting like a glove. Helga's does professional alterations, giving clients the satisfaction of a custom fit on all of their clothing. Additionally, clients can ask for re-cut tailoring to repurpose old clothing, or custom tailoring to help your clothes keep up with changes in your body.
Honorable mention: Nancy's Alterations
Assisted Living Facility: St. Augustine Plantation
For compassionate care from a supportive, specially trained staff, Tallahassee has chosen St. Augustine Plantation as its best assisted living facility. The community provides a unique, friendly environment for residents with Alzheimer's disease and dementia.
Honorable mention: Westminster Oaks
Automobile Dealer: Proctor Auto Group/Honda
Once again, the selection of makes and models, combined with a dynamic sales staff and impeccable service have earned top honors for the Proctor dealerships, the name in local car sales for more than 100 years. Proctor is the No. 1 Honda dealership in Florida and also sells Acura and Subaru vehicles.
Honorable mention: Dale Earnhardt Jr. Dealerships
Auto Repair: Auto & Tire Super Service Center
Keeping your vehicle well maintained is critical to safe driving. Whether you need tires, repair or regular maintenance, Auto Super Service Center has five convenient locations in Tallahassee ready to keep you on the road and happy.
Honorable mention: Perdue's Automotive Center
Banquet Facility: Hotel Duval
With four beautifully designed ballrooms and boardrooms, Hotel Duval offers the best in banquet facilities. Whether your function is small and intimate, or on a much bigger scale, guests will dine and socialize in luxury.
Honorable mention: Goodwood Museum & Gardens
Carpet Cleaner: Stanley Steemer
With its unmistakable big yellow vans, Stanley Steemer has for many years served households and businesses in Tallahassee. The company offers cleaning for whatever's underfoot, including hardwood, tile and carpet floors. And if your ventilation system is dirty, Stanley Steemer will clean that, too.
Honorable mention: Miller's Carpet & Upholstery Cleaning
Child Care Provider: The Growing Room
The Growing Room promises to provide personalized, quality childcare to your little tots. Growing Room has made a tangible difference throughout the Southeast, touching countless lives and families. Decisions are made locally, giving parents the peace of mind that comes with close-knit, personalized care.
Honorable mention: Annsworth Academy
Chiropractor: Gene Jenkins, D.C.
Enjoy a healthier back and a better life. The voters agree; Jenkins will help you do just that, combining plenty of experience with great care. With a properly aligned back, patients can enjoy life without limitations.
Honorable mention: Ryan Fenn, D.C.
Civic Club: Rotary Club
"Service Above Self." That is the goal, and the ideal, of Rotary Club International. Members strive to help at-risk kids as well as stamp out illiteracy, poverty, hunger and develop other worthwhile projects. They support educational programs, international exchanges and career development.
Honorable mention: Children's Home Society
Computer Repair/Services: Tri-C
Computer troubles can be some of the most vexing of all. When it's time to call in a professional, opt for experience. With over 80 years of combined experience, Tri-C Systems, now partnered with Electrical & Computer Resources, serves more than 200 regional businesses in more than 20 industry markets. They specialize in solutions for consumers, commercial businesses, education and government institutions.
Honorable mention: On Call Computer Solutions
Dance Studio: Sharon Davis
Sharon Davis's dance studio, established in 1977, has once again been named Tallahassee's best. The studio has grown tremendously since its beginning, when it had only two instructors. The studio now teaches children ballet, en pointe, tap, hip-hop and lyrical dance.
Honorable mention: Tallahassee Dance Academy
Day Spa: So Pure Salon and Spa
Need a little good, old-fashioned R&R? So Pure is ready to get you feeling like new again, with a wide variety of services, including facials, body scrubs and massage therapy, in addition to salon services. Let go of all of the stress, hustle and bustle for a little while and emerge rejuvenated.
Honorable mention: Millennium Nail and Day Spa
Dentist Office: Russell B. Rainey, DMD
From simple cleanings to more involved dental procedures, Dr. Rainey's office and staff will certainly give you something to smile about — and improve and protect your smile while they're at it.
Honorable mention: Robert S. Murrell, DMD
Dermatology Practice: Dermatology Associates of Tallahassee
Keep your skin clear, bright and youthful with this top team of dermatologists. With treatments for skin issues ranging from acne to shingles, in addition to a skin cancer management team, Dermatology Associates has the solution for any problem that ails your skin.
Honorable mention: Dr. Pamela Kennedy 
Dry Cleaner: O'Brien's Shamrock Cleaners
Shamrock will get your clothing as clean as when you bought it. The professional and pleasant staff, combined with the carefully cleaned finished product, will keep you coming back time and time again.
Honorable mention: Blue Ribbon Dry Cleaning
Electrical Company: Lawson & Lawson Electrical Services, Inc.
The good folks at Lawson & Lawson have more than 200 years combined experience in the electrical trade (that's a lot of wiring). When they arrive on site you can be sure they won't leave until the job is not only just done, but done right, and in a cost-effective manner, too.
Honorable mention: Talquin Electric
Family Physician/Practice: Patients First Medical Center
"When you need a doctor, not an appointment." When you need treatment as quickly as possible (without high emergency room costs), or are looking for a primary care doctor with convenient hours, Patients First is a perfect fit. Top-notch care meets convenience and efficiency, getting you the help you need when and where you need it.
Honorable mention: Tallahassee Primary Care Associates
Financial Advisor: Six Pillars Financial Advisors
With comprehensive services ranging from financial planning to employee benefit plans, Six Pillars has the resources to help out with both personal and professional financial advising needs. Enjoy a relationship built on trust, with competent professional advice, continual communication and prompt personal service.
Honorable mention: Merrill Lynch
Financial Institution: Capital City Bank
Selected as the best financial institution for another year, Capital City Bank has 70 offices spanning Florida, Georgia and Alabama. This institution's bankers provide personal service to every customer, and the company is an active and generous member of the Tallahassee community.
Honorable mention: First Commerce Credit Union
Fitness Instructor: Sweat Therapy Fitness
Sometimes, to train hard it takes a good fitness instructor willing to kick your rear end into shape. Whatever your goals or fitness level, the pros at Sweat Therapy will help you get where you want to be via an assortment of fun classes and programs.
Honorable mention: Premier Fitness
Flooring: ABC Abbey Carpet and Floor
The professionals at ABC know that selecting a floor for your home can be an overwhelming decision, so they're on the spot to make the job easier. With one of the largest floor covering showrooms in the area, the store features a large selection of hardwood, ceramic, laminate, carpet, vinyl and area rugs for your commercial, residential and new construction needs.
Honorable mention: Brian Barnard's Flooring America
Florist: Designs by Darin
Make your wedding and special occasion blossoms pop. Designs by Darin's attention to detail and expertise in the art of styling ensures your flowers will make an impression that lasts a lifetime.
Honorable mention: Blossoms Flowers
Gym/Health Club/Fitness Facility: Premier Health and Fitness Center
This gym is more than just weights, treadmills and stationary bikes. Along with their childcare and fitness services, Premier offers a variety of group classes and indoor amenities — including three racquetball courts, two heated pools, a jogging track, and an NBA-sized basketball court. As an added bonus, they have saunas, steam rooms and a Tropical Smoothie Café to help you wind down after workouts.
Honorable mention: Gold's Gym
Hair Salon/Studio: So Pure Salon & Spa
Tame your mane with the best hair salon in Tallahassee. Their services range from simple haircuts to conditioning treatments to color. Whether your stylist is "New Talent" or at the "Director" level, you will surely be pleased with the way they transform your locks.
Honorable mention: Dream State Salon
Hotel: Hotel Duval
Next time you host visitors in town, make sure they stay at the best place possible: Hotel Duval. The modern, elegant atmosphere and central location will let them experience the best this city has to offer — and did we mention that the hotel also houses the popular steakhouse, Shula's 347 Grill?
Honorable mention: Aloft
Insurance Agency: Demont Insurance
This family owned and operated insurance agency has been providing Florida residents with insurance for almost 50 years. Demont Insurance provides life insurance, coverage on automobiles, homes, boats and other recreational vehicles.
Honorable mention: State Farm
Interior Design Firm: Design & More
Their slogan reads, "From ceiling to floor, wall to wall, we can provide it all." And Tallahassee's voters agree. Design & More is a full-service interior design firm and a retail showroom with everything needed to get your home looking freshly fabulous.
Honorable mention: TIE Jackie Jackie McHaffie and TuTu Divine
Landscaping/ Lawn Services: Esposito Lawn and Garden Center
Since 1969 Esposito has served North Florida and South Georgia's lawn maintenance, landscape design and floral needs. With expert nursery specialists and more than 40 years experience, Esposito has you covered from the ground up!
Honorable mention: Tallahassee Nurseries
Limo Service: Mike's Limousine
Mike's makes going to a party a party unto itself. North Florida and South Georgia's primo limo provider carries clients in sumptuous splendor to stylish events throughout the region. Mike's offers a complete fleet of party buses, charter buses and custom limos perfect for every party and occasion.
Honorable mention: Top Hat Limo and Sedan Service of Tallahassee
Moving Company: Mike's Moving
Moving is stressful enough: the packing, the planning … leave the loading and transportation to Mike's, which has been taking care of the region's moving needs for more than 20 years. In addition to residential and commercial moving services, Mike's also offers Go Mini Portable Storage containers.
Honorable mention: AMWAT
Nail Salon: So Pure Salon & Spa
Need to unwind? So Pure's manicures and pedicures will put you in complete bliss. All services come with a salt scrub massage that's sure to reduce tension and stress. Specialty services like the Caribbean Therapy and Stress-Fix use soothing milk baths, exfoliating sugar scrubs and mineral-rich salt scrubs to leave your skin soft and smooth.
Honorable mention: Royal Nails
Obstetric/Gynecological Practice: North Florida's Women's Care
Voted again as Tallahassee's best, North Florida Women's Care strives to provide a pleasant and comfortable visit for women of all ages. Services include gynecology, infertility, obstetrics and ultrasounds. Their team of physicians and nurse practitioners are always ready to assist you.
Honorable mention: Gynecology & Obstetrics Associates
Optometry/Ophthalmology Practice: Eye Associates
From iLasik to cataract and glaucoma treatment, Eye Associates will have you seeing straight in no time. Aptly located at number 2020 on Fleischmann Road, this practice does it all — from serious vision issues to vision correction services, with a full-service optical center and same-day contact lenses.
Honorable mention: The Hour Glass
Painter: Superior Painting
"Expect the best" from Superior Painting. Their professional craftsmen do immaculate work, including paint, repair, staining and removal. This is their sixth year holding the title of Tallahassee's best painter.
Honorable mention: K & C Painting Services
Pediatric Physician/Practice: TPCA Pediatric Practice
The physicians at TPCA are dedicated to providing the Tallahassee area with the best medical care possible for children. Their practice includes family doctors, specialists and trained pediatric staff, all focusing on the growth and development of young patients.
Honorable mention: North Florida Pediatrics
Pest Control Service: Paul's Pest Control
If your home is under attack by indoor or outdoor pests, it may be time to call Paul. Paul's Pest Control is a family-owned business and has been "getting 'em all" in the Tallahassee area since 1971. Offering a top-notch and eco-friendly treatment plan, their services include pest and termite control, wildlife removal, fire ants, elimination of bed bugs, lawn service and WDO real estate inspections.
Honorable mention: Massey Services Inc.
Phone Service Provider: Verizon 
Can you hear me now? Well apparently, we still can. Verizon continues to rise to the top of the phone service providers in Tallahassee, maintaining outstanding network coverage and service for all your phone needs.
Honorable mention: CenturyLink
Photographer: Kira Derryberry
When Derryberry takes photos, she captures more than a moment; she is celebrating the natural beauty and personality in each of her subjects. Whether she's taking senior portraits, engagement photos or headshots, her photos dazzle and impress.
Honorable mention: Dina Ivory
Plumbing Service: Keith McNeill Plumbing
Who you going to call when the wrong fixture gets clogged at the most inconvenient time? Likewise, who are you going to reach out to if you want to completely remodel your bathroom? Doesn't matter if your plumbing problem is big or small, Keith McNeill gets the job done right the first time.
Honorable mention: Keith Lawson Company
Pool Repair/Service Company: Barksdale Custom Pools 
With over 15 years experience in the Tallahassee area, Barksdale is the go-to company for all your swimming pool needs. They specialize in custom shaped pools, swim-outs, tanning shelves, salt sanitation systems, renovations and repairs, and equipment installations. Their use of top-quality products and the newest techniques guarantee customers will have the best pool possible.
Honorable mention: Terry's Pool Service
Real Estate Agency/Agent: The Naumann Group Real Estate, Inc. 
There are some fine homes in Tallahassee, and if fine living is your goal, Jason Naumann and his associates are well versed in the local real estate market and can certainly help you make your connection. Their skill and expertise will make you feel right at home.
Honorable mention: Coldwell Banker
Roofing Repair/Services: Rowe Roofing
There was a lot of rain this summer in Tallahassee, and the last thing you need is for your ceiling to drip, drip, drip. But don't worry. Rowe Roofing offers 24/7 leak repair, and the people are fantastic. They ought to be, they've been in the roofing business for 40 years.
Honorable mention: Tadlock Roofing & Solar
Security System: ADT
America's No. 1 home security company is one of the oldest, most trusted and well-known names in the business. Six million clients use ADT, making it the largest alarm company in the United States and Canada. So when you're ready to build a solid foundation for home security, give them a call.
Honorable mention: SafeTouch
Sign Company: Apogee Signs
North Florida's premier sign shop, Apogee prides itself on meeting the highest standards with every project and focuses on providing customers with high quality, effective signage. Specializing in signage, engraving, repair services and much more, the team will ensure your sign projects are handled efficiently, from start to finish.
Honorable mention: Signs Now
Spa: So Pure Salon and Spa
For a full day of pampering, Tallahassee's choice is So Pure Salon and Spa. Their wide variety of treatments and services make it a clear choice for anyone who needs to recharge and take a break and rejuvenate.
Honorable mention: Millennium Nail and Day Spa
Sports/Physical Therapy: Tallahassee Orthopedic Clinic
With physicians whose experience spans everything from sports injuries to orthopedic trauma, the Tallahassee Orthopedic Clinic is ready to get you shipshape. They provide comprehensive musculoskeletal care to patients in North Florida and South Georgia, seeking to provide the highest quality services to patients of every age and skill level, helping them regain and maintain a healthy, active lifestyle.
Honorable mention: Tallahassee Orthopedic & Sports Physical Therapy
Surgical Practice: Southeastern Plastic Surgery
Specializing in cosmetic surgical procedures, the physicians at Southeastern Plastic Surgery have the special touch to make anyone feel confident with their appearance. The credentialed staff strives to make patients comfortable with whichever procedure they're undergoing by answering questions and providing a relaxing and reassuring environment. Honorable mention: Tallahassee Surgical Associates
Tree Service: Miller's Tree Service
Trees around your house need checking on a regular basis to make sure they're not going to wind up in your living room. That's where Miller's Tree Service comes in. Miller's can prune or remove a tree before there's a problem, or clean up the debris afterward.
Honorable mention: AAA Tree Service
Veterinary Clinic: North Florida Animal Hospital
Keep your beloved pets in top shape with the wide range of services provided at North Florida Animal Hospital. NFAH offers wellness programs that will help prevent illness through vaccinations, physical exams and blood tests for your furry friends. Dental care, boarding, grooming and hydrotherapy are also available.
Honorable mention: Westwood Animal Hospital
Wedding Planner: John Gandy Events
Every couple wants a perfect wedding, but executing the perfect celebration can be difficult, stressful and time consuming — unless you've hired a good planner. Leave the details to Tallahassee's top pro and get the wedding of your dreams, within your budget, without spending all of your time.
Honorable mention: Sarah Ennis, Klassic Katering
Wedding Venue: Goodwood Museum & Gardens
A dream wedding needs a fantastic, dream-like setting.  Luckily, Tallahassee runs the gamut from gorgeous lakeside churches to historic plantations. This year, Goodwood won our readers' recognition as the best, most romantic locale to tie the knot.
Honorable mention: Honey Lake Plantation
Weight Loss/Control Program: Fit: Weight Loss and More
Take control of your body and your life with confidence. Help and support from Fit will help you get there with a customized program unique to your needs, leaving you healthier and happier. Honorable mention: Weight Watchers
Shopping
Antique Shop: Peculiar Goods 
No matter who you are, something is bound to catch your eye when you step into this fragrant boutique. Peculiar Goods is a vibrant and colorful shop full of interesting items, presenting a variety of vintage goods and an ever-changing mix of old-fashioned pieces. So, whether you're decorating your house or searching for that perfect gift, you're bound to find something here.
Honorable mention: Killearn Antiques
Cosmetic Vendor: Sephora
Want to mix up your look? Explore Sephora's products for makeup, skincare, fragrance, hair and nails. Sephora's experts offer free express sessions at their two Governor's Square mall locations to teach you the techniques behind smoky eyes, essential eyeliner, faux lashes, perfect lips and flawless foundation.
Honorable mention: Ulta
Eyeglass Store: The Hour Glass
When you walk into The Hour Glass, you're greeted by a friendly customer service team eager to help with your optical needs. With rapid prescription turnaround times, thorough eye examinations and a large variety of frames, The Hour Glass offers more of what meets the eye!
Honorable mention: Visionworks
Furniture Store: Furniture Showcase & Design
Discerning homeowners seeking the finest appointments to their Tallahassee homes (and perhaps second homes) have come to rely on the exquisite furnishings offered by the McLaurin family. Here, customers are treated like family, and they walk away with not only fine furniture but also new friends.
Honorable mention: Turner's Fine Furniture
Gift Store: My Favorite Things
Looking for the perfect gift? My Favorite Things supplies dinnerware, flatware, personalized gifts and kitchen cookware. My Favorite Things' bridal registry is a first stop for the newly engaged and it's great place to find the perfect baby shower gift.
Honorable mention: The Grey Fox
Jewelry Store: The Gem Collection
Ladies and gentlemen alike across the city have been frosting themselves with fine jewelry from The Gem Collection, which has once again nabbed the title of Tallahassee's best jewelry store. Since 1977, Don and Dorothy Vodicka have outfitted the city's most stylish denizens with such beauties as Pandora charms, engagement rings and Rolex watches.
Honorable mention: Robert's Jewelry & Designs
Kids' Clothing: Pink Narcissus
The fashions from Pink Narcissus let you dress your kids in style. The beautiful prints and friendly atmosphere will make shopping with your child fun and easy. The bright, vibrant colors of Lilly Pulitzer will make your children stand out on any occasion.
Honorable mention: Chameleon
Locally Owned Shop: Narcissus
Narcissus brings the styles of high-fashion New York to their shop in Tallahassee. The staff is always available to help you find exactly what you need. From formal clothes to bathing suits and lingerie, Narcissus has you covered from head to toe.
Honorable mention: So Pure Salon & Spa
Men's Clothing: Nic's Toggery
There's a time and a place to look the best, but the associates at Nic's believe it's all the time — and every place. Nic's has been the place for men's clothes for 60 years. Consultants are eager to help you choose the professional style, shoes and accessories that work for you.
Honorable mention: Jos. A. Bank
Nursery/Garden Center: Tallahassee Nurseries 
Welcoming patrons with shady arbors, soothing fountains and luscious gardens, Tallahassee Nurseries is the place to go for all of your landscaping needs. Brick pathways wind throughout the beautiful grounds and let you see all the nursery has to offer, providing a remarkable shopping experience complete with a gift shop, garden center and greenhouse.
Honorable mention: Esposito Lawn and Garden Center
Women's Accessories/Shoes: Narcissus
Does your outfit need something more? Narcissus provides the most popular, high-end brands to complement your ensemble. From sandals to stilettos, Narcissus' staff can help you find the perfect shoe for any occasion. And whether you need a great gift or just something to put the "icing" on your look, Narcissus has your jewelry needs covered.
Honorable mention: Cole Couture
Women's Clothing: Pink Narcissus
You're sure to find the outfit you need in this exclusively Lilly Pulitzer shop. Pink Narcissus is chock full of all things Lilly — dresses, bathing suits, shoes and accessories. Always stocked with this season's best, Pink Narcissus will keep you looking stylish.
Honorable mention: Cole Couture
Entertainment
Community Event: Springtime Tallahassee
It's no wonder Springtime Tallahassee attracts more than 70,000 spectators; the whole family can find something fun to do at Tallahassee's signature annual event. The Grand Parade has over 100 floats, including the Springtime Krewe floats, marching bands and dance groups. Kids can get their faces painted, ride ponies and play with clowns.
Honorable mention: Heart Ball
Golf Course: Golden Eagle Golf & Country Club
This lush golf course was planned for those who expect the best. The Tom Fazio-designed 18-hole course is tucked away within Golden Eagle Plantation.
Honorable mention: SouthWood Golf Club
Entertainment Venue: SouthWood
More than just a residential community, SouthWood offers lush green parks, a bustling Towne Center and live community events. Join in on the annual festivities like the spectacular display of fireworks on the Fourth of July or participate in the Turkey Trot. Whatever the time of year, SouthWood is the place to be for community, charitable and leisure events.
Honorable mention: Donald L. Tucker Civic Center at Florida State University
Place to be Seen: So Pure Salon and Spa
At So Pure, you're guaranteed to leave looking and feeling totally different than you arrived. Customers can choose from a variety of services, including massage, hairstyling, makeup, photography and so much more. After an experience here, you'll feel like a new person, from head to toe.
Honorable mention: Level 8
Place to Take the Kids: Tallahassee Museum 
A thrilling combination of history, wildlife, nature and entertainment, Tallahassee Museum is more than your typical museum. Visitors can tour a 19th-century homestead, take a peek at Florida's only zoological collection of native wildlife, or get a bird's-eye view of the natural world with the high-flying zip lines and tree-to-tree adventure courses. It's great fun for the whole family!
Honorable mention: Fun Station