2007: Iconic Tallahassee Businesses Use Core Values, Flexibility to Defeat Recession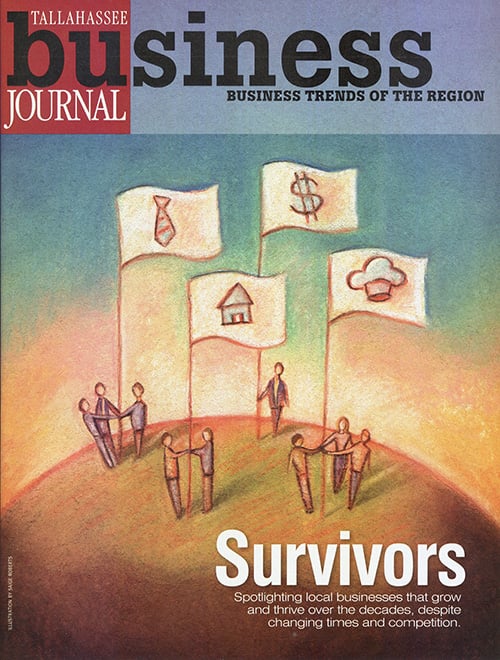 A few local long-time businesses featured in a 2007 issue of Tallahassee Magazine are surviving the tough economic times by falling back on common sense and adapting to customer needs.
At Chez Pierre, owner/manager Eric Favier is rolling with the punches to keep the 33-year-old Tallahassee bistro hopping. In times like these, you have to give the public what it wants. Like a quicker dining experience — and more booze.
"We are adapting to the demand — people are eating less, but drinking more," said Favier, an old world restaurateur who prefers his customers sit and stay awhile.
"People used to take their time to dine. We used to sell a lot more food," he said. "Now, they'll have an appetizer, some light fare, and that's their dinner. Spending is different."
Thanks to an outdoor burger bar and 2 Chez, the patio bar, Favier is able to meet that shift toward more casual dining.
"We're looking to add more high-top tables to beef up the casual atmosphere, and working on adding a seafood raw bar and cheese bar for the small indoor bar," she said. "I also want to add more live music."
Meanwhile, it's a different kind of music that is sweet to the ear of George Gavalas at Nic's Toggery. Little by little, customers looking for that upscale tailored suit are losing their fear of the recession.
"We had a slow period in September and March, but then people decided the world wasn't going to come to an end and resumed their lives," he said. "They have a little more confidence in things. If sales are down, we adjust inventory. You don't want to have too much inventory in lean times, just sitting there."
Trimming expenses is one thing, but letting go of employees was never part of the solution, Gavalas said.
"The last thing we wanted to do was to eliminate employees because they are very important to the life of our business," he said.
For 114 years Capital City Bank Group has served the community by focusing on the fundamentals of community banking, and having lots of money on hand for rainy days.
"We opted not to apply for TARP money," he said, referring to the recent government bailout assistance package offered by the U.S. government. "Our board asked me for a recommendation and it was an easy answer. We didn't need it. We have lots of excess capital to weather the storm and continue to grow while others were stumbling and that's been a real bedrock for us.
"This isn't our first rodeo," Smith added. "We've been through these cycles before and are prepared to deal with them."