2006 College Football Preview: FSU Looking for Leadership
With a Dearth of Veteran Players, FSU Turns to the Youngsters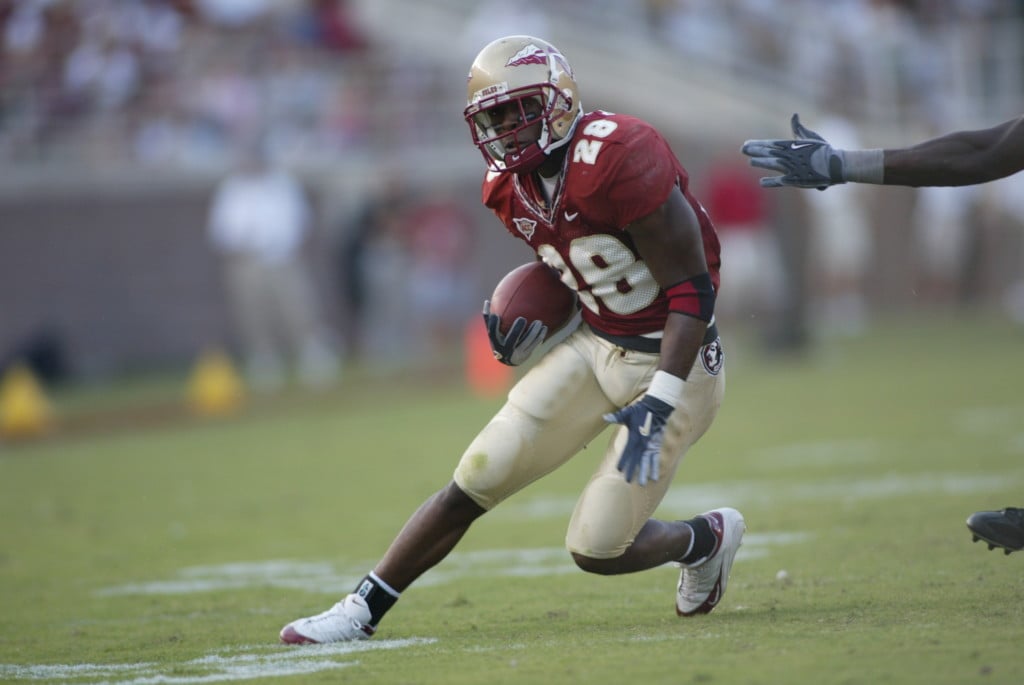 Bowling. A ropes course. A campuswide scavenger hunt.
On the surface, they appeared to be nothing more than childhood games.
But rest assured, these were not simply lighthearted diversions for the Florida State University football program. To the contrary, the Seminoles' coaches were hopeful that these summer activities and others would help set a strong foundation for a team desperately short on veteran leadership – at least in terms of numbers.
FSU believes it has quality leaders in seniors such as tailback Lorenzo Booker, linebacker Buster Davis and offensive guard Cory Niblock. But the Seminoles have only four other scholarship seniors on their entire roster.
That means that when times get tough this season – and they do during every college football season – FSU will be looking to juniors, sophomores and even freshmen to provide the necessary guidance.
It's understandable, then, that when the Seminoles' brand new crop of freshman football players arrived midway through the summer, they were ordered to go play before taking the time to learn their plays.
"If there's a guy who's going to be a leader, it kind of gives him an opportunity to step up and be that leader," FSU assistant coach John Lilly said of the team-building activities. "You kind of get a sense of who your leaders are from that group. They kind of step to the forefront."
FSU's coaches hope to identify and develop young leaders every year, but their desire has been magnified this season. When the Seminoles open the 2006 campaign at rival Miami on Labor Day, they likely will do so with only six seniors in their starting lineup – four on offense and two on defense.
Compare that to the teams that played in last season's national championship game, Southern Cal and Texas. USC boasted a roster filled with 20 seniors, while the Longhorns had 31.
Penn State, the team that eked out a victory against FSU in January's Orange Bowl, was led by 24 seniors.
"We don't have many seniors, so we know that some young guys are going to have to step up," sophomore wide receiver Greg Carr said. "Instead of waiting until your junior or senior year, you might have to be a leader right now."
The good news for the Seminoles is that they appear to have several likely candidates to fill those roles. Cornerbacks Tony Carter and J.R. Bryant were thrust into starting positions early last season, despite the fact that Carter was just a redshirt freshman and Bryant was a true sophomore.
And while both players experienced growing pains during their first year as starters, they should benefit from being battle-tested.
"You can coach everything, but you can't coach experience," Carter said. "You never know how somebody's going to react in an environment like Miami until it actually happens."
That sentiment has to weigh heavily on the shoulders of FSU's defensive coaches. There is a good chance that five of defensive coordinator Mickey Andrews' 11 starters will be freshmen or sophomores.
Those youngsters have more than enough talent to play at this level. Freshmen such as strong safety Myron Rolle and defensive end Everette Brown already started to display their star potential this past spring. Brown was far and away the Seminoles' top pass rusher, and Rolle stole the show in the annual spring game by returning an interception for a touchdown and narrowly missing on two other interceptions.
"He has shown us (that) all that we read must be true," FSU coach Bobby Bowden said of Rolle's extensive recruiting hype. The New Jersey product was considered by some analysts to be the top recruit in the country.
But talent aside, what happens when adversity visits during the season opener? Despite all of these youngsters' skills, many of them have never played before a crowd larger than a few thousand fans. The crowd at the Orange Bowl on Sept. 4 will be 20 times that size.
And the vast majority will be pulling for the hometown Hurricanes.
To help the newcomers prepare for such occasions, FSU's strength and conditioning staff incorporated team-building and leadership exercises into the Seminoles' off-season conditioning program. At the end of each workout, the coaches would split the players into groups and pit them against each other in different skills challenges.
Bonds were formed. Leaders emerged.
Jon Jost, the director of FSU's strength program, said his staff borrowed many of the drills from military units such as the Navy SEALs.
"I don't claim to be a psychologist or a motivation guru or anything like that," Jost said. "But we're trying to do some special things to focus on that and hopefully bring (that leadership) out of them."
Though the Seminoles' coaches won't know until during the season whether their efforts were successful, the early indications are positive.
"This is just a great group of guys, it really is," Jost said. "They understand what they have here talent-wise, they understand the opportunity, and they've done a great job."
Even the veterans have taken notice. Booker, one of five fifth-year players on the Seminoles' roster, was stunned on the first day of off-season workouts when sophomore wide receiver Rod Owens spoke up and suggested the inspirational phrase that the Seminoles should use when "breaking down" their post-practice huddle.
To Booker, it was a sign of confidence, maturity and, yes, even leadership.
"That's one of the biggest things about this year's ball club, is that it's not just the seniors," Booker said. "It comes from the younger guys. Owens just broke the huddle. We've never had that before, young guys breaking the huddle. That's good, because you don't want to have only seniors leading."
Particularly when you have so few from which to choose.