2003: Old-Style Community in a Brand New Neighborhood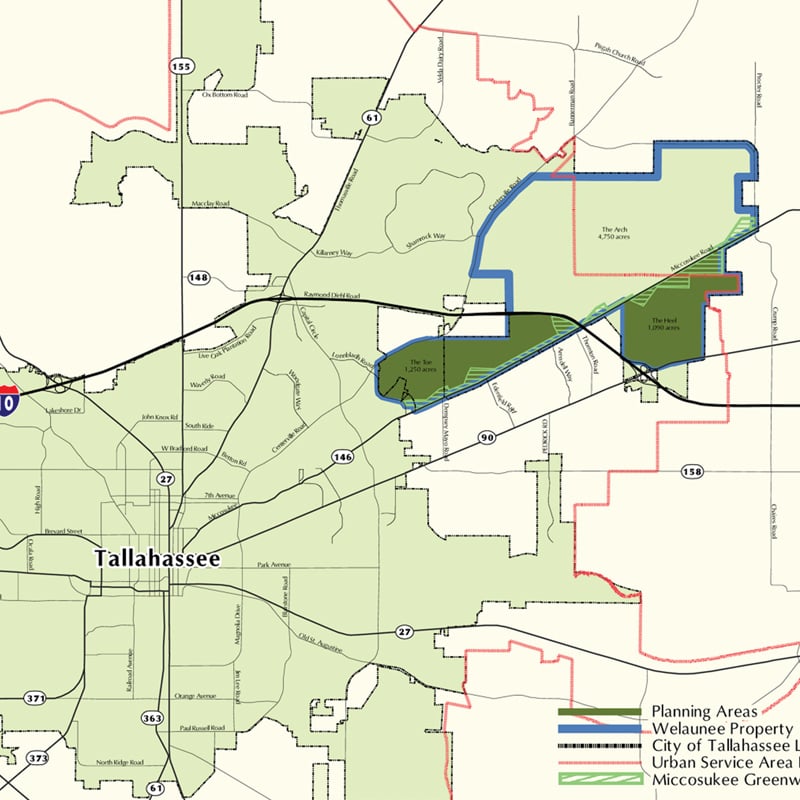 ---
Tim Edmond calls the southwest section of Welaunee Plantation "God's gift" to Tallahassee.
"It's a beautiful site," he said. "Rolling hills, punctuated with these massive oak trees. It's just as pretty a site as you could possibly see."
Edmond, who is the president of the real estate and development branch of CNL Financial Group, has had his eye on the property since the late 1990s, when he was working for the St. Joe Company and hoping the company would purchase some of the land. At the time, St. Joe had more property than you could shake a stick at, Edmond said, so it didn't end up buying the property. But in 2006, CNL purchased the 500-acre southwest section of Welaunee Plantation, located south of Interstate 10 and bounded by Centerville Road on the northwest side and Miccosukee Road on the southeast side.
Tallahassee Magazine wrote about Welaunee in the March/April issue, when the Mettlers, the family that owns Welaunee Plantation, were exploring the possibility of selling the southwestern portion of the property for development. They assembled a community advisory group, composed of some of the most outspoken community members on environmental and quality-of-life issues. That group met with the developer and gave suggestions for things it would like to see incorporated into any development built on the property.
"The family knew it wanted to develop a community that would allow residents to live, work and play right in their own neighborhoods," Dave Fiore wrote in the 2003 article. "The concept, known as 'New Urbanism,' created a simpler way of life with a small-town atmosphere. The design principles for such developments include integrating homes within walking distance to a town center that contains cafés, businesses, grocers and public squares."
The goal still is to make Welaunee, or Canopy, as the southwest development has been named, a New Urbanist community, Edmond said. There will be preset guidelines for the architectural styles that will be permitted within the development. Housing within the development will include a combination of single-family homes, townhomes and apartments, as well as live-work spaces that include a ground floor that can house an office, topped by an apartment on the two upper floors.
Although Centerville Road has been widened all the way to what will become a grand entrance into the development at Fleischmann Road, no construction has begun yet, since CNL still is in the midst of the permitting process with the city of Tallahassee. But Edmond says he hopes the permitting will be completed either sometime this summer or in the fall. Construction would most likely begin in 2010, and the pricing of homes and lots would also occur that year.
Edmond said Canopy will allow more flexibility in architectural design than other planned communities and will incorporate new concepts of neighborhood planning and design.