1980: The Opening of the Tallahassee-Leon County Civic Center
A Very Entertaining Place to Be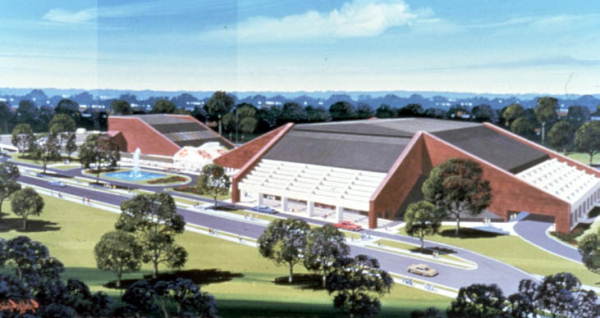 Before the Tallahassee-Leon County Civic Center opened, there was plenty of speculation about whether it would be successful and what kind of contribution it would make to the local economy.
"All of (Center Director Larry Updike's) intense efforts will be needed for the comfort and care of the million-plus persons a year expected to attend the many events: 800,000 for main event attractions, and 250,000 for exhibitions and conventions," Dave Webb wrote in the Spring 1980 issue of Tallahassee Magazine.
People also speculated on whether the Civic Center would become self-sustaining.
"There were certainly a lot of people concerned about, would we be operating at a deficit, and what was the true cost going to be for the Civic Center, and those were all legitimate concerns for a new entity," current director Ron Spencer said. "We've been open 28 years now, and we've only had a small deficit for five of those 28 years, which is really kind of rare in this industry."
Through the years, circus troupes, famous ice skaters, the Harlem Globetrotters, Florida State University basketball, Broadway productions and many, many other events have entertained audiences in the 13,000-seat arena. The facility, which operates off its own revenues and does not receive government or other outside funds, opened in 1981. More than 500,000 visitors attended some sort of function at the center last year, according to Spencer.
"I don't think most people could imagine Tallahassee without the Civic Center," he said. "We do provide entertainment — all types of entertainment. We try to do something for everyone, and for the most part, we generally live up to that."
The last study completed on the economic impact of the center showed it brings more than a quarter of a billion dollars into the community annually.
"This was back 15 years ago, and the economic impact we had on the community then was $30 million," Spencer notes. "So suffice it to say it generates much more than that now."
Improvements have been made throughout the Civic Center's nearly 30 years, most notably the addition of a full-service restaurant and 34 luxury club suites.
"We would like to renovate our media room complex completely, and our exhibit hall," he said, "and maybe expand our exhibit hall completely, and add additional ballroom space. These are all things we need." — Tabitha Yang