12 Tips for Staying Safe and Making Money on Craigslist
Doing Business with Strangers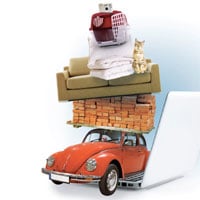 Photo Illustration by Saige Roberts
It is no secret that craigslist.org has been drawing tens of millions in classified advertising revenue away from newspapers every year. The site is simple to use, easy to navigate and cluttered with information from its users — and very little from anywhere else — allowing dwellers of cities large and small to connect as though they are next-door neighbors. But Craigslist is not always as easy as it sounds.
The idea of talking to strangers can make buying and selling an intimidating proposition; job ads on Craigslist elicit a deluge of response, making it harder to stand out. Really, the site's greatest strength is its greatest weakness: When facilitating connections between people, that can mean both the good and the bad connections.
Luckily, with a little experience, courage and business savvy, anyone can navigate Craigslist safely and successfully. Monica Fernandez-Hermo, a student at Florida State University, has been using Craigslist for eight years now — ever since she needed some extra spending money at the age of 15. Her first sale? A digital camera for a cool $100. Since then, Fernandez-Hermo has become a Craigslist expert.
"I've bought a lot of stuff," she recalls. "I've bought furniture stuff, a CD … three cellphones, a dog crate, household appliances … a dining table for the house … I've sold a mattress; I've sold a memory foam mattress topper … ."
After finishing the list of items bought and sold off the top of her head, she added with a laugh, "I'm really good with Craigslist; people are actually amazed with me."
Fernandez-Hermo's boyfriend, Brock Reed, is an equally adept Craigslist navigator; his most recent sale was a pull-behind, 25-foot Coachman camper. After just two weeks on the site, the camper found its new home — and, in exchange, Reed received $2,500.
When posting the camper, Reed made sure to craft a thorough, honest ad with plenty of good pictures, information on the camper (including specs, wear and tear, and his reason for selling) and contact information. In the end, though, it comes down to price.
"I sold it for the price it needed to be," he says, adding that he'd priced the camper based not only on what a dealer had quoted him, but also on the going prices of similar campers on Craigslist. "He got a good deal; I got a good deal."
When it comes to buying and selling on Craigslist, the couple agrees it is important to be bold, but cautious.
"It's all about taking risks and chances, really — going with your gut feeling and being smart about it," Fernandez-Hermo says. Reed adds, "Use your head. Don't just jump into something … . Think about what could go wrong."
And let's be clear — sometimes things do go wrong. Even Fernandez-Hermo has had brushes with shady people. It had started out well — she found a good furniture set for a very low price.
"My girlfriend did the smart thing and took pictures of each Craigslist post," Reed explains. This protected her later when the seller, after having met with Fernandez-Hermo and verbally agreeing on the price, tried to raise the price that was advertised.
12 Tips for Craigslist Success
At the end of the day, it's all business. And like any business, there are always tricks to the trade. Below are the most important habits for successful Craigslist buyers and sellers, supplied by Fernandez-Hermo and Reed.
For Buyers
Don't fear strangers — evaluate them instead. Classifieds, online or in a newspaper, all facilitate transactions between strangers. Fearing strangers is not productive, but caution is. Read posts carefully, and assess the information given. If something seems vague or shady, either ask them to clarify it or move on to a new post.
It's all business. Purchasing an item from Craigslist is like any other buy. It's a business transaction. Maintain a professional approach. It's not about making friends (or enemies) — it's about making a smart purchase.
Keep your privacy. Don't invite sellers to your house to show you their items. Meet up in a public place, or, if you must go to their house (such as for larger items), be sure to bring a friend or two, after letting some people know where you are going.
The more information they post, the better. When browsing ads, look for pictures and contact information. If there's neither, don't bother.
Use your common sense. Remember, "If it seems too good to be true … "
Never be afraid to ask questions. If you want details, ask. And always find out why the seller no longer wants the item. It can be very telling.
Take a picture of the post itself. Posts can be altered, and sketchy sellers can change the post after you've made a verbal agreement — or even after you've made the purchase. Taking a picture of each post, with a clearly displayed date, ensures you won't be accused of cheating anyone later.
For Sellers
Only sell from your house when absolutely necessary. Just like buyers, sellers should always meet up somewhere public. If the item is just too big to move, never post your address in the advertisement. Talk to potential buyers and screen them before disclosing your address. If something seems off, wait for another buyer. And always make sure to have someone with you when buyers come to see the item.
Do your homework when it comes to price. Price is everything. Find out what the item goes for new; what used dealers sell like items for; what price similar items sell for on Craigslist. Then set your price accordingly and competitively.
Make sure your post has curb appeal. Posts with poor grammar and spelling are a turnoff, and the worst posts are those with little detail. Be specific and clear when describing your item (specs, year it was made/purchased and other basic relevant information), and make sure there is good contact information provided to buyers — either a phone number or an email address. Pictures are also a must.
Make your pictures good. Bad photos are almost as bad as having no photos. Make sure your photos are as clear as your description. They should be high quality and should show the item from all possible angles.
Don't hide the flaws. Buyers will find out about them eventually. Your best option is to be honest about your item — showcase its strengths, but also mention its weaknesses. Honesty is very valuable to buyers.