100 Thousand Poets for Change Brings a New Energy to Tallahassee Poetry
Founder of poetry magazines and author of more than 20 poetry books, Michael Rothenberg chases passions in addition to verse.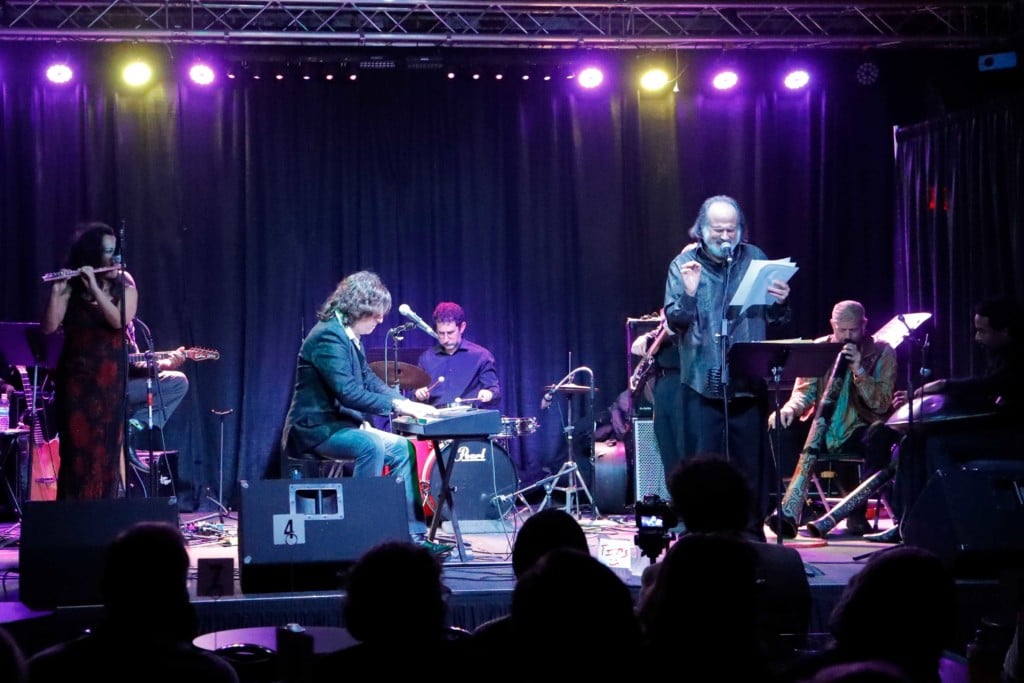 Following the life-story line of poet Michael Rothenberg might be akin to following the flow of his poetry. Both are not always easy to perceive at first glance. Both make lovely twists and meanders. And for him, both exist in perfect clarity.
In April, just after Florida State University purchased Rothenberg's literary archives and he was proclaimed the University Libraries' Poet in Residence, he sat down with Tallahassee Magazine to discuss how a kid from Miami Beach knew from the outset that he was a poet and how he parlayed that knowledge through hard work and persistence into such a formidable body of work.
Rothenberg, looking every inch the poet, with flowing grey hair often topped by a felt fedora, said, "I was the son who would dance around the house and liked going to museums and the symphony."
Though his mother was a sculptor and encouraged her son's youthful drawings and literary output — his first poem was called "Peter the Porpoise" — his father was a "hard-core" attorney, who stuck to rules and regulations.
"Still, he was always supportive of what I liked … sometimes saying that he was amazed how I could write about the world as I did … when it was not in him to do so."
By 17, inspired by the Beat Poets whose free verse introduced a new kind of freedom that emphasized spontaneity of thought and feeling and seemed to dance to the cadence of jazz, Rothenberg had made the decision that poetry would be his life's calling.
"I loved recordings of 'Howl' by Allen Ginsberg and Coney Island of the Mind by Lawrence Ferlinghetti." Rothenberg says he felt ready to join their ranks even before writing a real poem.
"All I seemed to write were fragments." It was only after a one-on-one session with poet Ed Dorn that Rothenberg "got the OK."
"Dorn led me to understand that for imagist poets like Ezra Pound, fragments could be poetry. That what I was writing was valid; it was my own voice and it was right for me."
Rothenberg attended the University of Miami, graduated from the University of North Carolina and then, like many a young man, headed for California where he received his Master's in Poetics from New College of California. But instead of settling into a garret to scribble verse, Rothenberg opened a nursery.
By now married, the couple bought an old orchid nursery and branched out into bromeliads.
Over time it would become one of the best-known specialty nurseries in the country, and ever-literary, Rothenberg would edit books on bromeliads and produce a seminal hardbound tome on the plants, which is now housed in the Smithsonian.
The nursery also became a locus for poets. It was there and through his environmental activism that Rothenberg met Michael McClure, illustrious Beat poet, Joanne Kyger, poet and literary innovator, and Philip Whalen, Beat icon for whom Rothenberg later became editor, friend and caretaker.
But Rothenberg, in addition to being a cerebral writer, is also a doer. While writing one of his own 20 books of poetry, he was co-founding Big Bridge Press, a fine-print literary magazine which published works by Kyger, Ginsberg and Jim Harrison, and establishing Big Bridge, a "webzine" featuring poetry in an electronic format.
He co-founded Jack Magazine and began to edit poetry books by Ed Dorn, David Meltzer and an array of California poets. And he got bitten by another artistic bug … the urge to merge words with music. Rothenberg, by then divorced, needed a new challenge, so he decided to have a go in Nashville.
By most people's calculations, he had success. Rothenberg wrote songs for movies, "Shadowhunter," "Black Day Blue Night" and "Outside Ozona," but in his own estimation, he said, "I was messed up after Nashville … my heart was broken by the experience." He returned to California and to the friendship of someone who knew just what to do to help him heal.
Acclaimed writer and friend Philip Whalen, whom Rothenberg lovingly describes as "an old blind Buddhist," gave him permission to edit his selected poems and to bring them out with Penguin Books. "It was a kind of therapy … and it worked." Two years ago, Tallahassee got to see just how much.
When Rothenberg arrived with partner Terri Carrion, the pair brought with them a poetic vision they'd begun in 2011. 100 Thousand Poets for Change is a "worldwide grassroots organization focusing on poetry, music and the literary arts that will effect positive change for peace, justice and sustainability."
With over 500 groups now reading regularly around the world, Tallahassee's poetry evenings have taken place at the 621 Gallery and the Black Dog Café, with as many as 50 poets reading at a single event.
Another of Rothenberg's creations, the Ecosound Ensemble, performs a melding of poetry and jazz very much in the tradition of the Beats.
And it is very likely there are spontaneous readings in parks and on street corners, as well. At least that is what Michael Rothenberg would like. "Poets do make a difference," said Rothenberg, with a smile. "And poetry is a powerful voice for change."