Your Daily Chopped Challenge
Competition Winner Chef Joe Rego Shares Recipes and Tips for Home Cooks Seeking Dinner Inspiration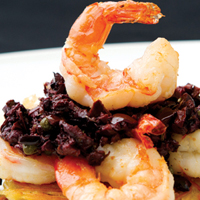 Photo by Scott Holstein
Joe Rego, winner of the Food Network's "Chopped" challenge now shows off his culinary expertise at Tallahassee's Front Porch.
Fans of the Food Network are sure to have a nodding acquaintance with "Chopped," a popular competitive cooking show, now in its 13th season.
Here's how it works: Four professional chefs participate in three rounds of cooking — an appetizer, an entrée and a dessert — which are then judged by a panel of experts. After each round, one of them is "chopped." At the end, a champion is crowned and given a $10,000 prize.
Here's the rub: Immediately before each round of cooking, the contestants are presented with a basket of four "mystery" ingredients and asked to create their dish using all of them — in 30 minutes or less. Usually, the ingredients are odd combinations, (an entrée comprised of beef shoulder, yucca, raisins, ancho chilies and dill pickles, for example), obscure (jiggery, umeboshi, sea beans, mangosteen, hamachi) or just plain gross (chicken feet, goat brains).
While "Chopped" is made for TV, many Tallahasseeans face a similar challenge every night: You hit the door after work, the family is hungry and you're staring at the contents of the fridge and pantry, wondering what the heck you're going to pull together … pronto.
Tallahassee has its own "Chopped" champion in residence — Joe Rego, executive chef for the recently opened Midtown restaurant, The Front Porch, was crowned in a show that aired last July. And he agreed to fashion a trio of recipes for our readers using staples that can be found in most kitchens, while keeping the prep time under 30 minutes.
His first recipe is an entrée, Seared Sicilian Shrimp with Capellini Cake. "I've done this dish at a restaurant I used to work at, and it's always been one of the top sellers," he says. "It's very easy to make." He dug in the bowl to work the pasta and other ingredients together and encourages home cooks to do the same. "The best tools you've got in the kitchen are your hands," Rego says. The recipe calls for eggs, Parmesan cheese and other ingredients to be added to thin pasta strands, which are formed into "cakes" then cooked in a frying pan. The pancake-looking pasta is then topped with seared shrimp and a sauce that's heavy on olives and capers.
"If you want to get ahead, you can boil your angel hair pasta a day ahead of time and just leave it in the fridge, or (use) leftover pasta," Rego suggests.
His second dish is a Southwestern salad that uses those pantry staples, canned corn and beans (his recipe calls for black beans, but Rego says you can use kidney or whatever is in your cabinet), as well as a yogurt-based dressing. "Any kind of protein goes well in that salad," he says, suggesting seared or roasted chicken — or rotisserie chicken from the grocery store. "Just pull it off and put it on top of the salad. Shrimp makes a good accompaniment … or a piece of seared salmon."
A super-simple Roasted Apple with Pecans for dessert can be cooking in the oven while you're enjoying your meal. Serve it in a bowl with ice cream and sprinkle with chopped walnuts or pecans. "If you have some caramel sitting around, put a little bit on top," the chef suggests.
When asked what he likes to cook for dinner at home, Chef Rego says, "I usually like to go out and get stuff to eat and kind of check new places in Tallahassee." He "absolutely fell in love with" Lindy's, eating their livers and gizzards at least once a week.
On a recent day cooking at home, he spent five hours braising oxtails for a meal, "but if I'm going to cook simple, to tell you the honest truth, I just like a bowl of ramen noodles with a fried egg on top and some Spam. That's my comfort food. I put a little bit of scallions, a little bit of sriracha (pepper sauce) and sesame oil. I love it."
Chopped Southwestern Salad
Ingredients:
» 1 head of Romaine or iceberg lettuce (chopped into ½-inch pieces)
» 1 bunch of cilantro (leaves only)
» 1 small can of corn
» 1 small can of black beans
» 1 large vine ripe tomato (diced ¼ inch)
» 1 bunch of scallions (sliced thin)
Dressing Ingredients:
» 1 small container of plain yogurt (8 ounces)
» 1 tablespoon garlic powder
» 1 tablespoon onion powder
» 1 tablespoon fajita seasoning
» 1 tablespoon dried parsley
» 1 teaspoon Tabasco sauce
» Juice of 1 lemon
Method of Prep for Salad:
Chop the lettuce and place in a suitable bowl. Set aside in your fridge. Meanwhile, open the can of corn and drain the water well. Open the can of black beans and wash under cold running water until well washed. Once both are drained, add them to the chopped lettuce. Add the rest of the ingredients. Toss ½ cup of dressing and mix well. You can add grilled chicken breast or sautéed shrimp to the salad.
Method of Prep for Dressing:
Add all of the ingredients into a suitable bowl and mix well with a wire whisk. Use some of the dressing for your salad, and you can reserve the rest of the dressing for up to two weeks.
Roasted Apple with Pecans and Vanilla Ice Cream
Ingredients for apples:
» 4 apples (Granny Smith, if you have them)
» ½ cup of brown sugar
» 1 stick of butter (softened)
» Pinch of nutmeg
» 1 tablespoon of cinnamon powder
Method of prep:
Preheat your oven at 400 degrees. First, peel the apples and core them. Meanwhile, take soft butter, brown sugar and spices and mix well. Stuff the apples with the brown sugar and butter mix. Place the apples in the oven for 25 minutes. Once done, place the hot apples in a dessert bowl. Top with chopped pecans or walnuts and a scoop of vanilla ice cream.
Seared Sicilian Shrimp with Capellini Cake
» 1 pound shrimp, peeled and deveined Sicilian Sauce ingredients:
» 1 cup chopped green or black olives
» 2 tablespoons capers
» ½ cup of extra virgin oil
» Zest of 1 lemon
» ¼ cup of chopped fresh mint Capellini Cake Ingredients:
» 1 package of angel hair pasta
» 2 whole eggs
» 1 bunch of scallions
» 1 small jar of chopped roasted red bell peppers
» 1 tablespoon kosher salt
» ½ cup of grated Parmesan cheese
Method of Prep for Sicilian Sauce:
Add all of the ingredients in a suitable bowl and mix well. Set aside.
Method of Prep for Capellini Cake:
First, boil the angel hair pasta in salted boiling water. Drain and cool pasta. Once the pasta has cooled to room temperature, add all of the ingredients and mix well with your hands. Take a nonstick sauté pan and add ¼ cup of oil and add a cup of the angel pasta mix until the bottom of the cake is slightly brown. Flip the cake to the other side and cook for an additional 3 minutes at medium heat or until slightly brown.
To assemble dish:
Season your shrimp with salt and pepper and sear the shrimp in a sauté pan until done. Place one of the capellini cakes in the middle of the plate and place the sauteed shrimp on top of the cake. Place ¼ cup of the Sicilian sauce on top of the shrimp.
MEET JOE REGO
The Front Porch's executive chef is a burly man, intimidating and imposing in his black chef's coat, sporting arms covered in tattooed sleeves.
On his right arm are symbols relating to his Portuguese heritage. The left forearm has the motto "Blood, Sweat and Tears" and images of fighting … vegetables?
And that's when you realize Joe Rego may not be the martinet one expects to find in a fine dining restaurant's kitchen.
"I may look mean, but I'm a big bear," Rego explains. "I'm a very fun chef, actually. You know, life is too short to be mad."
Rego was born in Portugal and emigrated when he was 12 years old, settling with his family in New Bedford, Mass. He received his culinary training at Johnson & Wales University in Providence, R.I. Although he has lived for several years outside of New England, he still retains a distinctive accent — and a love of his home country's cuisine, which most notably appears on The Front Porch menu in the form of a Portuguese Pork and Clams entrée. "It's very, very traditional from the south of Portugal," he says.
While he's got swagger about his cooking abilities — he brags about the superiority of his pastas and risottos — Rego says a little humility is what helped him win the top prize in "Chopped."
"I went in there with the attitude that I was going to do well, but I didn't go in with the attitude that I was going to win — and I think that worked to my advantage," he says. "I take the humble approach, always, and go with the flow."
While "Chopped" is an hour-long program, Rego says he had a 16-hour day for the competition in New York City.
"It was kinda crazy," he recalls. "We walked into the studio at about 6:30 in the morning and by 8:30 we were competing." The cooking finished at about 7 p.m., but Rego's day wasn't over. "After I won they pulled me into a two-hour interview. I don't know what for, because out of those two hours they probably edited (it down to) two or three minutes."
There was no blood or tears, but there was plenty of sweat as the chefs competed. "It was very intense … about 15 cameras on you at all times," he says. "I don't think it's the heat of the stove, it's more the lights that are on you. That's what makes you sweat."
Rego said he wasn't stymied by some of the odd ingredients he faced — including clove liquor, wasabi peas and Sharron fruit. He created Grilled Sausage Salad with Wasabi Puree as an appetizer, Chile Grilled Bistec with Butternut Squash Puree as his entrée and Jalapeno Roulade with Sharron Fruit & Cream Cheese Filling with Pine Nut Brittle for dessert. "I've worked with a lot of products in my life as a chef. All the 'Chopped' shows I've watched, I've known every ingredient," he says.
When he won the competition, Rego was executive chef for the Atlanta Event Center at Opera, a venue for corporate and social events. Before that, he ran kitchens in two popular Italian restaurants there, Sotto Sotto and Allegro. He's since relocated to Tallahassee and finds the lifestyle to his liking.
"It's a little bit slower paced down here. Believe me, I don't miss being stuck in traffic," he says. "I'm fitting right in. Which is great."
In his free time, Rego likes to go fishing — exclusively in saltwater. "Fresh water," he declares, "is for amateurs." //Rosanne Dunkelberger