Yellow Fever Was the Scourge of Tallahassee and Surrounding Towns in 1841
'Unhappy Weeds and Death'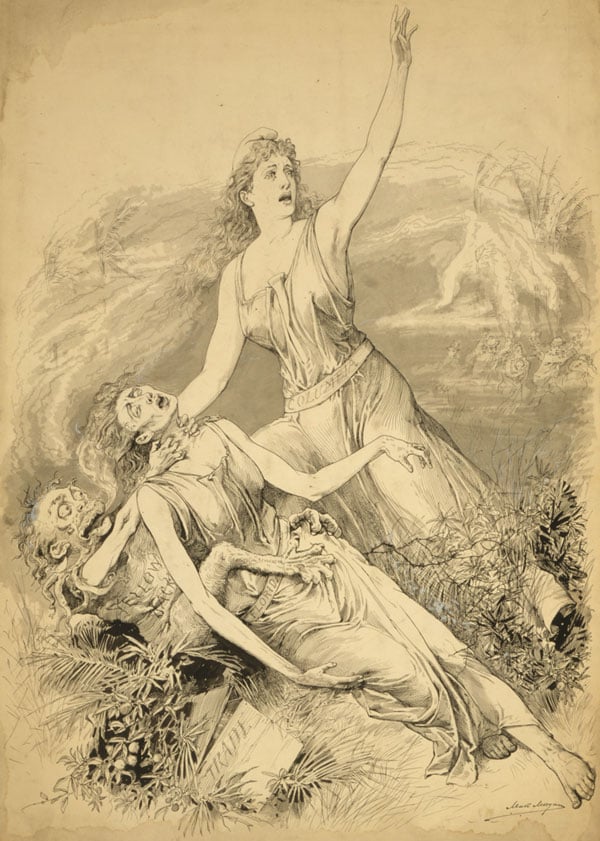 Elizabeth Andrews' obituary in the Tallahassee Floridian paints a sympathetic portrait of just one of perhaps hundreds who died in and around Tallahassee during a frightful outbreak of yellow fever in the summer of 1841.
Wife of former Floridian editor Samuel S. Sibley, Andrews was 34 when the fever took her that year, just days after the family moved to Port. St. Joe.
The Aug. 7 edition of the paper described it this way: "Removed from her kind relatives and friends, and deprived of that medical skill, so essential in this desperate disease, she fell a prey to its ravages, and was hurried away from the scene of her earthly happiness, leaving a husband and two children to grieve over their sad and irreparable loss."
Unfortunately, even when available, medical skill couldn't always save someone in the throes of the often-deadly disease. There's no cure for it even today — just prevention and treatment of symptoms. Thanks to modern science, we've learned how the disease is carried and transmitted, which has allowed countless lives to be saved in the United States.
However, back in 19th century America, theories of disease and how people got sick were very primitive. There was no understanding of the role played by microscopic viruses and parasites in the transmission of disease. Illnesses — especially malaria — were often blamed on the fumes of decomposing organic matter rising out of nearby marshes, swamps and filthy frontier streets. These "poisonous" vapors had many names, such as miasma or noxious effluvia, and they seeped out — especially at night — to wreak havoc on unsuspecting townsfolk careless enough to leave a window open.
Everything from cholera to malaria and even the Black Death were supposedly caused by these mysterious, evil vapors. Cold air and warm temperatures were also said to be unhealthy. People kept covered up to prevent these vapors and "bad airs" from invading the body and upsetting their internal "humours."
In this climate of incorrect knowledge, it's not surprising that warm and humid Southern towns surrounded by "unhealthy" swampland would be considered bad places to live or visit. Tallahassee was no exception.
"Sometime early in its history, Tallahassee acquired a reputation of being an unhealthy town set down in the midst of an unhealthy countryside," reported historian Bertram H. Groene in his 1971 book, "Ante-bellum Tallahassee." Groene wrote, "This was not unusual; for most of the frontier towns in the South, especially those near the coast, were subject to periodic outbreaks of malaria and the dreaded yellow fever."
In June 1832, Martha Bradford of the Pine Hills Plantation (located a few miles outside Tallahassee) received a letter from her cousin in North Carolina telling her in no uncertain terms that unless Tallahassee "proves healthier than it has done lately I shall not be very anxious to move … . When we move I would prefer a healthy country to a rich and sickly one."
This criticism seemed justified at the time, because just a year before, in 1831, a serious epidemic of what could have been yellow fever hit Tallahassee. The editor of the local newspaper dismissed the incident as "greatly exaggerated" and estimated the mortality rate "at about one in 60 persons," Groene said. That statistic amounts to a death rate of 16 in a city of less than 1,000 residents, he estimated.
Yellow fever was an ancient disease even in the 19th century and not just a problem for small Southern towns. Notable outbreaks happened in Philadelphia in 1699, 1741, 1762 and 1793. Ships coming from the West Indies often carried the disease to the Americas, but scientists struggled to find its root cause, and it was believed to be contagious.
Today we know that's not the case. It's a virus transmitted to humans by the bite of infected Aedes aegypti mosquitoes and not by human-to-human contact. But back then all of that was a mystery. It wasn't until after the Spanish-American War that the U.S. Army Yellow Fever Commission proved conclusively that Aedes aegypti was the "vector," or organism, that transmitted the disease (the Army's work was based on an earlier hypothesis by Cuban doctor and scientist Carlos Finlay).
What wasn't a mystery were the symptoms, which could be terrifying. The virus ran in one or two phases. In the first phase, symptoms featured chills, fever, headache, severe backache and weakness, accompanied by nausea. Then, the symptoms subside and, in some cases, the patient recovers. But in 15 percent of cases, yellow fever patients enter a second, often lethal, phase. After a brief remission, the fever returns with a vengeance, the liver is damaged and the skin and eyes turn yellow. Then the victim starts vomiting a vile, black substance resembling used coffee grounds — giving it the nickname "the Black Vomit." Finally, blood issues from the mouth, eyes and nose. The patient enters a coma, which is followed by death.
Yellow fever didn't discriminate. The French naturalist Comte de Castelnau visited Tallahassee in the winter of 1837–38. According to Groene, the Count wrote, "No one can be certain of escaping the plague, not even the planter who settled in the country long years before, nor the negro born in the malarial regions of Carolina or under the burning sun of Georgia."
Groene said Castelnau "cast a wary eye at what he considered the rather large size of the Tallahassee country's cemeteries" and warned his readers not to let the area's beauty lure them into coming here. He felt that the danger of disease was not worth the risk.
Summer of Death
Castelnau's assessment of Tallahassee's vulnerability was prophetic. In June and early July of 1841, the disease "descended upon the capital in all of its virulent fury," Groene wrote. It first appeared in Port St. Joe and then hit Apalachicola, "a summer resort for many Tallahasseans." It spread to St. Marks, then over to the town of Port Leon, which was later wiped out by a hurricane.
Once the "Black Vomit" manifested in Tallahassee (population 1,600), it exacted a terrible toll on notable members of the community. Former Gov. Robert Raymond Reid died on July 1, followed by his 22-year-old daughter, Rosalie, her daughter, and Gen. John Graham, who was Reid's son-in-law, a West Point graduate and adjutant general of Florida.
Florida's militia quartermaster, Col. John B. Collins, died in Port Leon. Isham G. Searcy, former postmaster and early settler, died as well as merchant James Moore and Eliza Betton. The sickness also claimed the popular Rev. Philo Phelps, pastor of the Presbyterian church, as well as the entire family of Robert Wellford. Richard Wellford, one of the family's three sons lost, had served as aide to Gov. Richard Keith Call during the Florida War. In one of the early battles he volunteered to carry dispatches across a river under heavy fire and was promoted for his heroism. Gov. Call himself would come down with the fever in '41, but he recovered.
Author Julianne Hare wrote in "Tallahassee: A Capital City History" that more than 150 people died that August. However, the Old City Cemetery's website states that between 230 and 400 people perished in the 1841 epidemic. The high number of deaths caused the city to establish a new grid system to more efficiently administer the burials.
"Tallahassee had always escaped epidemics, but there were few places to hide in 1841," she wrote.
In 1879, the "Annual Report of the National Board of Health" recorded the effects of the disease as it ravaged the local towns. Of the strain that impacted Tallahassee, the report stated, "It spread rapidly and was quite fatal. Number of cases not ascertained. Number of deaths between 60 and 80 but some of these are believed to have been due to congestive malarial fever … many refugees left the place in consequence of the epidemic, and several of them had the fever; but they did not communicate it in any instance to the people with whom they found asylum."
The report goes on to say there were about 200 cases of the fever in Apalachicola, at the time a bustling city of 2,500. "The town was new, many buildings were going up, there was much misc. filth, a number of ponds in the town had been filled up. There was much malarial sickness," it stated. "Yellow fever was brought first to St. Joseph by a fruit vessel from the West Indies, and subsequently, about the 1st of July, to Apalachicola. There were about 200 cases; number of deaths, not stated."
Groene said that by November the fever was over and Tallahassee started to get back to "normal." But, he said, "What had brought on the disaster no one knew." Some supported the theory that "forsaken backyards and sideways all covered with rank growth" sent out deadly yellow fever fumes.
Other theories hit closer to the truth without really realizing it. Some believed the disease had entered through the nearby port cities as a contagious disease, but no solid connections were made. Residents rationalized that the key to survival was cleaner air and unspoiled land. This belief led to the creation of the Bel Air community, "a suburb of the capital built in the open piney woods about three miles south of the Capitol on the road to St. Marks," Groene said. After the 1841 outbreak, Bel Air became a refuge. The elite of Tallahassee went there during the hottest months of the year in the belief that the open and refreshing pinewoods afforded a relief from the town's "unhappy weeds and death."
Bel Air continued to be a popular luxury retreat for wealthy Tallahassee residents until the Civil War reduced them to poverty and left them unable to afford it. The community was abandoned.
Primitive 'Cures' no Help
In the first half of the 19th century there were only a handful of truly effective medicines available to fight disease. Medical thought at the time was rooted in classical beliefs that relied on highly toxic purgative "medicines" and bleeding to remove poisons from the body. But some truly useful drugs were available such as opium, quinine, castor oil and sodium bicarbonate. Opium and morphine were used, of course, to control pain. Quinine made from the bark of the South American cinchona tree was used to combat malarial afflictions and other fevers, castor oil relieved constipation and sodium bicarbonate was useful then, as now, as an antacid.
In response to yellow fever, however, physicians threw everything they had at the disease to combat its symptoms — including kitchen spices.
"Treatment for yellow fever was hopelessly primitive," Groene wrote. "Hot water and cayenne pepper applied to the feet and legs was a typical remedy."
Other remedies might use harsh mercury-based laxatives, blistering agents, bleeding and mega-doses of opium, wine, brandy and quinine. All were of no avail.
"Unfortunately, such harsh therapies did more harm than good and by the end of the 19th century they were for the most part discredited and replaced by 'gentle' remedies such as hot mustard foot baths, bed rest, crushed ice and lemonade, cool sponging and good nursing care," wrote Theodore B. VanItallie, in a book review published in the Florida Historical Quarterly in 1996.
A yellow fever outbreak in 1889 in Florida finally led to creation of the state Board of Health.
VanItallie wrote that the lessons learned from the South's devastating experiences with yellow fever proved how ineffective American medicine was before it became rooted in science. After the Army's Yellow Fever Commission proved scientifically that infected mosquitoes were to blame for the disease, "yellow fever epidemics in the United States became history," he wrote.
"Once this finding was established … practical application of the mosquito (eradication) doctrine resulted in aborting yellow fever epidemics in Panama in 1904 and in New Orleans in 1905," VanItallie said.