NOËL, NOËL
World renowned harpist joins music faculty at FSU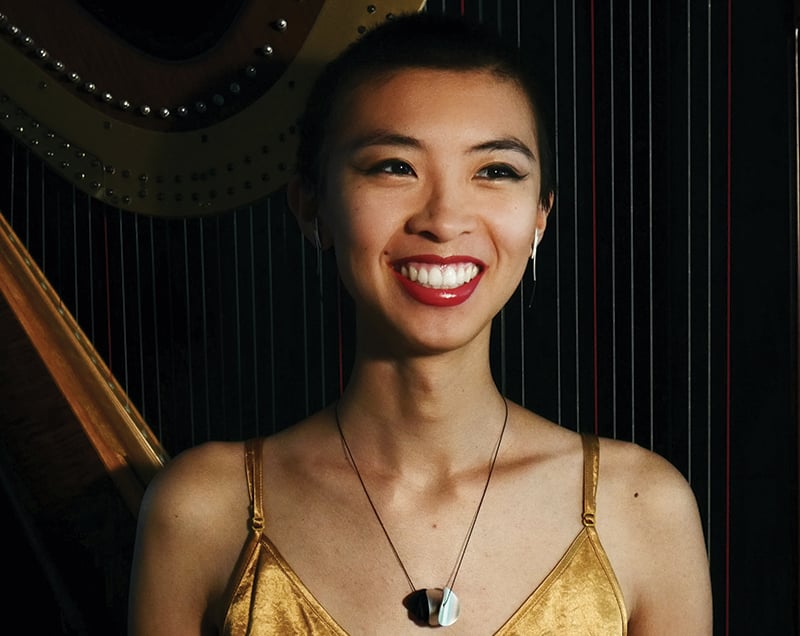 During the holiday season, Tallahasseans should be on the lookout for Noël. Not Father Noël, but Noël Wan, a new associate professor of harp and entrepreneurship at the Florida State University College of Music.
This young, internationally accomplished harpist now calls Tallahassee home and can be found this holiday season making heavenly music during performances with the FSU College of Music and the Tallahassee Symphony Orchestra.
FSU's harp program is one of the oldest in the country, guided for more than 50 years by the graceful and steady hands of Mary Brigid Roman. Earlier this year, Roman retired and passed the torch to Wan.
"I believe that she will expand and lead the harp department to new heights," Roman said.
Born in the San Francisco Bay area, Wan began playing the harp at 4 years old. "Noël was born with music in her mind," said Le Pingqiu, a professor of konghou at the Central Conservatory of Music in Beijing.
Wan studied with renowned harpists, and in 2010 at the age of 16, she made her international debut, performing Alberto Ginastera's harp concerto with the Utrecht Symphony Orchestra in the Netherlands.
She is the youngest first-prize winner in the history of the Dutch Harp Festival, also known as the World Harp Competition. Bart van Oort, a pianoforte specialist and chairman of the festival jury, described Wan as "a huge talent."
"She has hidden power and amazing maturity," van Oort said. "She is an enchanting player."
Wan has performed across Asia, North America and Europe and has been featured as a soloist at Carnegie Hall, the Muziekgebouw, the American Harp Society Summer Institute, World Harp Congress and the Yellow Barn Summer Music Festival. She won first prize at the 2009 Pacific Musical Society Instrumental Competition and grand prize at the 2014 Carmel Music Society Instrumental Competition. Wan is also the only two-time harp winner of the Chimei Arts Foundation Award, receiving the honor in 2012 and 2015. This year she won the prestigious USA International Harp Competition.
Wan earned a bachelor's and doctorate in music arts from the University of Illinois and a master's in music from Yale School of Music. She has taught master classes in North America and Asia and has held teaching appointments at the University of Illinois, the University of Notre Dame and Saint Mary's College in South Bend, Indiana. Wan also served as an assistant professor of harp at Western University's Don Wright Faculty of Music.
Wan hopes to continue Roman's legacy and build upon it.
"I will continue Roman's strong commitment to excellence in classical harp playing — for solo, classical music orchestral playing, you know, playing with large ensembles, like orchestra or band and even a jazz ensemble sometimes — so all of that will stay the same," she said.
With a nod to the FSU harp program's stellar past, Wan plans to put her own unique stamp on the department. She describes her unique qualities as "openness, youthfulness and a global perspective."
"Being young — I'm 28 years old and will probably be one of the younger full-time faculty members at the College of Music — I will be bringing a new perspective," she said. "I bring a bit of an international perspective in terms of higher education and a global teaching, and I will be bringing crossover styles to FSU.
"I think that's a really good fit because there is already brilliant faculty (at FSU) who compose or research music or perform in a lot of different genres."
One of Wan's goals is to use her personal connections to attract more international students from Asia and Europe to FSU.
"I really want to make the College of Music Harp program feel international and cosmopolitan," she added.
At the same time, Wan wants students living in Northwest Florida and across the state to continue to aspire to attend FSU's top-quality harp program. She also wants to foster more diversity of musical styles within the harp department.
"I teach classical harp technique, but I really want to encourage my students to explore lots of different musical styles, whether it's pop or jazz or electronic," she said. "(There are) all of these different musical possibilities. That's one thing that's really important, and I think that will attract a more diverse demographic."
Another goal is to explore music entrepreneurship and develop more partnerships with the community. She already has her eye on Tallahassee's historic Railroad Square Art District.
"There's this artsy scene there, and I wonder if we could have more performances there or students doing micro concerts," she said, adding that she'd like to partner with an organization like Big Brothers Big Sisters to offer low-cost music lessons to young people.
"You know, something that can bridge students with a sense of community experience," Wan said. "It could provide a teaching experience but would benefit the Tallahassee community."
---
The Secret Garden
You can listen to individual tracks from Noël's 2010 CD release, The Secret Garden, on Apple Music or Amazon.com.
---