Wing Man
Bird songs touched Frank Chapman's heart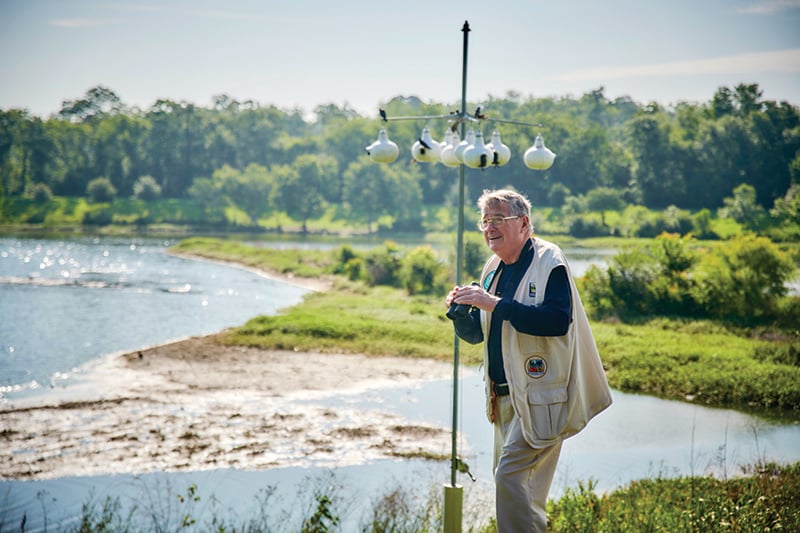 Now it is that a Motacilla alba came to hang out at Lake Elberta Park in Tallahassee is a mystery that will remain unsolved.
The bird, commonly known as the white wagtail, typically frequents parts of Eurasia and North Africa but is almost never seen in North America. The Apalachee Audubon Society deemed an appearance by an individual wagtail in Tallahassee last November a "mega-rarity."
Reports of the wagtail traveled quickly, and birdwatching enthusiasts flocked to see the oddity at Lake Elberta — a manmade impoundment that lies within sight of Doak Campbell Stadium.
James Huffstodt of Tallahassee was among those folks who had to have a look. So, too, was a friend of his from Lake City.
"People came from all over," said Huffstodt, in numbers that reminded him of the response generated by Pinky, a flamingo that started showing up at St. Marks National Wildlife Refuge after Hurricane Michael in 2018 and has remained a seasonal attraction ever since.
"Pinky has been photographed more times than a Hollywood starlet," Huffstodt said. "At least we think it's the same bird each year. Hard to know for sure. It doesn't have a license plate."
Huffstodt was an employee of the Illinois Department of Conservation in the 1980s when he observed his "spark bird," a term reserved for the bird that first ignites in a person a serious interest in avian life.
On assignment to write a story for Illinois Outdoor Highlights magazine, Huffstodt traveled with a professor from the Illinois Natural History Survey to a dam on the Mississippi River near Hamilton.
Eagles were making a comeback following the banning of the pesticide DDT, but Huffstodt had never seen one in the wild. Suddenly, he saw many.
"There were hundreds of bald eagles just below the dam," he said. "Some were sitting on the ice floes staring at the water looking for fish. And their aerial displays, it was like the dogfights from World War I. It was mesmerizing, and I was fascinated. That hooked me."
In 1986, Huffstodt moved south and went to work for the Florida Fish and Wildlife Conservation Commission at its West Palm Beach office. He will never forget his first trip to the Everglades with its glorious wading birds.
The pioneering ornithologist and founder of the Christmas bird count, Frank Chapman, was similarly affected when he first experienced Florida and its fauna. He had grown up in New Jersey near an area of cliffs known as the Palisades and was first attracted to birds there by their songs.
Chapman's mother maintained a winter home in Gainesville. Newly committed to making a living doing bird study, he arrived there with plans to catalog the birds of Central Florida.
Within walking distance of his mom's place, he encountered an area "alive with birds and ducks. Coots and heron were apparently common. A pair of pileated woodpeckers with flaming crests were pounding away in a tree above my head. With them were hundreds of flickers and one red-bellied woodpecker. Hundreds of birds flew from tree to tree. Truly, I was in an ornithologist's paradise."
The Jersey boy was hooked on Florida.
Annually, Chapman made trips to Florida. In 1890, he floated the then pristine Suwanee River with his idol William Brewster, a founder of the American Ornithological Union. So wild was the terrain that Chapman, Brewster and other members of the party were confident that they would see an ivory-billed woodpecker, already endangered and also known as the Lord God Bird.
"I knew its voice the moment its loud yap-yap fell on my ears," Chapman would recall. "Then followed memorable moments as I stalked it through the cypress trees until, unbelievable glory, it was actually in hand. … I never met up with this species again."
Chapman made a skeleton of the bird for display at the American Museum of Natural History, where he worked for decades. These were the days of shotgun ornithology. Cameras were primitive and cumbersome, and birds wouldn't sit still for a portrait. Binoculars and spotting scopes weren't nearly as powerful as they are today.
The only way to closely inspect a bird was to take a specimen. Moreover, scientists including Chapman were convinced of a need to harvest birds for preservation by museums because they were sure to disappear from the wild before long, they believed.
To be sure, plume hunters all but eliminated wading birds in Florida. They made good money supplying milliners with feathers for women's headwear.
In an effort to save the last breeding population of brown pelicans on Florida's East Coast, Chapman successfully lobbied President Theodore Roosevelt to establish Pelican Island in the Indian River Lagoon as the nation's first federal bird sanctuary.
Chapman was emerging as a pioneering conservationist of national import.
Huffstodt became aware of Chapman when he happened upon a copy of Camps and Cruises of an Ornithologist at a used book store in Fort Lauderdale. Chapman wrote the book in 1909.
With interests that include history in addition to birds, Huffstodt resolved to write a book about Chapman after discovering that there existed no full-length biography of the man. He began researching Chapman's life in 1998, and 24 years later, he published The Man Who Loved Birds, which is available online at Amazon and in Tallahassee at Midtown Reader and Tallahassee Native Nurseries.
Huffstodt, who moved to Tallahassee from South Florida 19 years ago, traces Chapman's evolution from shotgunner to "evangelist for the birds." What emerges is a portrait of a man who deserves wider recognition for his daring and his caring. Chapman put his life at risk for the sake of South American birding expeditions, one of which resulted in his temporary blindness owing to a case of "relapsing fever."
Chapman's mission, finally, was to foster an appreciation for birds among people.
It's Huffstodt's mission, too. He is at his most poignant when he speculates as to observations Chapman may have made when making his life's last bird walk on Nantucket Island off Cape Cod.
"In the eye of the imagination, we picture Chapman bundled against the chill, his hat pulled down tight on his head. He stares toward the Atlantic Ocean in the twilight. Perhaps he saw a frigatebird in flight or some other great wandering seabird. Walking from the beach back to his lodging, perhaps he noticed a snowy owl."
---
Get Involved
Author James Huffstodt says that the Apalachee Audubon Society is home to some of the most intelligent and cheerful people he has met. The group's mission is to protect the rich biodiversity of the Florida Panhandle through education, appreciation and conservation. Membership information is available at apalachee.org/join.
---
---