When the Music Stops
Professor uses tunes to focus students' attention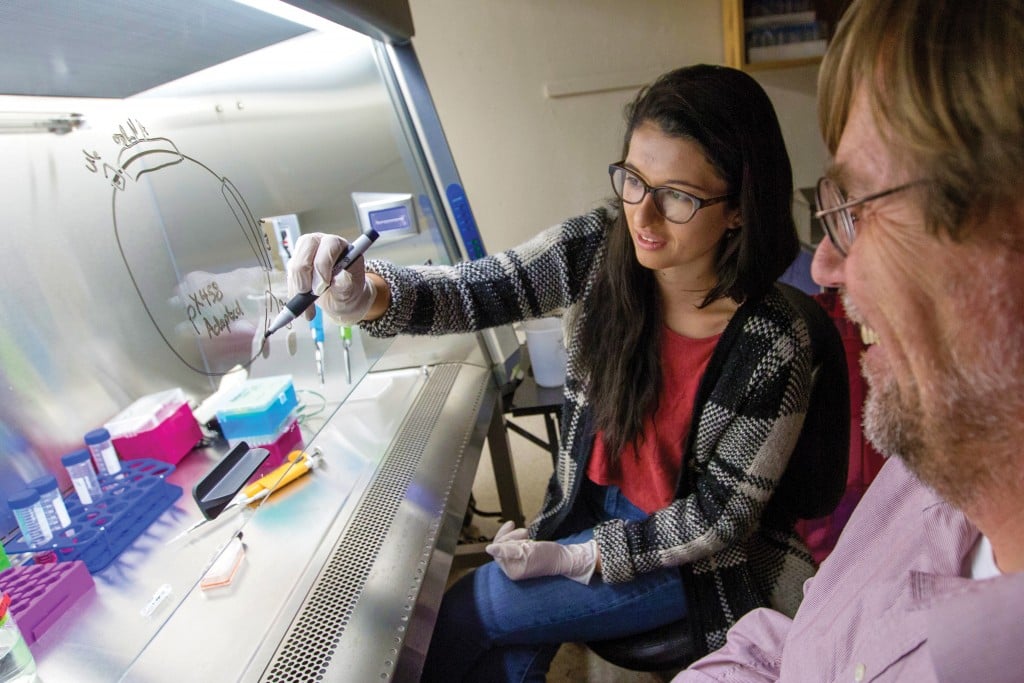 Jonathan Dennis couldn't help but be curious. Scientists are wired that way.
His fascination with ecology extended beyond his job. And his boss decided the best course of action was for him to fire his unrestrained employee. That dismissal lit a fire within Dennis, sparking a career in biology and ecology that would eventually take him to Florida State University, where he has been a popular professor for more than a decade.
But first, there is the story behind the firing.
"One day I was looking at a crystal structure, a picture of how one of these enzymes, how one of these proteins work," Dennis recalls. "My boss came in the lab, saw me and within a couple of days he fired me. He said, 'You're not built to be a technician in my lab. You should be getting a Ph.D.'"
And then began the journey. Dennis would earn a doctorate at London's University College and study for years at MIT and Massachusetts General Hospital. Dennis's early studies focused on PCBs and how ecologists used bacteria to eat up the cancer-causing material that had been carelessly dumped in the Hudson River. That work was similar to later studies that identified bacteria that helped minimize the damage from the Deepwater Horizon oil spill.
Dennis landed at FSU in 2009 and honed his teaching style. He prepared for hours on end but was at times not satisfied that he was successfully conveying what he knew to his students. Based in part on the writings and conclusions of famed theoretical physicist Richard Feynman, Dennis determined that the first step was to explain fundamental principles with absolute clarity.
"If you can't explain it, it never happened," Dennis said. "You can cure cancer. But if you can't talk to people about it, it never happened. That stuck with me."
A teaching mentor, chemistry professor Addison Ault, used musical playlists at the beginning of his lectures. Whether with Bach or the Beatles, Dennis did likewise, finding that he was able to blend his loves for music and biology.
On Day 1, Dennis stresses to students in an introductory biology course, BSC 2010, the importance of not falling behind. He reviews the attendance policy. And he presents them with a playlist:
Oh What a Beautiful Morning (cover of the Oklahoma musical by Eels)
We're Going to be Friends (White Stripes)
Sgt. Pepper Lonely Hearts Club Band (The Beatles)
With a Little Help from My Friends

(The Beatles)
"If I play the music a little too loud, when the music stops the students become attentive," Dennis said. "Without fail. That was an amazing discovery to me."
And the discovery appears to be mutual. The 49-year-old Dennis and his students may be separated in age by three decades, but they bond over music, an icebreaker that warms everyone up for the day's lesson. Students consistently give Dennis a top 5.0 rating at RateMyProfessors.com.
One of Dennis's most topical classes has been one he taught this spring on COVID-19 at FSU's Osher Lifelong Learning Center to a diverse group of students, including medical professionals.
At the time, the scientific community suggested that facemasks be reserved for health care professionals. But as Dennis recognized in May, "Information is dynamic and rightly so."
Not since the "Spanish Flu" of 1918 has the world encountered anything like COVID-19. In response, scientists are leaning on their years of experience in research and also adapting and learning on the fly, reading professional journals and reaching conclusions.
"People who are motivated by the science are making the very best decisions that they can," Dennis said. "People talk about the models being so terribly off. They're models. And the best prediction tool we have is trust for the epidemiologists and the computational biologists. Trust the science and the scientists. Their only motivation is to find out how to get through this the best we can."