What's In Store?
A selection of local offerings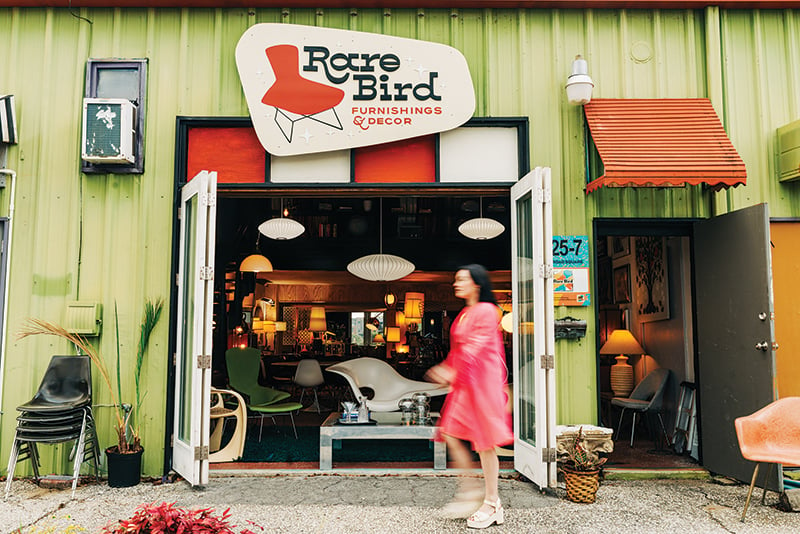 Rare Bird Furnishings & Decor
Rare Bird Interiors specializes in furniture and decor classified as mid-century modern. This vintage treasure trove is positioned in the heart of the Railroad Square Art District and next door to its sister shop, Curio.
Owner Jackie Skelding can be found posting unique and curious finds to social media following her regular picking trips, offering followers the chance to lay claim to favorite items before they even hit the showroom. Equipped with a large cargo van, the owner travels as far as New Orleans and Charleston, South Carolina, and anywhere in between, finding trinkets and treasures that make one-of-a-kind features in your home.
Skelding's treasure hunt doesn't stop in Tallahassee, as she plans to make her way as far as Pennsylvania for the first time this spring, searching for the perfect sofa, area rug or lampshade to complete your dream-home design.
"In order to find the best things I can," Skelding said, "I go wherever the road takes me to select quality, high-end furniture."
Rare Bird Interiors is open Friday, Saturday and Sunday, with weekdays available by appointment. This limited schedule is set to ensure that Skelding can continue to scour the Southeast for furniture and decor.
---
Pentaltha Jewelers
Family-owned business supplies pieces bound to become heirlooms
Family owned and operated Pentaltha Jewelers specializes in heirlooms that can be passed down generation after generation. Host to natural and lab-grown gemstones, Pentaltha has options for every budget.
» Dazzling emeralds adorning rings, chains and necklaces make lovely gifts for those born in May. Emeralds bring good fortune, embody youthfulness and grant foresight, according to the American Gem Society.
» For those born in June, pearls are the birthstone to give. Pentaltha Jewelers offers both freshwater and dive pearls for classically elegant accessories. Pearls are beautifully unique gemstones borne of the efforts of living sea mollusks — specifically those possessing shells.
Regardless of gemstone, Pentaltha Jewelers maintains a stock of gold chains to show off your choice pendant. Need a Mother's Day gift idea? Grab a gold chain and fill it with birthstone pendants for each of the mother's children, creating an artistic reminder of the love she holds for her family.
---
Johnson Rustics
Natural crafts combine with rustic designs in unique gifts
Johnson Rustics crafts candles, deer antler decor and more. Wake up to a Mindfulness Amber Jar Candle boasting scents of natural white tea, bright peppermint and vibrant eucalyptus. This candle will heighten your senses and relax your mind. It comes in wax melts and candle tins, too. These unique Deer Antler Bottle Openers and Stoppers make superb gifts for the hunter in your life. And a Deer Antler Dog Chew is sure to be a pup pleaser.
---