What We Have to Say About Statement Jewelry
Let Your Jewelry Do The Talking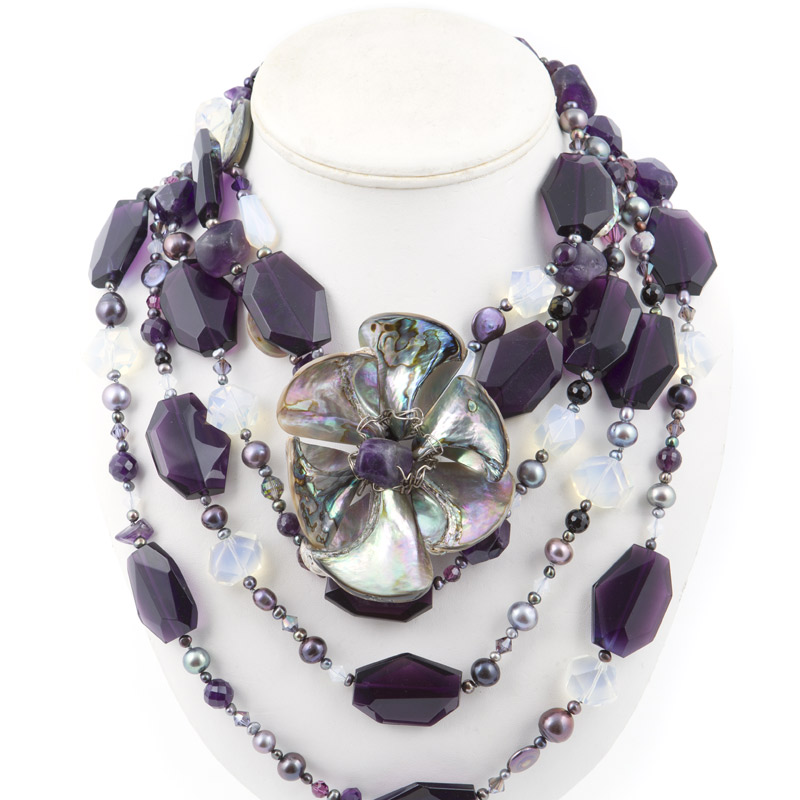 Statement jewelry is here to stay. Bubble necklaces and chandelier earrings kicked off the trend last year, and now eye-catching accessories just keep getting bigger —and blingier. Some jewelry seems to holler "Look at me!", while other pieces might declare your team spirit or, quite literally, share a meaningful message. Whatever your motivation, statement jewelry adds a pop of pizzazz to even the most understated outfit and can draw all eyes and be a conversation starter when you walk into a room.
1. Mixing a sweet and simple color palette with bold design can result in a classic, current and eye-catching look. SORRELLI, available locally at Blue Abaco, is a master of this trend. Looking to make a statement? Their bib necklace in rose water ($261), might be just the thing. Plus, this "antique-inspired heirloom" comes with a lifetime guarantee.
2. REBECCA, an Italian line brought to us locally by our friends at The Gem Collection, certainly has a way with mixing metals in fun yet elegant ways — and this lariat-style necklace ($395) is the perfect example of timeless, playful style with a touch of bling.
3. Nothing says "I'm a Nole Fan" quite like this garnet and gold multi-strand necklace ($10) from Sparkle by Madison at Madison@Midtown.
4. Your look will be a tropical delight in shades of purple by local jewelry artist Quincie Hamby. Two necklaces are shown here, the Abalone Flower Lei with amethyst, purple quartz and freshwater pearls ($250) and a three-strand necklace with purple and opalescent quartz, Swarovski crystals, amethyst and freshwater pearls ($300). quinciehamby.com
5. Lenny & Eva has crafted several Sentiments Plaques ($22) — this one with words of wisdom from e.e. cummings — to attach to this Embossed Natural Leather Wide Cuff bracelet ($30). Available at Way Out West, 1212 N. Monroe St.