What Can a Big-Headed Beaver, Karate or Violin Lessons Teach Children?
The Character Center Answers: 'Quite A Lot'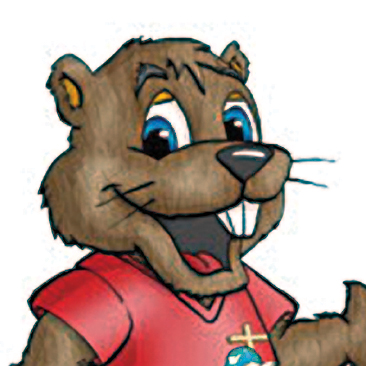 ---
A smiling beaver mascot encourages drivers to slow down as they pass The Character Center, a program for children with learning disabilities and other academic challenges. Tucked into a new, 6,400-square-foot facility behind the Tallahassee Community College campus, the center more than doubled its previous size over the summer to better serve area children.
It's a Teether and a Necklace
Being a fashionista — and a mom — can be difficult, especially when baby uses jewelry as a teething ring. Teething Bling by Smart Mom can soothe a teething baby while keeping mom in style with necklaces, bracelets and keychains in myriad colors to match any wardrobe. The jewelry is made from non-toxic, non-latex, lead-free silicone that will soothe and entertain babies with budding teeth. Prices range from $12 to $21 and can be purchased at smartmomjewelry.com.
Florida for Preschoolers
The board book "Hello, Florida!" presents a collection of child-friendly facts about the Sunshine State. The vibrant pictures and accompanying text are geared for children ages 2 to 5 who are curious about the world. It's part of a series for young readers called "Hello, America" that introduces preschoolers to different cities and states throughout the U.S in simple text. "Hello, Florida!" is available for $6.95 at sterlingpublishing.com.
The Importance of Vitamin D
Recent studies report that about 70 percent of kids in the United States have low vitamin D levels, enough that the Nemours pediatric health system put it on its "10 Kid's Health Issues to Watch" list for 2010. Vitamin D is crucial to bone health, but it has also been shown that insufficient levels can cause or increase the risk of developing a number of other health problems. Nemours reports that two facts of modern life are contributing to the vitamin D decline: Fewer kids drink milk every day, and youngsters parked in front of computers and TVs aren't getting natural "doses" of vitamin D from playing outside in the sunshine.
The Character Center offers an intensive after-school program emphasizing academic and character development. It also provides a 10-week summer program. Staff members work with each child to create a personal vision for the future and provide the tools to achieve it.
Five mascots are at the heart of the curriculum for young children: the Big-Headed Beaver, Rude Rabbit, Fearless Fox, Talkative Turtle and Pew-Wee Pig. These mascots help teach academic achievement, respect for the environment, appropriate appearance, hard work, respect and tolerance for others, and the importance of family structure.
The center's executive director, Zachery Richardson, developed the Big-Headed Beaver curriculum and accompanying stage show, which take the characters into schools and other venues.
Besides finding the usual tutoring and homework assistance, students at The Character Center can learn math and science skills through playing the violin and piano. Or they can learn the difference between self-defense and bullying through karate. Flash cards after each activity reinforce the skills acquired.
"Our enrichment activities have a purpose beyond keeping kids busy. They are designed to teach life skills," Richardson said.
Some children with special needs may develop reading skills through Comfort-T Pets, a program utilizing trained volunteers and their "reading and education assistance" dogs. Reading aloud to dogs may sound unusual, but it is another research-proven concept used at the center.
"These kids have seen tremendous increases in their aptitude and functioning," Richardson said.
The Character Center also assists parents through I-Shadow, a personalized child-monitoring service designed for busy parents of children in kindergarten through eighth grade. Instructors coach parents to better connect with their children and with their children's teachers. To help parents, the center will observe, monitor and assess the academic, behavioral and character development of a child, both in and out of school. If needed, staffers will even attend a parent-teacher conference, or walk a parent through the difficult process of understanding an individual education plan (IEP).
The mission to help parents give kids the love and wisdom they need is personal for Richardson because of the pain he experienced when his parents gave him up for adoption. "I want to be an advocate to help parents so they don't fail their kids," he said.
A dynamic speaker, Richardson has more than 20 years of professional experience teaching, counseling and mentoring at-risk youth. He has spoken to more than 40,000 students, teachers and parents nationwide.
Those interested in learning more about The Character Center can call (850) 385-9225 or send an e-mail to srichardson@character4kids.com. Its website is character4kids.com.