To Tie or Bow Tie …
With More and More Men's Styles on the Rise, One Must Master the Art of the Bow Tie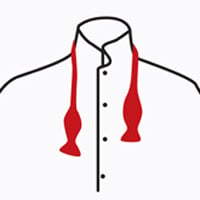 Illustration by Laura Patrick
When only the real thing will do, use this four-step process to tie your bow tie like the pros.
The South isn't the only area when the bow tie's making a revival. Bow ties are popping up all over the place — big cities and small towns. It's one way men are bringing more expressing to their wardrobes. Let your personality through!
If you are feeling fearless or just want to add a bit of color to an otherwise traditional suit, give the bow tie a try. With the diagram below, you should be tied and out the door in no time.
Feeling stuck? Have a look at this online demo from Brooks Brothers.
Aren't finding what you are looking for right here in town? Try The Tie Bar. With almost 1000 bowties, along with neck ties, skinny ties, pocket squares, cufflinks, tie bars and more, you are sure to find just what you are looking for.