Thoreau With a Nikon
Photographer retreats to the land and pond he once knew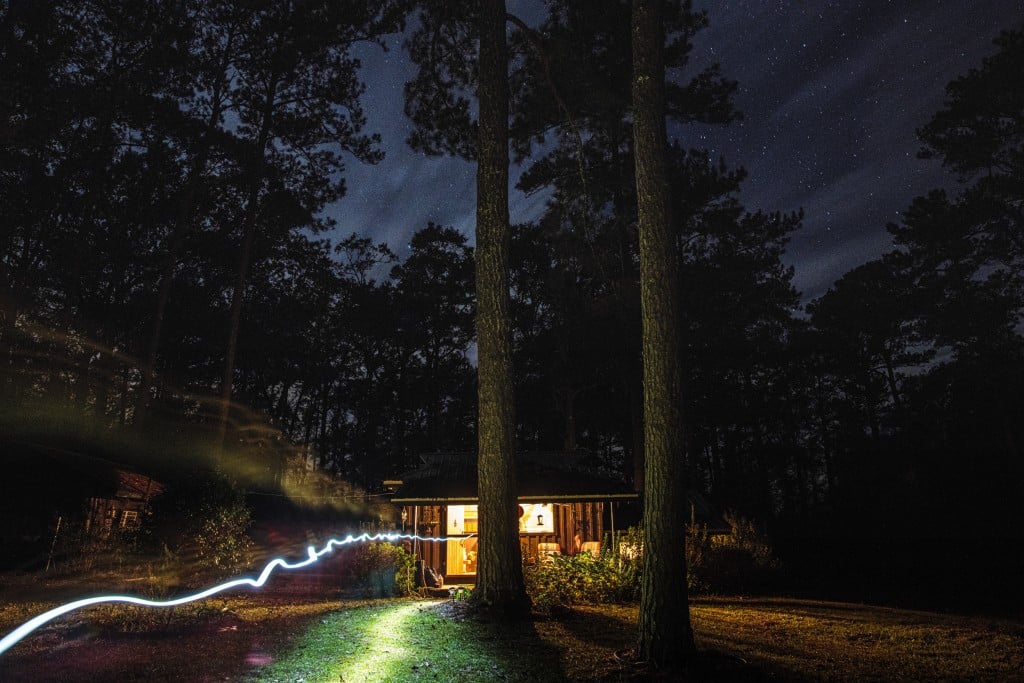 When Dave Barfield left home at age 14 and walked off to look for America — he got as far as Tallahassee — folks might have figured he'd be back.
Were that their assumption, they eventually would be proven right. About a year ago, following a hiatus that consumed decades, Barfield returned to live at the Holmes County acreage where he spent his early years.
He resides in a 250-square-foot cabin — bedroom, living area, kitchen, minuscule bathroom — that sits on 60 acres near the Holmes/Walton county line, land that has been in his family for three generations. Nearby are another 200 Barfield acres.
"Nowadays, they'd call it a tiny house," Barfield said of his dwelling. "I like the solitude. I'm in the middle of nowhere. I'm not a neighbors kind of guy, and here, really, there are no neighbors to get to know."
Barfield is a photographer by trade who has taken lately to making things in order to make ends meet. The photography business, he said, has been slow to rebound from pandemic-induced setbacks. So, he has undertaken converting "three generations of random metal lying around" to knife blades. From reclaimed wood, he fashions cutting boards and tables. Too, he's gotten into vegetable gardening.
His son, Charlie, 10, spends weekdays with his mother in Destin and then repairs to Leonia, the name of the settlement where his dad lives, on weekends.
"Charlie and I do a lot of camping and foraging together," Barfield said. "He baked his first loaf of homemade bread a couple of weeks ago. We've been making ginger ale from scratch. There's a pond here (as Thoreau would dictate) with a bunch of bream in it. I like to eat them, and they are easy for us to catch. And, there's a beaver at the pond."
Barfield is asked if he sometimes speaks to animals.
"It depends on how long it's been since I've been in Tallahassee," he replies. "There's a cattle ranch nearby, and once in a while, the cows break through the fence and there will be six or seven of them in my yard when I get up and, yeah, I'll greet them, ask them how they're doing."
As to photography, Barfield stays active. He maintains an office in Tallahassee but tries not to visit it very often.
"I've got a darkroom (in Leonia), and I have been doing more traditional wet-plate stuff," Barfield said. That process involves the use of large-format cameras and plates that are covered with a light-sensitive emulsion.
"You've got to do your exposure and develop it before the plate is dry," Barfield explained, noting that he admires the work of Sally Mann, a contemporary wet-plate specialist.
"She's a hero of mine," Barfield said.
Barfield has a special fondness for food photography — he's been retained of late by Matt Thompson and For the Table Hospitality in Tallahassee — but his greatest love is for portraiture.
There was a time when Barfield, despite admittedly having little knowledge of sports, worked as a stringer for a South Alabama newspaper group shooting high school athletics.
"I'd say to myself, 'Well, he's got the ball, I guess I'll follow him,'" Barfield admitted.
Some 20 years ago, he embedded with homeless populations in Orlando and Mobile, Alabama. His Alabama work resulted in a book that was sold as a fundraiser for a homeless coalition. He's pointing toward doing more work with the homeless in the future.
In 2000, Barfield went to work for Sachs Communications (now Sachs Media Group) when the business was new and located in a second-floor office on College Avenue in Tallahassee. For starters, it was just Michelle Ubben, currently the agency's president; creative director Barfield; and founder Ron Sachs, who could be furiously cantankerous back in the day but has mellowed over time, Barfield said.
In 2010, Barfield joined the National High Magnetic Field Laboratory in Tallahassee as a photographer and also did work at the mag lab in Los Alamos, New Mexico. He shot some "amazing stuff" and encountered people who were more brilliant than practical. "There were a lot of that type," he said.
Barfield is a cave-diving enthusiast — open-water diving, he said, is "boring; you can go anywhere you want" — and has done underwater cave photography for state agencies. At Leonia, he is near Vortex Springs, a popular cave diving spot, and isn't far from his favorite cave dive, Morrison Springs.
Barfield harbors a desire to "just drive around Florida" and find interesting people and things to photograph.
"I did that in Alabama, and I came across a big, giant tin man 50 feet tall in a field," he recalled. "A man had made it out of scrap metal as a hobby." While of similar stature, it was, unlike Burning Man, not flammable.
The conversation comes back around to homeless people.
"To hear their stories and realize that none of us is very far from being in that situation, that's powerful," Barfield said. "In Orlando, there was a park where homeless people congregated because a truck would come by there and distribute food. The city spent about a million dollars installing spikes in the planters at the park so people wouldn't sit on them.
"I had to wonder why they didn't spend the money to help out homeless people instead."
Ah, Dave, from the perspective of Leonia, there are bound to be a good many things about civilization that won't make much sense.
Dave Barfield's
'Top Five' Tips
for Beginning
Photographers
Dave Barfield attributes his professional success to Barbara Edwards, "an amazing lady who taught at Tallahassee Community College; she encouraged me and started me on a path to becoming a photographer." Here, he shares lessons learned. By the way, he owns two Nikon d850 cameras but says he would be just as happy with Canons.
Be selective. "Curate your work," Barfield says. "Don't show people the 50 photos you took of a subject yesterday. Always present only your best shots."
Know what your camera can do. "Never use 'Automatic' mode," Barfield advises. "Whenever I have a camera set on Automatic, I hate everything that comes out of it."
Observe the Rule of Thirds. "That's a big one," Barfield says. It is a composition guideline that recommends placing a subject in the left or right third of an image, leaving the other two thirds more open.
If you see it at eye level, shoot it at eye level. "When you look at a child, your brain makes an adjustment so that it seems like you and the child are eye to eye, but a camera can't do that," Barfield says. "Don't shoot down at kids." And, don't shoot up adult nasal passages.
Focus on the light. "What you are capturing is the light," Barfield stresses. "Photography is from the Latin meaning writing with light. 'I could have done a better job, but I don't have a good camera' is not an excuse anymore. Even your phone is a better camera than we had not many years ago."