They Are The Workmans
The couple behind the cameras that capture Tallahassee at its finest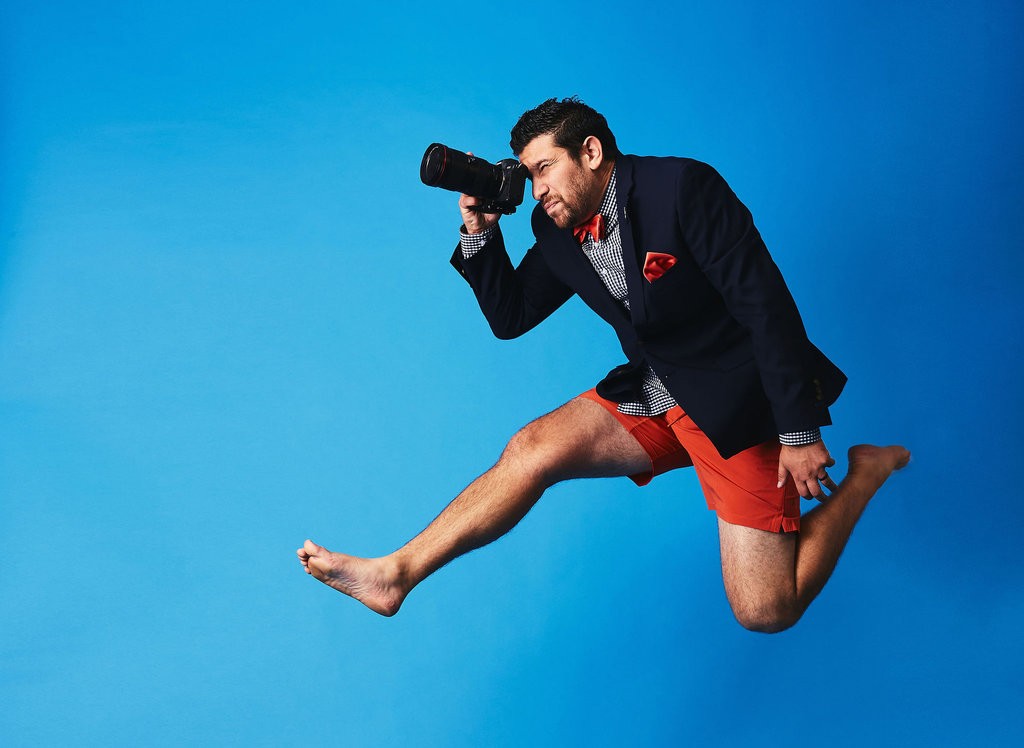 A picture may be worth a thousand words, but Alex and Chelsea Workman don't just let their photography do the talking. In an effort to be involved and active in their community, the Workmans are having conversations with community members through the subject matter their photography evokes — while also taking the time to get to know each individual that steps in front of their lens.
Newly married, the Workmans moved to Tallahassee in 2014. They wanted to be intentional in learning to love the new city they called home. With an interest in photography and a brand new drone, the couple would have morning coffee dates and then set out to explore their new city. Thus, Aerial Tallahassee was born.
Through this project, the Workmans saw Tallahassee from a new angle and were able to appreciate its expanse and uniqueness. The tagline became: "Telling the story of Tallahassee from the sky." Within three months, the project gained traction on social media, was featured on the front cover of the Tallahassee Democrat and Tallahassee Magazine and received recognition from Mayor Andrew Gillum.
"Aerial Tallahassee transitioned us from learning to love where we lived to creating the place we wanted to live," said Alex Workman. "This project first stoked the fire to create something deeply personal yet community based. It was the first indicator that we should keep going with this."
By 2016, the couple officially introduced The Workmans, a company focused on commercial photography and creating short films for businesses, organizations, agencies and individuals. Through it all, their goal is to be storytellers.
While their business had officially launched, it was important to the couple to keep pursuing personal passion projects that they felt were impactful and integral to the Tallahassee community.
In 2017, they began a portrait series titled "Refugees of TLH," which featured poignant images that told the stories of refugee families who fled their past lives and now call Tallahassee home.
In 2018, Hurricane Michael devastated the Forgotten Coast. Having family in the Mexico Beach area and knowing so many Tallahassee residents who frequented the area, they felt a calling to act.
The Workmans partnered with Tallahassee designer Jesse Taylor to start the Never Forgotten Coast campaign. The team designed a logo for their project and sold printed merchandise both online and through local pop-up shops to raise funds for the recovery efforts. Through this, they were able to create a micro grant fund that contributed over $50,000 to small business owners.
They also partnered with award-winning Nashville photographer Jeremy Cowart and Tallahassee drone pilot Jonathan Smith to capture the stories of Mexico Beach.
As 2019 approached, Alex's top goal was to have their work featured on a magazine cover and to shoot a hotel. Shortly into the year, the couple was able to check off those goals as they shot the cover of Tallahassee Magazine's May/June 2019 issue featuring Gov. Ron DeSantis and his family, and photographed the Hilton Sandestin for Emerald Coast Magazine.
Most recently, they've pursued COVIDWear, a series that features locals sporting their business on the top, quarantine on bottom clothing. The project sprung from a need for connection during a time in which so many feel disconnected and are distanced both physically and mentally from one another.
"When we start projects, we don't know what the end result will be," said Chelsea Workman. "So many people get caught up in wishing they could do something instead of just doing it and seeing where it leads. In every project we pursue, there is a purpose, and throughout the process, we just keep reminding ourselves of our reason why. In every case that stems back to telling stories."
Typically, Alex generates the ideas and Chelsea strategically brings them into fruition. Where many spouses couldn't imagine working together, this couple balances each other out. Alex is the creative extrovert and Chelsea is the strategic and realistic introvert.
"I understand Alex's brain," said Chelsea. "He will get an idea and just give me a couple of sentences to work off of, and I question the reality of this project working or immediately come up with a strategy to enact the plan."
From the start, Alex has held a passion for arts, growing up with an art teacher mother while studying photography throughout his schooling. While Chelsea has always enjoyed photography, she didn't consider photographer as a title until they began The Workmans. With pointers from Alex and the help of Google, Chelsea quickly picked up camera and video work.
The couple admits that sometimes it is hard to switch off their work brain and transition to home life. Even so, they are living out their dream jobs as they are able to enjoy their careers while also having a flexible lifestyle to commit time to and be present in the lives of their two sons and a third child on the way.
"The biggest litmus test to my work is if Chelsea thinks it's cool and if it's allowing me to be the best father," said Alex. "It's so fun to be married to and work with my best friend and to be able to involve our children in our work."
Being so family and community oriented, the Workmans are more relational than most companies. They have the "coffee rule," a business practice in which they meet their clients for coffee first. They don't talk business but instead learn about the client as a person and, eventually, as a friend.
"We have a relational approach to business and life, which often surprises people because, so often these days, there's a hidden agenda," said Chelsea. "We want to get to know clients as humans not just in the business sense. This is what develops community and gives our work its true value."
Whether it is meeting at a beloved local coffee shop or inviting guests into their home for dinner, the Workmans get to know their clients in order to provide authentic and quality products with a timely turn around. Through this, they ensure a client feels proud of their investment, but more importantly they gain relationships that extend past the life of the project.
"Tallahassee is often promoted by its politics, its parks and its job numbers. But the reality is people don't care about infographics more than they care about people, and Tallahassee has some really incredible people," said Alex. "Through each project that we do, we intend to tell authentic stories that help others to understand there is more that unites us than divides us."