The Great Florida Birding Trail is in Our Backyard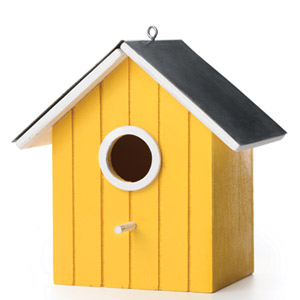 Nothing is better than waking up with your morning coffee and a bluebird outside your window waiting for you. "They know when we're coming," said Mary Huggins and Susan Teisciero, owners of Wild Birds Unlimited Nature Shop. With the help of experts, you can turn your backyard into your favorite birding location.
Huggins and Teisciero agree water is the most important element in attracting birds to your yard. Drinking and bathing water will bring birds that may not eat from your feeders. Putting a mister, dripper or water wiggler in your birdbath will entice other birds like tanagers, warblers and hummingbirds.
On average, birds eat 20 percent from feeders and 80 percent from the land. Providing blends with sunflower seeds, safflower and millet, for example, will attract a variety of birds. Planting native berry-bearing plants is also a good idea. During nesting and migration, high-energy foods like suet, bark butter and mealworms will attract insect-eating birds.
Putting your feeder near bushes and trees is essential for protection against predators, and baffling your feeder pole will keep unwanted visitors (snakes, raccoons and squirrels) away. Birds in search of a place to raise their young can find a secure home in your backyard with the use of nest boxes.
eBird Hotspots
Local birders flock to these nearby locations, according to ebird.com. Mileage listed is distance from downtown Tallahassee.
St. Marks Wildlife Refuge* 22.6 miles

Bald Point* 41.1 miles

Alligator Point 71.4 miles

Bottoms Road* 30.7 miles

Edward Ball Wakulla Springs State Park* 15.8 miles

Tall Timbers Research Station 20.8 miles

Lafayette Heritage Trail 6 miles

Elinor Klapp-Phipps* 8.2 miles
* The locations are listed on the Great Florida Birding and Wildlife Trail (floridabirdingtrail.com)
The Great Florida Birding Trail
The Great Florida Birding Trail is 2,000 miles worth of self-guided trails that span 515 birding and wildlife viewing sites throughout Florida. The Panhandle section, established in 2004, extends from Escambia to Jefferson counties and includes seven trail locations in Leon County. The nearest "gateway," or trail information center, is located at St. Marks Wildlife Refuge, where staff can give you birding tips and loan binoculars. Trail guide pamphlets are available online to download to your computer, your smart phone or tablet for free.
Website: floridabirdingtrail.com App Name: Nature Viewing Along the Great Florida Birding and Wildlife Trail