Tallahassee's Music Machine
Tallahassee's Music MachineIt's a Party All the Time for John Summers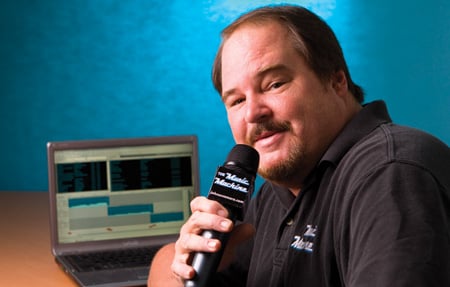 While his Music Machine mobile DJ business is now 30 years old, entrepreneur John Summers says his tuneful roots go back to his days as a young teenager.
"I used to show up at the WTAL radio station remotes," recalls Summers, a jovial guy with a booming voice and a ready laugh. "I never really worked for them, I would show up … and the DJs would let me help them get the equipment out of the van and set up the speakers and stuff … (I was) kind of like a radio groupie."
When he was 16, WANS came on the air with the same Top 40 format, and he got a job running a tape of the Sunday morning religious show. One fateful day, Summers filled in when the disc jockey showed up late for his shift. The program manager was listening, liked what he heard, and Summers became a DJ as a high school junior.
One perk of the radio job was free 45 RPM records.
"I had a great record collection," he says. "I would get invited … to a lot of parties, and everyone would say, 'Oh, bring your records,' and I thought, 'I could probably charge for this.'"
And so, in his senior year at Leon High, a business was born.
The Music Machine started off as "a little side thing" for Summers through his years at Florida State University, but his bread and butter during college and immediately afterward would be working as a radio disc jockey.
He was a limited partner at The Musical Moon ("You've got to be old-school Tallahassee to remember that!") when it opened in 1985 and has been DJing there ever since.
The 47-year-old started his own radio station in 1990 (Z-Rock 106) and later would serve as the announcer for Tiger Sharks hockey games for seven years. He sold the radio station in 1995 and began focusing on promotions work for The Moon and his mobile DJ business.
Summers (which is not his real name) took a break from his hectic schedule to sit down with Tallahassee Magazine editor Rosanne Dunkelberger and reminisce about his 30-year career.
TM: What's different now from when you started?
JS: All my music is on the computer. I started out with vinyl – records and 45s – and moved on to CDs. We had huge boxes of records and turntables. We had big light systems and subwoofers … I very rarely use the big rigs now. Everything's a lot more compact. For weddings, I can fit it all in my truck … and it takes 10 minutes to set up. It used to be two hours.
TM: How about school dances?
JS: Looking back on … high school dances back in the '80s, I'd say its pretty much the exact same thing as today. The kids are there to have a good time – to meet a boy or a girl or go with their date or whatever. Nobody was home on the Internet. This was just a good social experience. We had middle school dances (where) we literally had thousands of kids pack into the gym there at Lafayette Park. I've had a lot of people say, "It was the first time I danced with a girl" – it's pretty neat.
TM: You do a lot of different types of events. Do you have a favorite?
JS: The bar and bat mitzvahs are a lot of fun. You get the kids and you get the adults, so you have to balance the music … And then we do all the games and contests.
TM: Do you have a favorite song?
JS: No, probably not. When I'm not working, I generally don't listen to music – I'm listening to talk radio. But I like all kinds of music.
TM: Have you done a second-generation wedding yet?
JS: Absolutely. When a bride calls me up to potentially hire me for a wedding, I always say, "How did you hear about The Music Machine?" (One bride answered,) "You did my parents' wedding back in 1981." That was just too weird.
TM: Did you play the same music at both?
JS: I wish I could remember. But I did go back and found the old contract. I wanted to find out what I had charged Mom.