Tallahassee Kids Work To Solve Problems On Global Stage
Gorillabots robotics team competes against teams from over 100 countries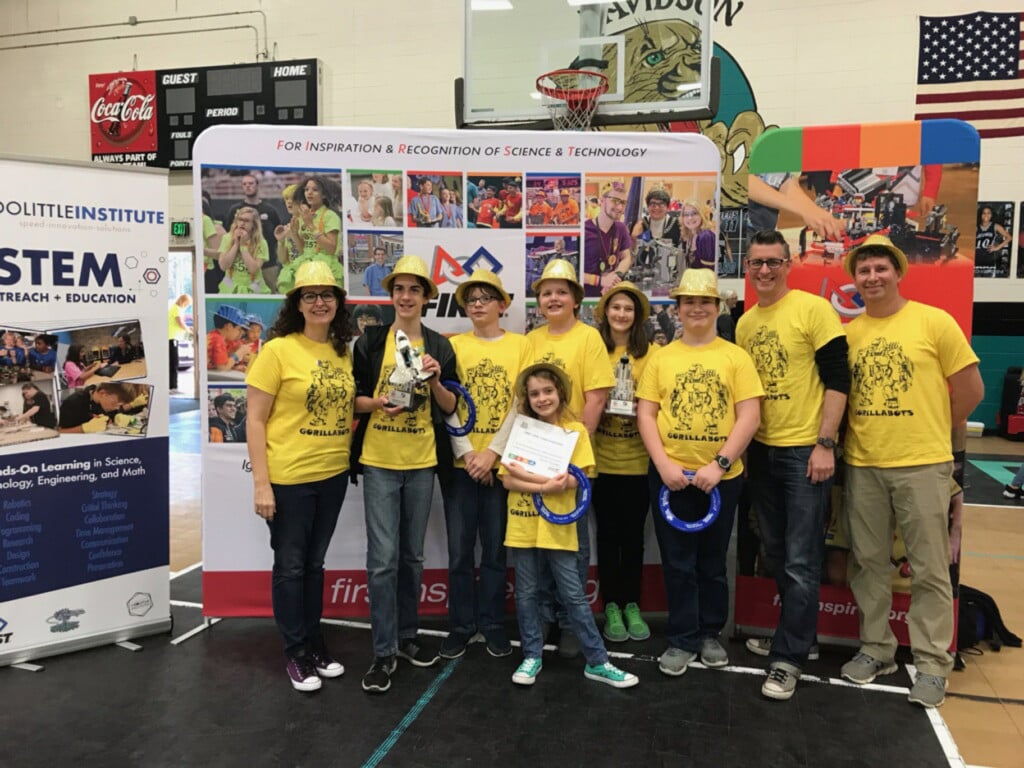 They made a trip to Houston, and they competed against and talked with kids from Brazil, China and Malaysia, among other countries.
And they showed off a pretty cool LEGO-inspired robot.
Tallahassee's Gorillabots robotics team — featuring seven kids in grades 4 through 7 — came away from an international competition last week with clearly something to build on.
"It was an amazing experience," said Michelle Rutherford, a mother of two team members.
The Gorillabots are among five teams in Tallahassee's LEGO Robotics Club that compete in the First LEGO League. The First LEGO League, or FLL, is an alliance of the LEGO Group and an organization called For Inspiration & Recognition of Science and Technology, or First.
FLL says it challenges kids to think like scientists and engineers and to solve real-world problems.
The Gorillabots in March won the FLL's North Florida regional tournament in Pensacola and qualified for last week's international tournament, which attracted more than 100 teams from more than 30 countries.
"We went for the experience," Rutherford said of the international competition. "We got ideas on how we'll get to improve for next year."
Laura Leonard said Tallahassee's LEGO Robotics Club formed in 2013 around her dining room table.  The first team in the club, The Overthinkers, consisted of six homeschooled students.
She said a local robotics camp sparked an interest in her son and inspired the family to join the First organization and to start a club. She's a board member, and her husband, Scott Leonard, serves as president.
"Homeschoolers are used to self-starting anyways, so we just started a team," Leonard said.
The club has expanded to five First Lego League teams, for elementary and middle school students, and one First Tech Challenge team, for grades 7-12.
First Lego League teams take on the challenge of developing solutions to global problems and issues such as recycling, energy efficiency and food scarcity. Using Lego Mindstorms technology, teams must design, build and program a robot that competes against others.
The FLL season carried an Into Orbit theme, prompting The Gorillabots to work on the problem of washing clothes in space. They designed a washing machine for a Mars mission.
Competition includes core values in which teams demonstrate "life skills they are going to use forever," Rutherford said. Her husband, Vance Rutherford, serves as coach of The Gorillabots.
Team members are Zoey Rutherford, a homeschooled fourth-grader; Fox Rutherford, a homeschooled seventh-grader; Slava Tsvetkov, a sixth-grader at Montford Middle School; Ethan Manning, a homeschooled sixth-grader; Clark Mitchell, a seventh-grader at Christ Classical Academy; Beau Lassiter, a homeschooled seventh-grader; and Katie Honn, a homeschooled seventh-grader.
Club members already find themselves gearing up for the next First LEGO League competition, which begins in August with a theme of City Shaper, perhaps with an emphasis on environment or sustainability.
"We're very proud of our kids," Rutherford said before the international competition. "Being our first time at this level of competition, it's just staggering to think that my 12-year-old just started doing this four years ago, and now here we are."